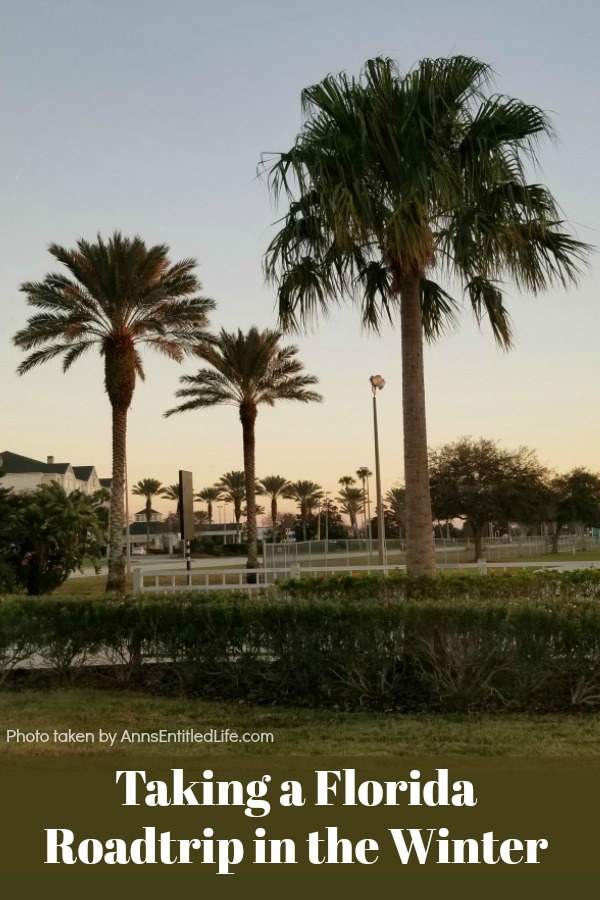 This is a recap of the roadtrip Hubby and I took through Florida this winter. We landed in Ft Lauderdale after a cruise, and thought it would be great to drive the state and visit cities we had never been to before – Naples, St Myers, and St Petersburg, and to one we know very well – St. Augustine.
Taking a Florida Roadtrip in the Winter
I have been fairly quiet on the blog and social media the last two months. While I mentioned our January and February winter trip in my newsletter (sign up, it's free!) a few times, I haven't given many details. For better or for worse, that is about to change!
We all have "bucket list" items; things we would like to do or see before we "kick the bucket". Many such items are travel related. For me, one of my "bucket list" items was to see the Panama Canal.
Hubby and I had a Panama Canal cruise booked years ago but due to work obligations, we were unable to make it. After we got Max, we tried to make vacations short if we traveled without him (a week or less). We did take two long trips, both work related, before Max became ill. After Mr. Max developed GME we only went to Europe once annnnnd that was it for our long vacations.
After Max passed away, I decided we were going to do some traveling. Hubby and I have a short list of places we want to go, but several of those trips are fairly long (over a month long). We are heading back to Italy for six weeks in the fall. Hubby has been working diligently to book the sights and sounds we want to experience. Next winter (January and February) we are going on THE trip of our lifetime – Australia and New Zealand. We sincerely doubt we will head back (unless we take a world cruise) as the flight time is 22 hours, and well, that is a long time on a plane. Right now, Hubby's trying to figure out how to break it up (possibly a stop in Hawaii if we go west, or a stop in Barcelona if we fly east) so we don't arrive exhausted and lose the first two days.
If we get another dog (or two) we will again be constrained to no longer than two-week vacations without the pet, so we figured let's do the long ones while we can.
When we planned this Panama Canal trip, I suggested to Hubby that we had no reason to go home right away once we disembarked; how about road-tripping through Florida!?
He was all for it, so we drove down to Ft Lauderdale from our home the beginning of January taking a slow drive over four days. While in Ft. Lauderdale, we enjoyed dinner every evening with one of our relatives (two of Hubby's relatives, one of my relatives).
We then boarded our cruise, and made sail for the Panama Canal! (I'll be writing up that trip next week.)
When we returned to port, we hopped in our vehicle and drove across alligator alley. Hubby was on a call with my brother and I kept yelling out "there's one!" to the point that they both told me to be quiet. Darned speaker phone.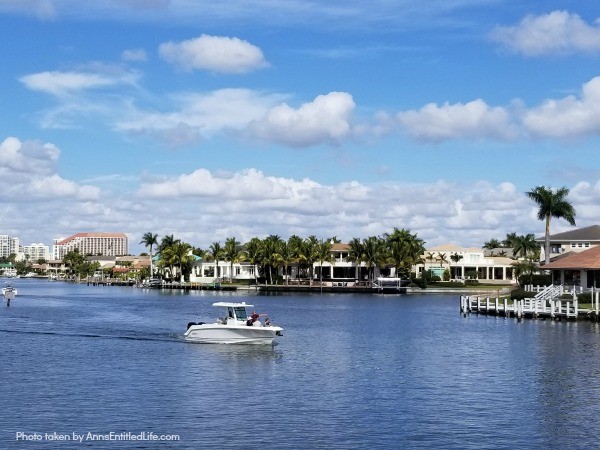 We arrived in Naples, Florida on January 29th, and we were greeted by the friendly neighborhood Bentley dealer while the Rolex sign winked at us across the street. Naples was far, far, far more expensive than I expected.
We did very little in Naples as it is all nature, or food, related. And that was ok. Sometimes, you just need to slow down.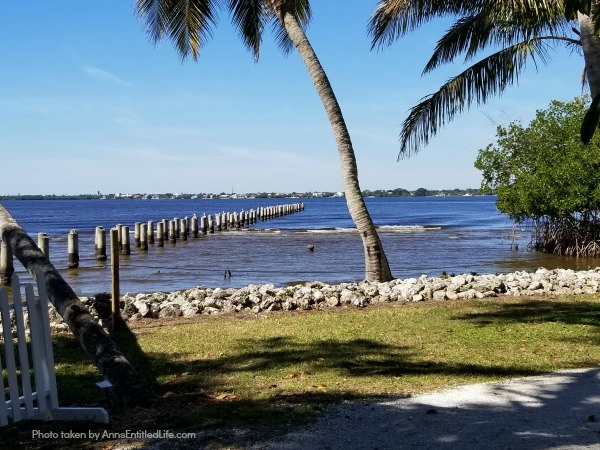 After five days in Naples, we drove up the road to Ft Myers. We again did very little (the weather was simply hot as heck!), but nevertheless enjoyed our stay.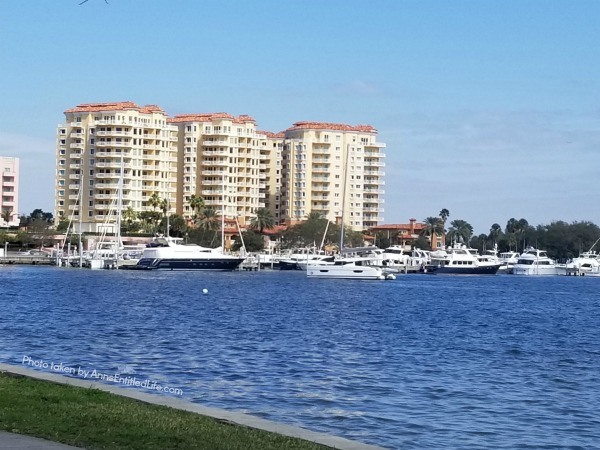 After five days in Ft Myers, we drove up to St Petersburg. We loved it! I swear downtown St Petersburg is trying to become the Austin of Florida. Lots of glass museums, glassworks, trendy shops, restaurants, a try it wine place (I want Hubby to replicate the idea in Buffalo!), along with sailing, and dogs! dogs! dogs! This was the single most dog-friendly city I have ever seen! If we do end up with more dogs, we will definitely look to snowbird for at least a month in St Petersburg in the winter.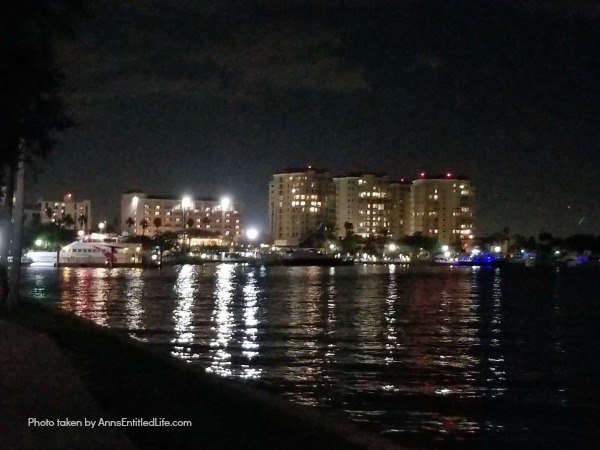 On the left is the hotel where we stayed.
Sonny-boy and his SO were in Cancun, Mexico and decided to join us for a week in Florida on their way back home. He works for a bank and there is a "rule" about taking two weeks of vacation together once per year. She is a nurse and was able to stack days off with her vacation. One week in Mexico, one week in Florida was their plan.
Once they joined us in St Petersburg we did a more "touristy" things, and less aimless wandering.
After St Petersburg, we all went over to St Augustine. They only had three days with us there, but Hubby and I were there until Sunday the 17th.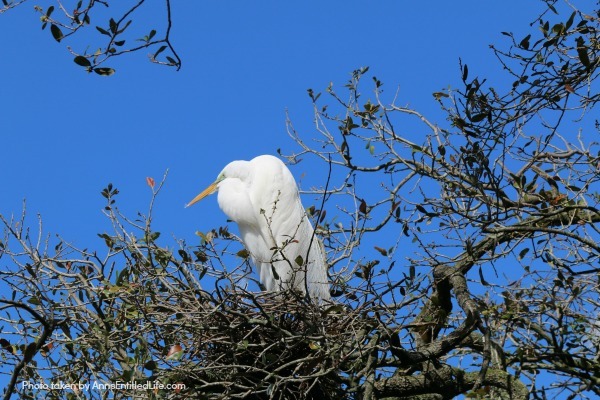 We, of course, love St. Augustine. I planned on doing "all the touristy things we never had time for" when we snowbirded there for years, but the best-laid plans…
We went back to the Alligator Farm, spent time in Old Town, annnnnd took some time to see how much had changed in the two years since we were last there.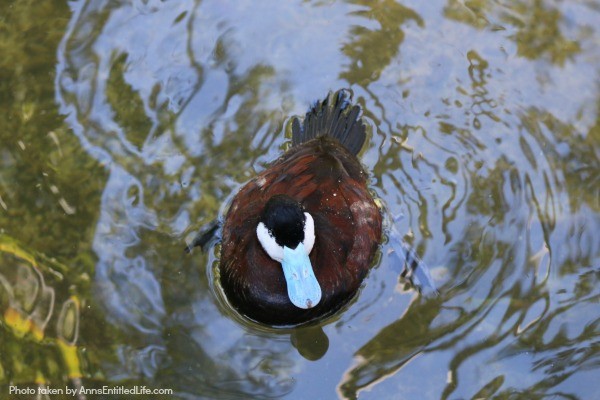 Our time in Florida was met with hot, but sunny, weather. Our only rainy day was when we drove cross state from St Petersburg to St Augustine (with a stop for tastee delight ice cream so Hubby could revisit his favorite metro-NYC spot in Florida).
After that, we went to Savannah. We "lived" less than three hours away from Savannah, Georgia for years, and yet we had never done more than drive through once before. I had always wanted to visit, so it seemed like a perfect time to explore the city on our drive back home. This is where our weather-luck turned. And where I found that my blood had thinned in the prior five weeks… man it was cold at 55 degrees (and a lot less)!
The weather in Savannah was dreadful (rainy, windy and cold) so we didn't do much by way of sightseeing. We did manage to eat at some pretty decent restaurants though (my Instagram account has the trip food photos).
After that, it was the long drive home. Hubby planned it very well. We drove in between a southern storm that came in the day after we left Savannah, and a northern storm that arrived two days after we got home.
All-in-all I am very glad we took the time to explore some of the west coast of Florida. It was simply beautiful on the gulf coast, and the weather – while unseasonably hot (it was 10-15 degrees above normal) – we clear and sunny!
Next vacation? Six weeks in Italy this September through October. That should be fun! As I mentioned above Hubby is in the planning stages now.
---
● Disclosure: the links in this post may be affiliate links.
● For more Florida posts on Ann's Entitled Life, click here.
● For more Travel posts on Ann's Entitled Life, click here.
● If you enjoyed this post, be sure to sign up for the Ann's Entitled Life weekly newsletter, and never miss another article!
---