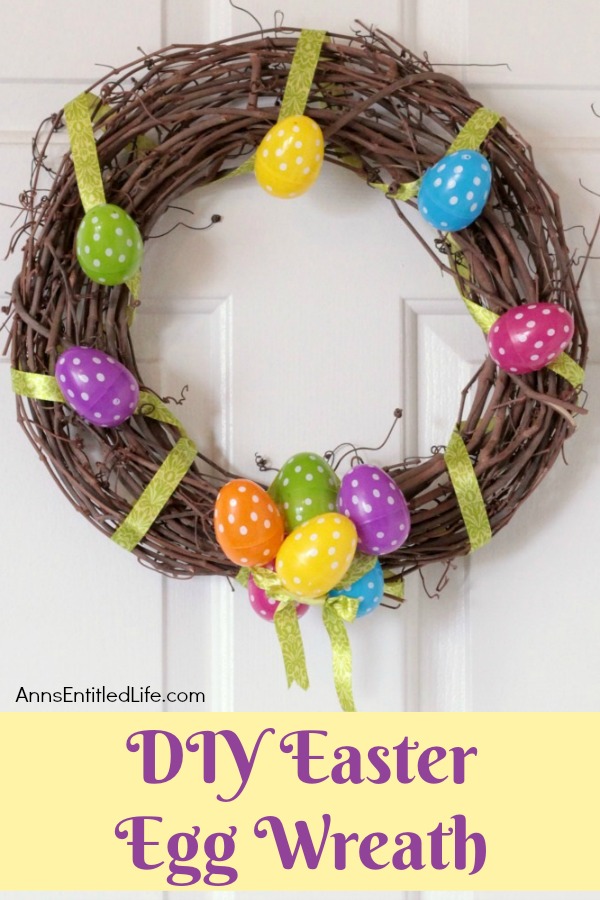 DIY Easter Egg Wreath
I love everything flowers, bunnies, green, yellow, pink springtime things, and of course, Easter eggs. For this wreath design, it was decided to use up some of those plastic Easter eggs that we all always seem to have way too many of! Spring has sprung and the Easter eggs are multiplying!
Like most of the crafts you will find on this blog, this is easily customizable. Different ribbons, different eggs, monochrome, lots of different colors – you decide what works best with your decor and your personal decorating taste. It is all fun and Easter-y. There is no need to follow a pattern – which is great for the patterned-challenged!!
Note: a 12″ Grapevine Wreath
was used to make this DIY Easter Wreath. If you go larger or smaller, adjust your materials accordingly.
If you would like some other cute and easy spring/Easter crafts, this No Sew Sock Bunny is adorable! Had a different wreath idea in mind? How about this Easy DIY Bunny Butt Wreath!? This Spring Themed DIY Framed Dot Art is simple to make, and those of you with children may want to consider this Easter Bunny Garland!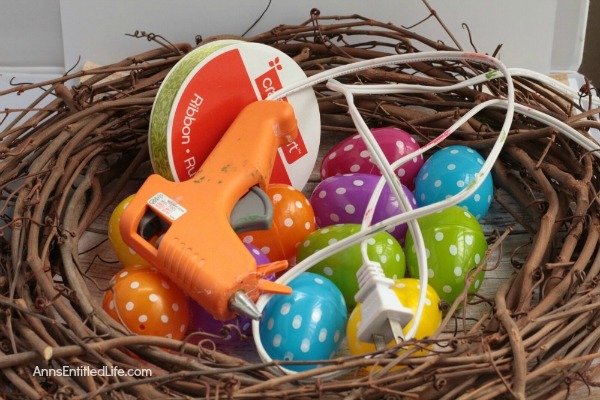 The materials needed are linked below if you wish to see exactly what they are and/or buy online. Otherwise, write down the list and head over to your nearest Michaels for the supplies that you do not already have handy.
DIY Easter Egg Wreath Supplies Needed:
● Scissors
● 1 12″ Grapevine Wreath

● Glue Gun
● Glue Sticks
● 3 yards ½ inch Spring Ribbon
(any color!)
● 12 Plastic Polka Dot Eggs, Large, Multicolor
(more if you want to double or triple up the eggs, or if you used a larger wreath)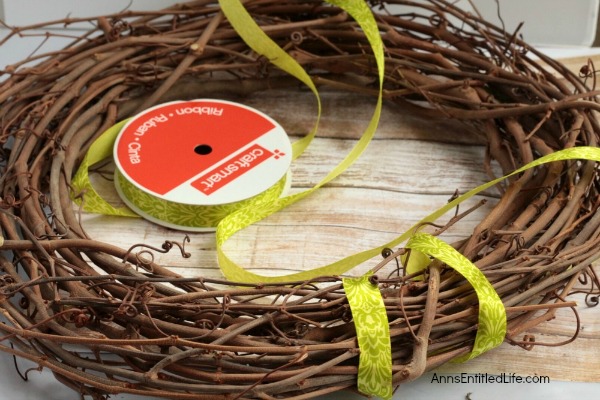 DIY Easter Egg Wreath Directions:
● Make a decision on where you are placing your plastic Easter eggs,
● This tutorial uses single eggs around the grapevine wreath
with a bunch of eggs in the bottom center. You may prefer clusters of two or three.
● Do not yet attach your eggs.
● Wrap the spring colored ribbon around your wreath.
● Tie the ribbon around the wreath and knot it so it does not slip away.
● Wrap the ribbon around the entire wreath several times until you reach your starting point. How many wraps you make is dependent upon how many plastic eggs you have decided to use. You can space closer together or further apart.
● Tie the ribbon together and cut off any excess.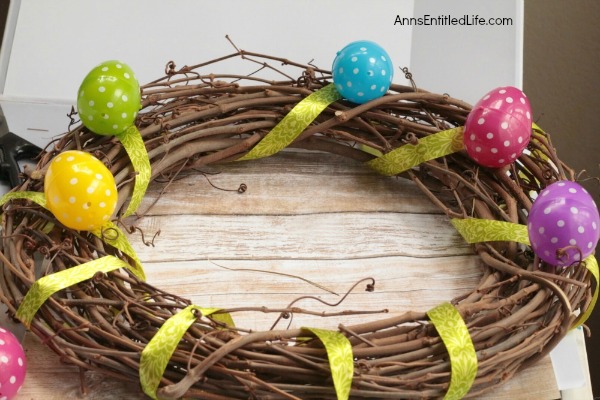 ● Hot glue the plastic eggs where you want them on the grapevine wreath.

● If you will be removing the eggs after the holiday and reusing the grapevine wreath, hot glue the eggs to the ribbon (as shown).
● If you are not reusing the grapevine wreath for another project, securely fasten the eggs to either the ribbon or the grapevine wreath with hot glue.
● Leave a space at the bottom or side of your grapevine wreath
to attach the egg cluster (you are making it next, see below).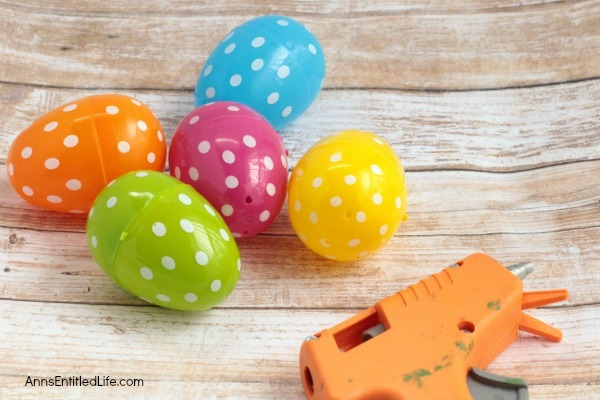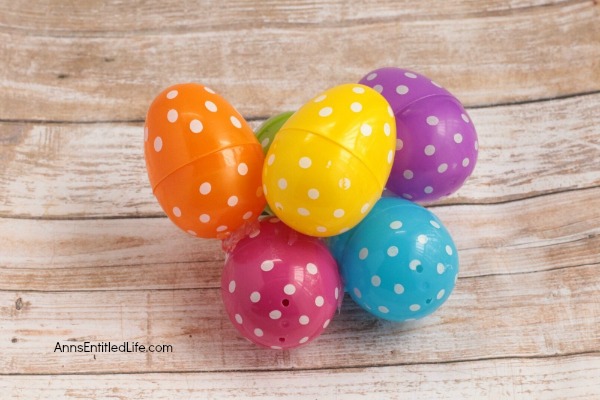 ● Glue several eggs together to form a cluster. Leave the back flat for easy attachment to the grapevine wreath. This tutorial used six Easter eggs, but you can use more or less according to taste.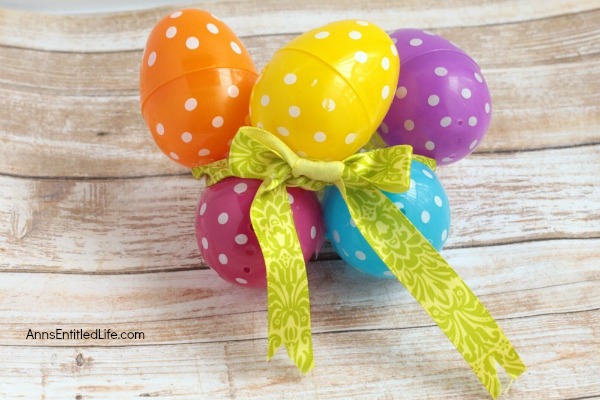 ● Tie the remaining spring riboon
around the bunch of eggs and make a pretty bow. Secure with hot glue if necessary.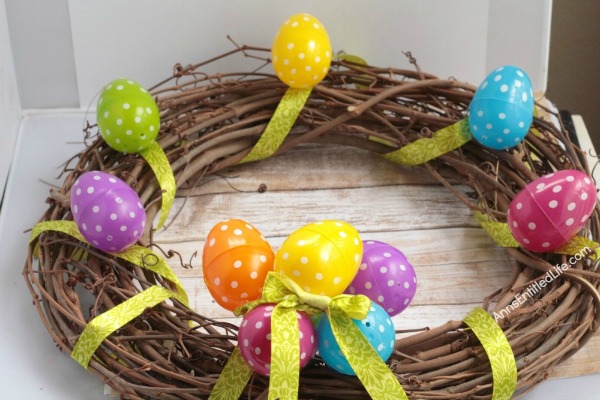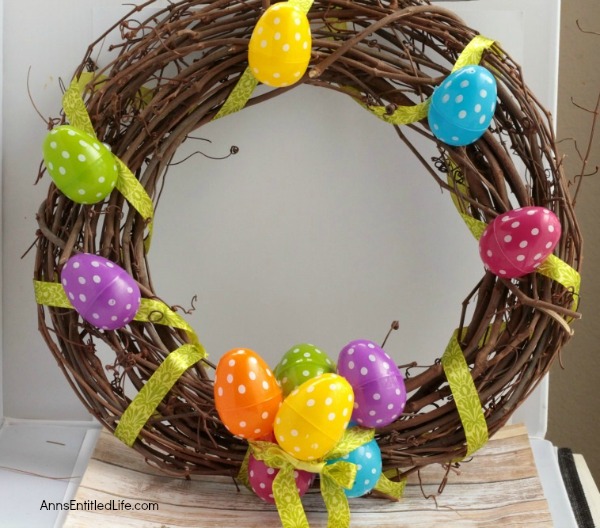 ● Glue the bunch of eggs to the center of your wreath.
● You can glue it to the bottom like shown in this tutorial, at the top with the ribbon strands hanging in the center of the wreath or off to the side.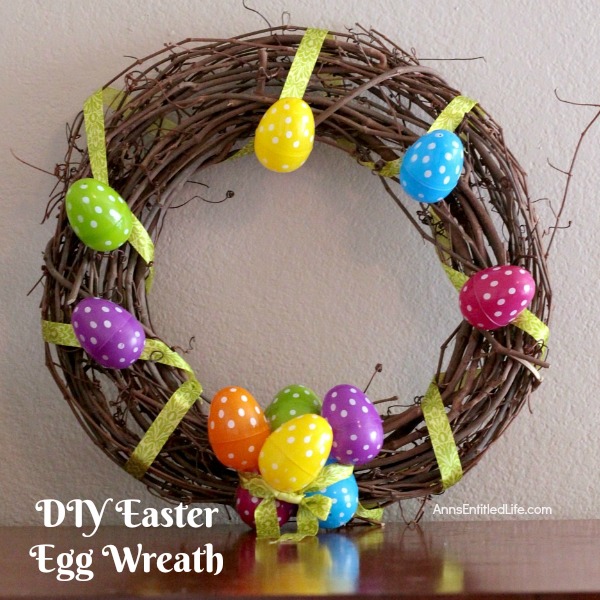 Hang your wreath from a doorway, place it over your mantle, hang it over a doorknob, display it on the wall, or put it in front of a hallway mirror. You could also place it in the center of your dining room or kitchen table to become part of an Easter or Spring tablescape!
● To print the DIY Easter Egg Wreath Instructions, click here.
---
● Disclosure: the links in this post may be affiliate links.
● For more Holiday posts on Ann's Entitled Life, click here.
● For more Craft posts on Ann's Entitled Life, click here.
● If you enjoyed this post, be sure to sign up for the Ann's Entitled Life weekly newsletter, and never miss another article!
---