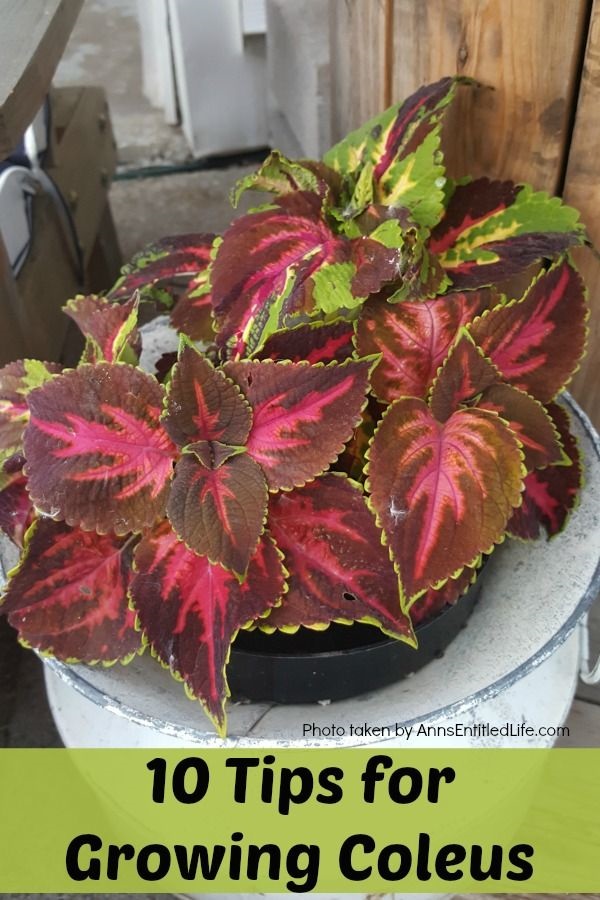 10 Tips for Growing Coleus
Sunny or shady, you want your garden to be full of vibrant colors, and coleus plants deliver that impact! Coleus is one of those plants that can thrive in many conditions, so being familiar with how to grow coleus is smart. Read below for my 10 Tips for Growing Coleus, and see how easy it can be to enjoy this vibrant plant.
Choose Your Coleus Variety Wisely
You will find that coleus comes in dozens of varieties, all different colors and even shapes. You can find it in red, green, white, pink, maroon, and more. Shapes include rounded leaves, spiky varieties, and even vines that trail. Mix and match varieties for a real pop of color and texture! Some coleus plants require more sun than others. Make sure you are choosing the correct coleus plant for the "job" (a gardening container filler, a flower bed, etc), and the sun conditions.
Use Nutrient Rich Soil to Grow Coleus
Mix a little organic matter into your soil before planting so it is nutrient rich. Your coleus will last well into the fall months if you give it soil that feeds it instead of limiting it. Basic potting soil mixed with some organic matter like eggshells or compost is ideal.
Be Wise About Coleus Planting Depths
Coleus has shallow roots, so you can get away with smaller pots, but you still want to make sure those roots have room to grow and latch – in other words, do not overcrowd your coleus plants when planting in the ground. You should plant coleus about 3 inches deep, which is typically the length of the root mass plus one inch.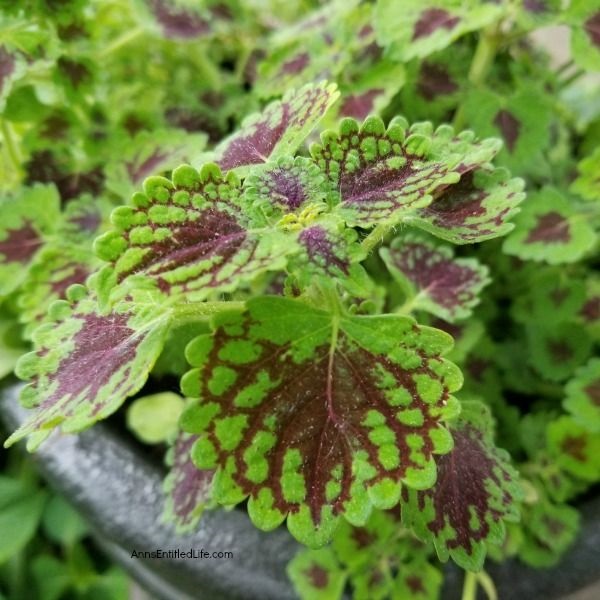 Skip the Seeds
Yes, you can grow coleus from seeds, but you will enjoy coleus sooner and longer if you plant from seedlings. They are inexpensive to buy, about $10 per 30+ plant flat, making each seedling just a few cents per piece. They can be found at just about any home and gardening center.
Sunny or Shady Side
Coleus will do well even if they only see a few hours of sun per day. Basic coleus varieties will do better if they get a good 4-5 hours of sun per day. Sun allows for more vibrant colors, but coleus is thought of as a shady plant, so try not to expose it to all day, harsh sunlight.
A Good Watering Helps
Try to give your coleus about 2 inches of water per week, allowing the soil to dry out in between waterings. They don't like soggy soil and may rot if you allow them to sit in water. Instead, push for 2-3 waterings a week of ½ an inch to an inch of water each.
Coleus are Low Maintenance
Except for the early going most coleus are virtually maintenance free. When young, pinch-back the growing tips of a young coleus plant encourages branching and a bushy plant.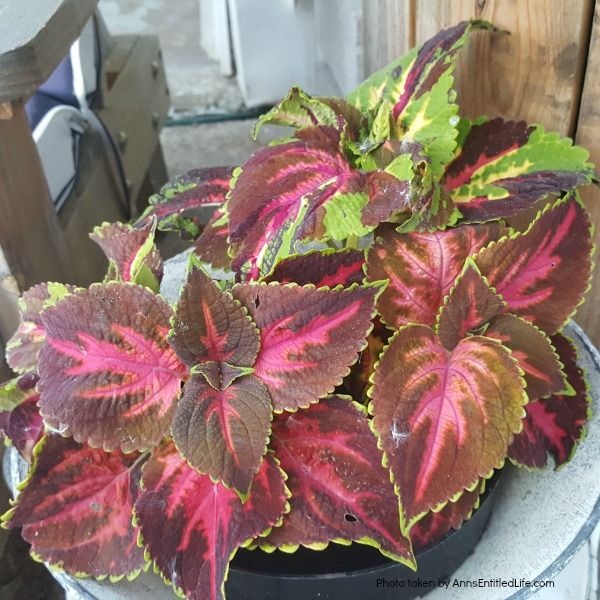 No Deer
Look for deer-resistant coleus at your local garden center. While not being as attractive to deer, the leaves will attract butterflies!! It can grow in garden beds and houseplant containers.
Keep an Eye on the Cold
Even though coleus is durable, it cannot withstand the cold. If your area is experiencing a frost or low night time temps, cover your plants or bring them in. When the fall months hit, your plants will die unless you bring them indoors.
Remember that Coleus is an Annual
While coleus is an annual, if you grow them in pots and bring them into your nice warm home over the winter – caring for them correctly (some bright light and weekly watering) – they should be healthy enough to give you another season!
The Coleus is the perfect plant for people who are beginning gardening, or who have a less than green thumb. In other words, you do not have to be an experienced gardener to grow coleus – although many experienced gardeners DO grow coleus! It is easy to grow, and requires little maintenance. Whether your grow them in the ground or in containers, they provide a beautiful spot of color to enhance your gardening plants and flowers.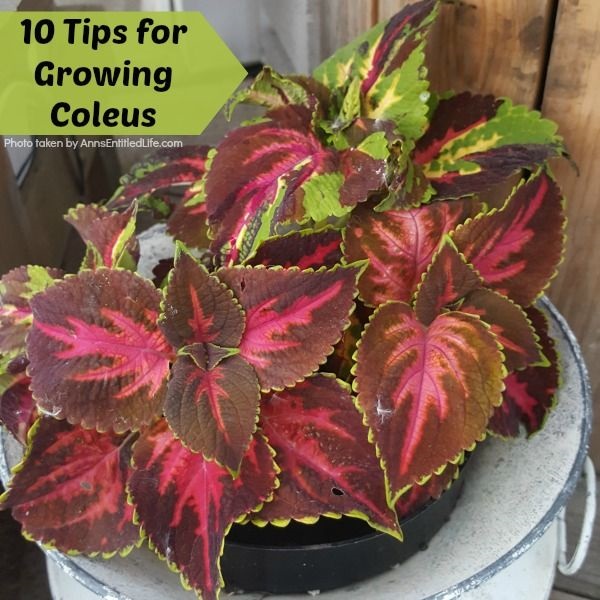 Are you interested in more plants? You'll want to read these posts:
● 75 Acid Loving Plants – If you have acidic soil, you need plants that flourish within an acid soil environment. Flowers, vegetables, shrubs, and trees all have specific soil needs; these 75 acid loving plants are great choices for your gardening and landscaping needs.
● 75 Alkaline Friendly Plants – If you have alkaline soil, you need plants that flourish within an alkaline soil environment. Flowers, vegetables, shrubs, and trees all have specific soil needs; these 75 Alkaline Friendly Plants are great choices for your gardening and landscaping needs.
● 10 Best Low Light Houseplants – If you have a darker room without a lot of natural sunlight, do not despair – you can still grow houseplants indoors! Here is a list of the 10 Best Low Light Houseplants to grow inside. You may be surprised to find so many great options when it comes to growing indoor plants in low light conditions.
---
● Disclosure the links in this post may be affiliate links.
● For more Gardening posts on Ann's Entitled Life, click here.
● Enjoy this post? Sign up for the Ann's Entitled Life FREE Weekly Newsletter to stay connected.
---