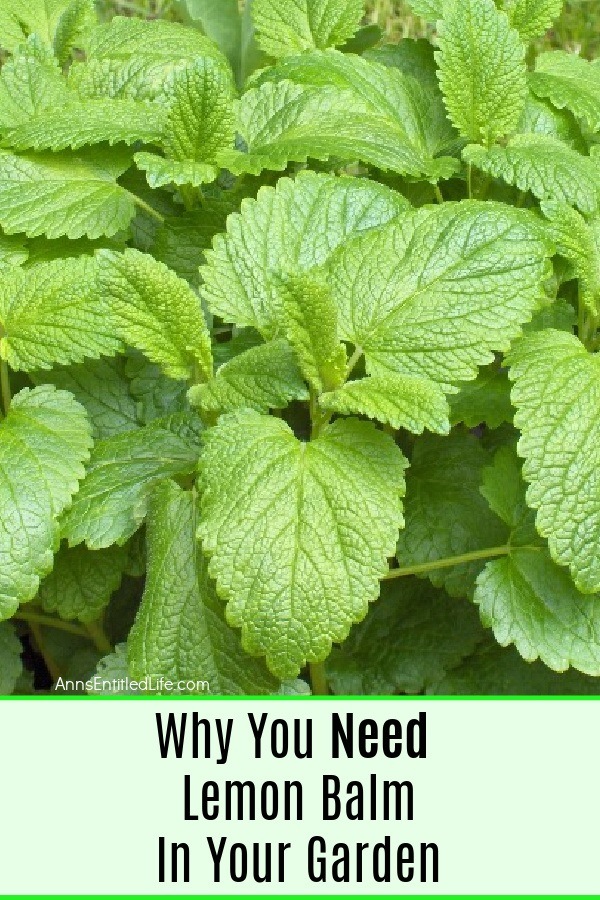 Uses for lemon balm in your home, garden, beauty routine, cooking, and baking – as well as lemon balm recipes, and why you need lemon balm in your garden.
Why You Need Lemon Balm In Your Garden
Last year Marie and Kim educated me about Lemon Balm, and all its goodness! I decided to look into the Lemon Balm plant a bit more, and discover why I needed lemon balm in my garden.
Lemon Balm is the common name for Melissa officinalis, for a complete dissection, read the Lemon Balm Guide from the Herb Society of America which is easy to grow from seed, rooted cuttings, or by root division. The herb thrives in full sun but can be grown in partial shade. Lemon Balm can be grown in most areas of the United States, US hardiness zones 4-9. USDA Plant Hardiness Zone Map
Lemon Balm is a perennial plant. Plant lemon balm in a pot as it will spread (and take over your garden). Lemon balm is an aromatic herb with many possible uses. Some use it to calm an upset stomach, as a sleep aid, to aid cognitive function, in place of artificial sweeteners, or in herbal teas.
Lemon balm has been a staple in herb gardens since the middle ages (some say it goes further back than that – to the ancient Greeks!) It was prized for its beneficial effects on the skin, as herbal medicine, and in cooking and baking to add flavor.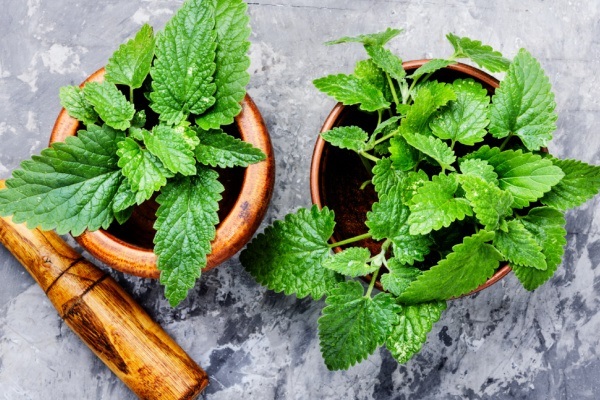 Uses for Lemon Balm
Lemon Balm Uses In Your Garden
● Attracts Bees to your garden. And we all know bees are good for pollination.
● Mosquito Repellent – It smells better than citronella. from Marie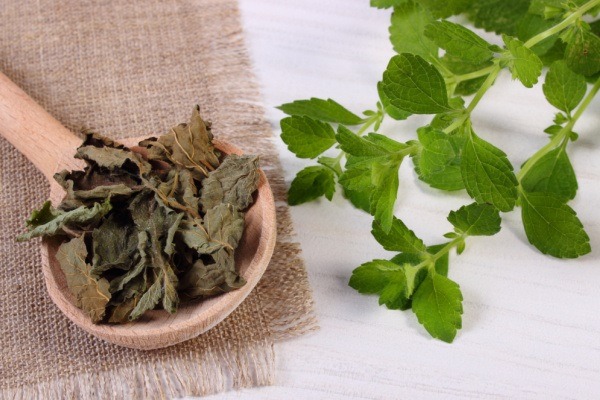 Possible Medicinal Herb Uses of Lemon Balm
● Cold Sores – topical applications of lemon balm have proven effective at treating cold sores (oral herpes). A study published in Phytomedicine found that, when used early, a cream made with lemon balm extract reduced the number of blisters in an outbreak.
● For a Fever – … her mother always gave this to them when they were kids when they had fever. from Kim
● Tea – cooling, relaxing tea, good for anxiety or nerves.. or just a nice relaxing tea for a busy afternoon or evening. My grandmother always called it Melissa Tea. from Kim
Culinary Uses For Lemon Balm In Cooking and Baking
The light lemon flavor makes lemon balm, either fresh or dried, a great addition to many recipes.
● Candied – when candied, the leaves make attractive cake decorations. (You can even use the cooled water as an insecticide.)
● Extract Flavoring – the extract of lemon balm and the oil of lemon balm, are used for flavor in recipes.
● Fish Garnish – as a garnish for fish.
● Lemon Peel Substitute – use as a substitute for lemon peel in recipes.
● Lemon Rind Substitute – substitute for lemon rind in jam making, and marmalade.
● Salads – use fresh lemon balm leaves in salads.
● Salad Dressings – used as part of a dressing to eat with your salad (recipe below)
● Tea (recipe below)
● Vegetable Garnish – sprinkle dried leaves over fresh vegetables, especially corn and broccoli.
● Wine – the flower tips and young leaves are floated in wine or fruit cups as a flavoring and garnish.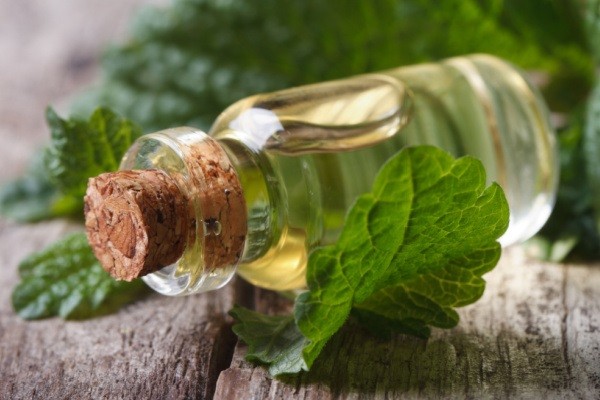 Use of Lemon Balm in the Home
● Aromatherapy
● Potpourri – dried as part of a potpourri, they add a nice scent.
● Soaps – when making soaps, a nice lemony scent.
● Rinse Aid – can be used in rinse water for clothes.
Personal and Beauty Treatment Uses of Lemon Balm
● Conditioner – a stronger infusion makes a good rinse for oily hair.
● Facial Use – a lemon balm cream for dry skin and to treat acne.
● To Treat Insect Bites – rub on fresh lemon balm leaves on your skin to soothe insect bites.
● Skin Toner – an infusion made with lemon balm leaves makes for a refreshing skin toner.
Precautions:
● If you have Graves Disease or use thyroid medications, use lemon balm only under medical supervision.
● If you are using sedatives, ask your doctor about using Lemon Balm.
● Pregnant and breastfeeding women should not take Lemon Balm.
● Tell your doctor you are using lemon balm if you have surgery planned. The doctor may have you discontinue using lemon balm two weeks prior to surgery as lemon balm has sedative effects and might cause too much drowsiness if combined with medications used during and after surgery.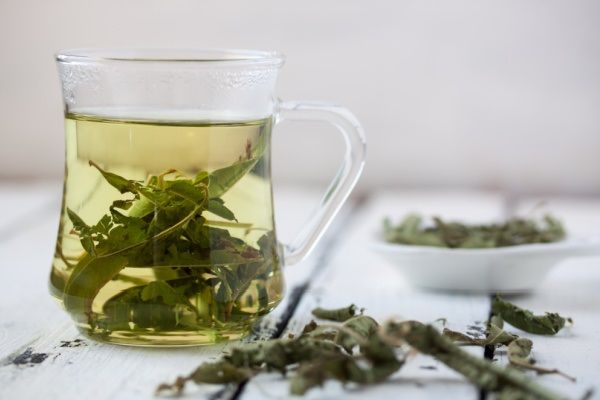 Here are a few Lemon Balm Recipes:
Lemon Balm Tea Recipe
Ingredients:
● One Lemon Balm Sprig
● Several Mint Leaves
Directions:
● Bruise the lemon balm leaves and the mint leaves with a spoon.
● Add hot water to fill the cup, allow to sit for a few minutes.
● Add honey to taste.
Lemon Balm Salad Dressing Recipe:
Ingredients:
● ¼ cup Vegetable Oil
● 1 clove Garlic, crushed
● 1 TBSP White Wine Vinegar
● 1 TBSP Fresh Lemon Balm Leaf, chopped
Directions:
● Combine the vegetable oil, crushed garlic, white wine vinegar, and chopped lemon balm leaf in a blender until liquefied.
● Keep Refrigerated.
Honey and Lemon Balm Biscuits Recipe:
Ingredients:
● 1 cup Butter
● 1 cup Honey
● 3 Eggs
● 3 cups Self-raising Flour
● 1 TBSP Milk
● 2 tsp Lemon Juice
● 4 Lemon Balm Sprigs, chopped
Directions:
● In a mixing bowl using an electric mixer, cream the butter with honey.
● Add eggs, beat well.
● Add remaining ingredients.
● Drop by spoonfuls onto an ungreased baking sheet and bake 8-10 minutes at 375°F.
---
Lemon Balm Insect Repellent Recipe
Ingredients:
● Quart of Vodka
● 2-3 cups Fresh Lemon Balm Leaf
Directions:
● Add the lemon balm leaf to the quart of vodka.
● Allow the lemon balm to steep for one month.
● Strain the lemon balm herb from the liquid, and pour into a spray bottle.
● Add essential oils from citronella, peppermint, and basil.
Keeps away biting flies, and mosquitoes.
Do not use on small children.
---
Sources and to continue further research on lemon balm:
● University of Maryland Medical Center
● NYU Langone Medical Center
● WebMD
● Herbal Legacy
---
Note: None of this is meant as medical advice. I am not a doctor and do not play one on the internet. Please consult a health care professional if you have any questions about using essential oils so your doctor can better explain to you the benefits, possible side effects, and any warnings about essential oils.
---
More herb posts:
● Tips for Growing an Herb Garden Year Round
● 10 Easy to Grow Herbs
● Herbs 101
---
● If you enjoyed this post, be sure to sign up for the Ann's Entitled Life weekly newsletter, and never miss another article!
● For more Ann's Entitled Life How Does Your Garden Grow posts, click here.
● For more Recipe posts on Ann's Entitled Life, click here.
---