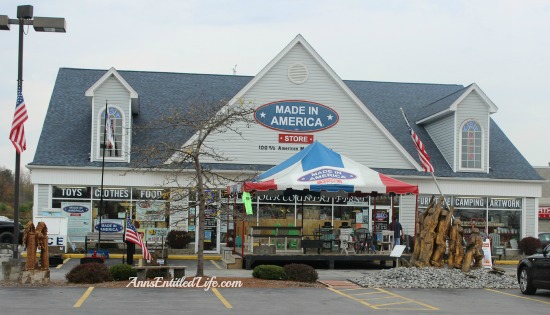 Hubby and I have been meaning to go to the Made In America Store for some time now. I have had it on my What To Do In Buffalo and Niagara Falls list for a few years, but have never made the 30 minute drive. I know, I know! Our jaunt up to Niagara Falls in July reminded me that I really wanted to go to the Made in America store to see what it was all about.
I knew a bit of the back-story:
The Made In America Store runs a strict requirement to any item that is on the shelves at the Made In America Store. Every products MUST be 100% USA made, meaning each product must be manufactured with US made components.
When they say all components, they mean everything … including packaging!
But I wanted to see just how many items they had. The Made in America Store website shows far less than in available in the store itself. They opened an annex at the mall closest to me, but I wanted to visit the home-base-location.
We arrived at the Made In America Store on an overcast day, before noon, on a Saturday. When we pulled into the parking lot, we parked and I took a few pictures deciding I'd take more photographs when we left – big mistake! Two tour buses pulled up while we were shopping, and I couldn't get a clear shot of the store when we left with those buses parked in front.
There are two tales to this store – shopping at the Made In America Store without tour buses, and shopping there with tour buses. Big tip: if you see a tour bus (or two) parked outside the Made In America Store, RUN!!! Do not enter. Do not pass go. Return another day or time.
When Hubby and I initially walked into the Made In America Store we were pleased to see so much stock! We could shop freely as there were only 10 other patrons in the establishment. I immediately filled up my hands with goodies, then my arms, then I went to pick up a basket for me – and one for Hubby too. There were some cool items there that I will talk about in future posts, but one of the items I have already posted about was the McKenzie's Hard Cider I reviewed a few weeks ago. Made in America!
There were toys, knicknacks, jewelry, clothing, housewares (A HUGE collection of Libman mops, buckets, sponges and more) and of course food and beverages. I was frankly surprised to see just how much was still make, and packaged, in the USA.
We had just about made it through the downstairs (there are two floors) when the doors opened and an influx of people came pouring in! Two tour buses had just arrived!
The store is large, but there is a LOT of product on the shelves and on racks, so the aisles are fairly tight downstairs. There is enough for two people to be abreast – one to browse, one to pass by the shopper, but the aisles are not large enough to accommodate 12 people trying to look and shop at the same time. I am not sure how many people got off those buses, probably only 100, but it seemed like a lot more!
Hubby and I quickly went upstairs where I found a corner and some cool ornaments (more in a few weeks), and then we went downstairs to check-out.
The line to check-out went quite quickly. When it was my turn the clerk said to me, "Oh, and you get 10% off since you came in with a tour bus!"
I said to him, "No, I came in before the buses."
He said, "You'll get 10% off for the inconvenience then."
I said, "Not worth it!"
The manager laughed.
It wasn't that the tour bus people were rude or anything, it is just that the store really can't accommodate so many people at one time. The store needs to be a good 25% – 50% larger to handle the influx of two tour buses at once. One bus? It would be crowded, but shopable. Two buses? Get out, and get out fast.
Still I am glad we went. I had meant to go for a very long time. The concept of everything being made in America down to the packaging is an important one. The prices were not high – no more so than you'd find in your average department store, and in many cases far less.
Have you shopped at the Made In America Store? How important is it to you to buy merchandise made in the USA?
---