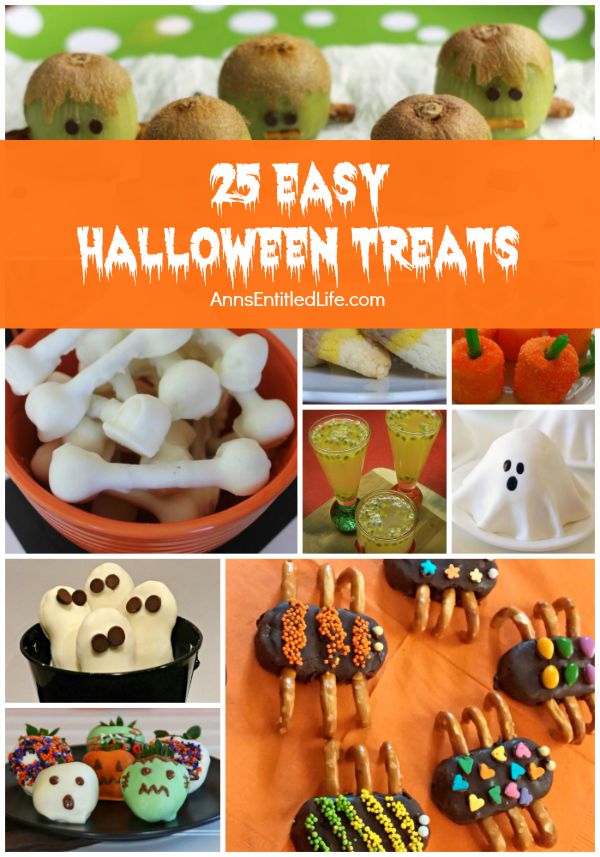 Are you looking for a simple yet funny, spooky or scary Halloween Treat recipe for your Halloween party? From ghosts and ghouls to mummies and pumpkins, you are sure to find the perfect, delightfully scary and sweet Halloween inspired recipe on this list of 25 Easy Halloween Treats.
25 Easy Halloween Treats
There are some super cute Halloween treats on this great list! If you need easy kid-friendly Halloween treats that are perfect Halloween treats for school parties, this list has 'em! Need spooky Halloween treats (well, not too spooky)? Got them! Looking for fast and easy Halloween treats for a great snack? This list has them.
This carefully selected list of Halloween treats has everything you are looking for in a Halloween treat – from homemade Halloween cookies to healthy Halloween snacks to Halloween treats for your lunchbox, dessert, or Halloween party, there is something for everyone on this fantastic list!
With Halloween fast approaching there is no doubt your little witches and goblins are eager for their Halloween treats! If you are packing a lunch, sending in a snack or treat in for a grade school party, or throwing your own adult Halloween party, there is an awesome, tasty, and fun treat to be had on this list.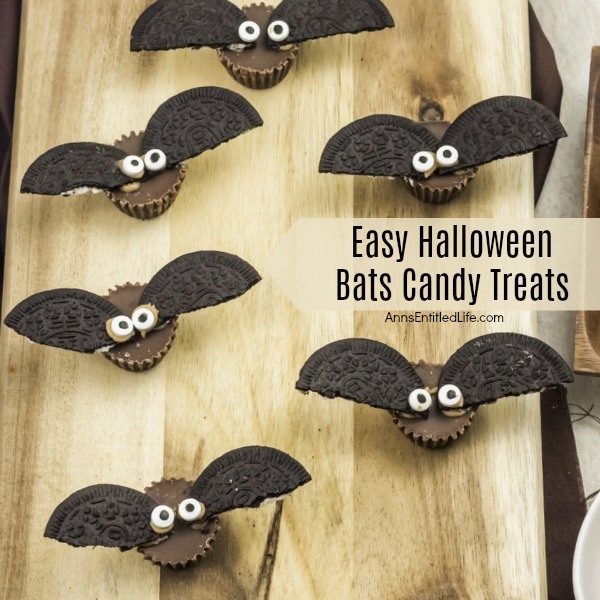 ● Easy Halloween Bats Candy Treats – These spooky little bats are made with only 4-ingredients and wow do they taste great! Easy to make, these delicious candy bats are perfect for the lunchbox, afternoon snack, or a Halloween party. Your little ghosts and goblins will love these tasty Halloween treats.
● Easy Halloween S'mores Recipe – You do not need a campfire to get the great taste of S'mores. Make these delicious Halloween S'mores in your kitchen in about 10 minutes. Great for parties and snacks, these cute Halloween s'mores are a simple sweet treat adults and children will love!
● Candy Apple Pumpkins Recipe – Candy apples are the favorite of every child! This Halloween, make these wonderful Pumpkin Candy Apples for parties, lunch boxes, afternoon snacks or as a special dessert. Your family will love these tasty treats!
● Jack O'Lantern Rice Crispy Treats Recipe – These adorable Jack O'Lantern rice crispy treats are an easy to make snack. They are great for the Halloween season without being too spooky for small children. Your little ghosts and goblins will devour these tasty, fun treats.
● Chocolate Dipped Halloween Strawberries | Savvy Saving Couple
● Dead Lady Fingers | The Nerd's Wife
● Frankenstein Kiwis | Two Healthy Kitchens
● Frog Egg Lemonade | Mama Likes to Cook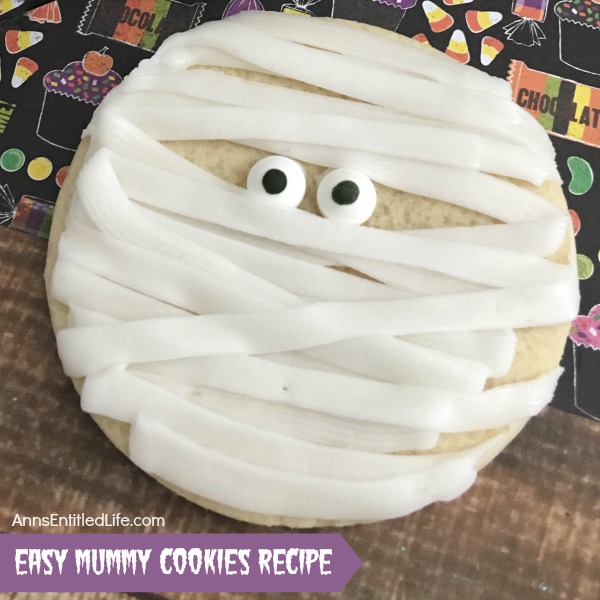 ● Mummy Cookies Recipe – These adorable Mummy Cookies are a spooktacular Halloween treat! Great for Halloween parties, lunch boxes, dessert or an afternoon treat, your entire family will enjoy these tasty cookies!
● Ghostie Cookies! | At Home With Sweet T
● Halloween Bats and Mummies on a Stick | Kid's Activity Blog
● Halloween Monster Much | More Than a Mom of Three
● Halloween Oreo Poke Cake | Savory Experiments
● Halloween Oreo Truffles | Just Us Four
● Healthy Candy Corn Bars Recipe | Living Sweet Moments
● Mini Ghost Pumpkin Cakes | Ashlee Marie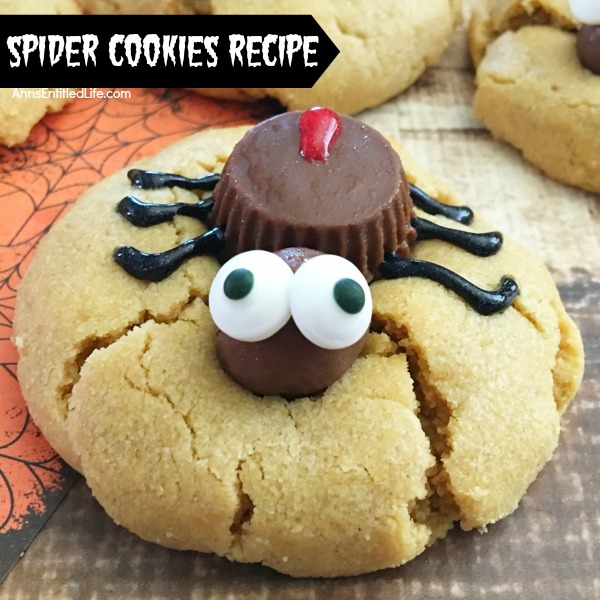 ● Spider Cookies Recipe – These fun and spooky Spider Cookies are delicious Halloween treats all your little ghosts and goblins will enjoy. Easy to make, these Spider Cookies will be a big hit at your next Halloween party, packed in a school lunchbox, or as an afternoon treat.
● Pretzel Bones | Simple Thrifty
● Spider Web Snacks | Mom Endeavors
● Spooky Eyeball White Chocolate Pretzels a Halloween Treat | Totally the Bomb
● Sugared Marshmallow Pumpkins | Thrifty Jinxy
● Surprise Rice Crispy Treats | Kids Activity Blog
● White Chocolate Pumpkin Bars | Upstate Ramblings
● Whoopie Pies for Halloween | Sugar Swings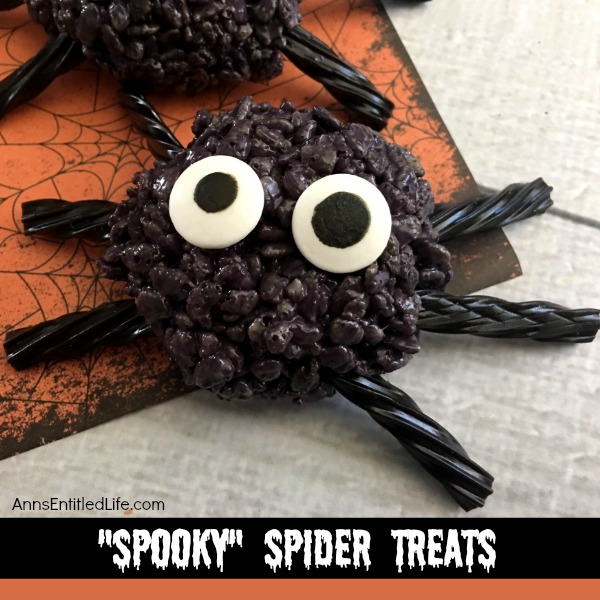 ● Spooky Spider Treats Recipe – These easy to make Spooky Spider Treats will be a huge hit with your little – and big – witches and ghosts! Perfect for lunchboxes, parties, and afternoon snacks, these spider treats are easy to make and taste so good!
● Wicked Witch Hat Cookies | Two Kids and a Coupon
● Candy Spiders | Nest Full Of New
● Chocolate Covered Banana Mummies | Moments with Mandi
● Chocolate Skeleton Cookies Recipe | Cincy Shopper
---
● If you enjoyed this post, be sure to sign up for the Ann's Entitled Life weekly newsletter, and never miss another article!
● For more Recipes on Ann's Entitled Life, click here.
---