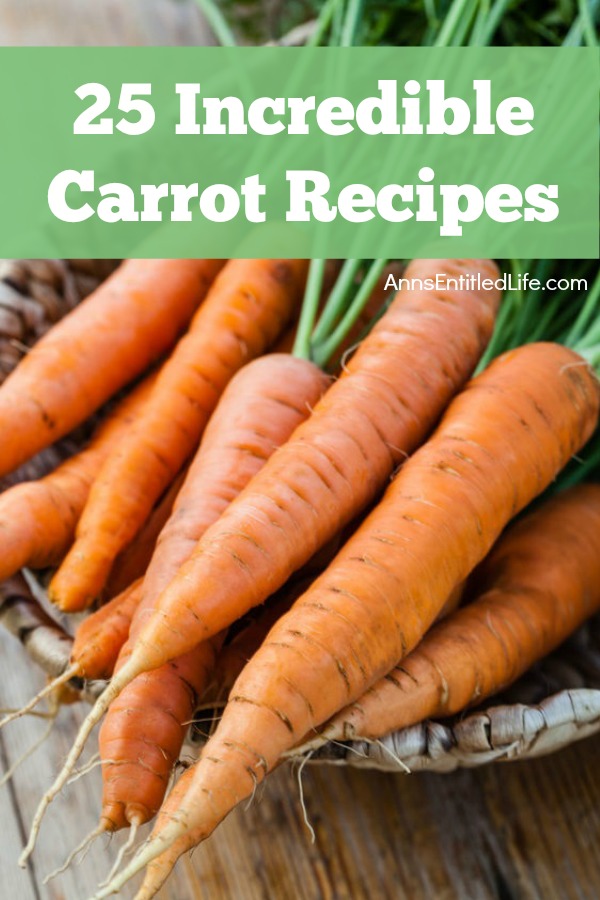 Sweet and savory carrot recipes! From cakes and bars to pancakes and smoothies, cooking and baking with carrots is super easy to do. Carrots can be baked, cooked, canned, pickled, and more. Carrots are a truly multi-talented super vegetable. If you are looking for a new carrot recipe, be sure to check out these 25 Incredible Carrot Recipes!
Carrots are a root vegetable commonly orange in color these days, though purple, black, red, white, and yellow varieties still exist. Last year I nabbed yellow and purple carrots from my old CSA!
The carrot taproot is the most commonly consumed portion of the carrot, although the greens are edible in some types of carrots. Carrot seeds have been found dating back to 3000 BC in what is present day Switzerland and Germany.
Today, China produces approximately 1/3 of the carrots grown worldwide. The United States is the fourth largest carrot producer. If you are interested, there are Carrot Marketing Reports (seriously) that have in-depth analysis of the world carrot trade.
Carrots are an interesting vegetable in that they are common in desserts, side dishes, main dishes and drinks. A truly multi-talented super vegetable.
25 Incredible Carrot Recipes
● Balsamic & Maple Glazed Carrots | Midwest Modern Momma
● Baked Parmesan Carrot Fries Recipe with Chili Mayo Dip | Kitchen Sanctuary
● Cabbage Carrot Salad Recipe with Cilantro Lime Mayonnaise | Green Healthy Cooking
● Candied Carrots Recipe | Couponing for Freebies
● Carrot Bisque Recipe | Little House Living
● Carrot Cake Baked Oatmeal | Frugal Living NW
● Carrot Cake Breakfast Cookie Recipe } Organize Yourself Skinny
● Carrot Cake Cheesecake | Cincy Shopper
● Carrot Cake Cups | Simply Stacie
● Carrot Cake swirled Cream Cheese Bars Recipe | The Jenny Evolution
● Carrot Ginger Juice Power Punch Recipe
● Carrot Pancakes Recipe | All She Cooks
● Carrot Tomato Soup | Eat. Thrive. Grow.
● Carrot Veggie Puffs Recipe Sugaraunts
● Charred Roasted Harissa Carrots | Mashup Mom
● Glazed Carrots with Dill Recipe | She Saved
● Multicolored Shredded Carrot Salad | Trial & Eater
● Orange Glazed Carrots Recipe | Just 2 Sisters
● Pickled Rosemary Carrots | Sidewalk Shoes
● Quick Moroccan Spiralizer Carrot Rice Recipe | Recipe This
● Sweet Carrot Puree Recipe in Pressure Cooker | Pressure Cook Recipes
● Sweet Carrot Souffle | Sparkles of Sunshine
● Sweet Potato Carrot Hash | The Good Hearted Woman
● Zucchini Carrot Bread Recipe
---
● Disclosure: the links in this post may be affiliate links.
● For more Recipes on Ann's Entitled Life, click here.
● If you enjoyed this post, be sure to sign up for the Ann's Entitled Life weekly newsletter, and never miss another article!
---