On our long list of renovations this year, was finding, and installing, a new dining room chandelier. I had asked for your help back in April, and many of you were kind enough to chime in!
We ended up purchasing the Polished Chrome Crystal Candle Chandelier I listed in that April post, and it arrived fairly quickly thereafter. And then it sat on our dining room table for months!
We are having our roof replaced soon, and one of the issues with it (description of issues at a later date) required an electrician. Well, as long as the electrician was coming out, we figured "Why not have him install the new chandelier?"
Best money we ever spent.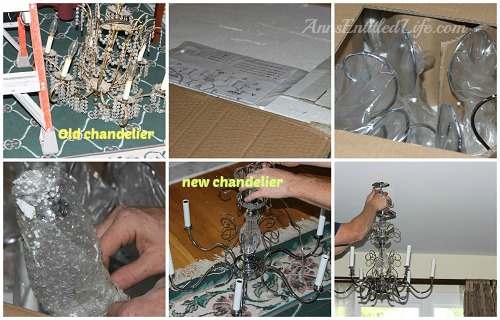 The electrician took down our old chandelier, assembled the new one, hung the new one, and installed the new chandelier in under an hour. It would have taken Hubby and me 4 hours, 3 fights and a session at a marriage counselor to install this heavy chandelier. Sometimes, it is worth hiring a professional.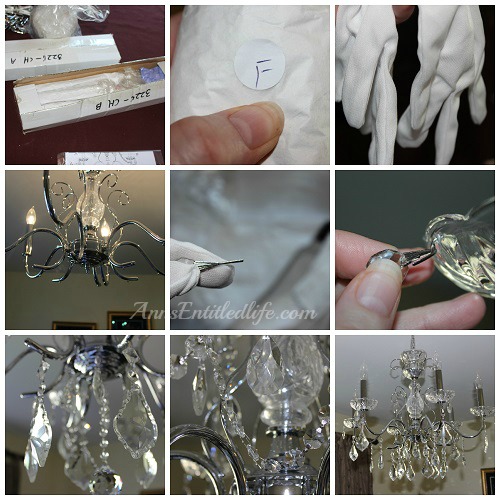 When the electrician finished, I took over to hang the crystals.
Each crystal had a pliable, yet strong, metal piece at the end of it. I could bend each one after I poked it through the round metal on the chandelier itself, and pinch the end so it would not come off. Gloves were provided so as not leave behind fingerprints on the crystals. For the most part, I did use the gloves.
There was a schematic of where each piece should go, but I went my own way. There were a lot of crystals, so I held-off hanging all the ones on each branch by the lightbulb. I also didn't hang all the strings. While I actually attached more crystals than I expected to (I am a rather plain person… less is more is my motto), hanging all the crystals seemed to be overkill to me. I ended up swagging the crystal-chains between the crystals too, instead of a top to bottom swag.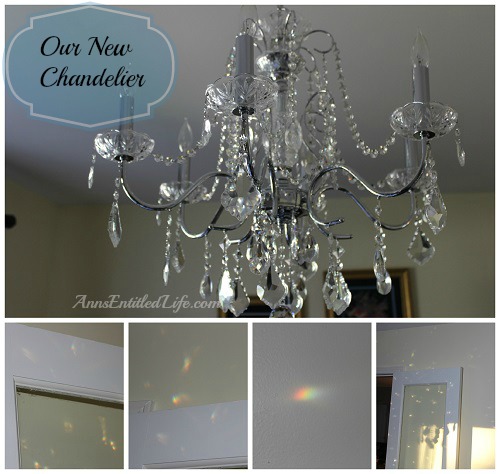 When the evening light comes through,it bounces off the crystals leaving rainbows on the walls. I love crystal refractions!
Hubby and I still aren't sure if we like the new chandelier. It is a definite upgrade in terms of quality from the last one we had in the dining room, but the color… we went with white and really like yellow. I doubt we will swap out to a brass chandelier, after all, it took us eight years to pick out this one, but you never know. If it doesn't grow on us in a year, we may just take it down to our Florida condo, and get a new brass fixture for up here.
---
For more Ann's Entitled Life renovations, click here.
---