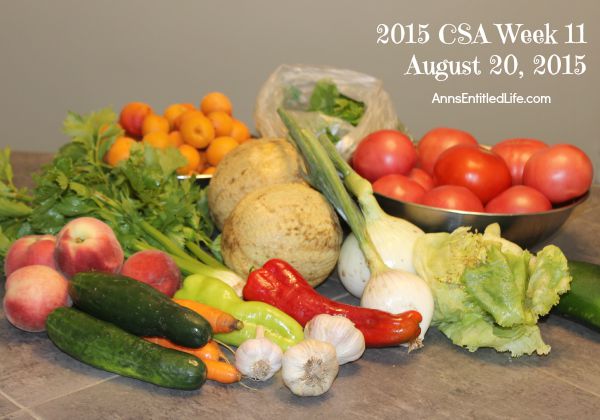 This is the diary of our 2015 CSA share. The cost of our full share is $545 for 22 weeks, from June through October, and works out to $24.75 per week. Western New York weather is such that June is lightest CSA month. September and October will be more than abundant! The first few weeks are light, and very, very leafy. As we move to the fall, the CSA becomes more abundant, and the variety increases greatly.
We also purchased a Fruit Share this year for $180, lasting 18 weeks which works out to $10 per week. The local fruit included in the fruit share starts with cherries, apricots, plums, peaches, nectarines, blueberries, and moves into pears, raspberries and of course apples! This portion of the share begins in July.
---
We had a TON of rain this past week. One night it stormed so hard, we received 4″ overnight. This has been an odd summer, to say the least. May was BROWN instead of green. June was rainy. July – brown. And August was nice and crispy until a week ago when the rains started to fall. We were in "drought" conditions until June. Now that didn't mean we didn't have rain or water, it just meant it didn't rain (or snow) enough in a day to make up 3/4″ of rain. Apparently that is the meteorological definition of a drought? I find that weird, but whatever.
So there was a big fat warning on our CSA's website that they had no idea what we would be getting this week as they didn't know what would rot, and what would grow.
There wasn't a huge variety, but that bag was again pretty darned heavy.
We also received 10 ears of corn that are not in the photograph. I won't even bring them in the house. IMO corn is why pesticides were invented. The bugs just adore non-sprayed corn.
I told Hubby he could process the corn. Lucky him. I seriously almost didn't take it, the corn bugs and worms freak me out so much.
Fruit was again apricots, peaches and plums. Hubby made four apricot pies last week: 1 we ate (it was soooo good!), 2 we froze as whole pies, and 1 just the filling. I am making a few crisps with apricots and peaches tomorrow. The fruit share is really, really worth it!
2015 CSA Share Week 11
● Apricots
● Cantaloupe
● Carrots
● Celery How To Dry Celery
● Chard (did not take)
● Cucumbers 20 Cucumber Recipes
● Garlic
● Kale (did not take)
● Lettuce
● Peaches 20 Fresh Peach Recipes
● Peppers
● Plums (did not take) 20 Fresh Plums Recipes
● Potatoes (did not take) 25 Scrumptious Real Potato Recipes
● Salad Greens
● Summer Squash (did not take) 20 Zucchini and Summer Squash Recipes
● Tomatoes 20 Fresh Tomato Recipes
● Watermelon (did not take)
● Zucchini 20 Zucchini and Summer Squash Recipes
Do you belong to a CSA? If so, what type? How much? Do you find it as worthwhile as I do?
---
● For more CSA posts on Ann's Entitled Life, click here.
● Mind Your Peas and Cukes pinterest board: All things CSA, Produce, Farmstead Fresh – community supported agriculture, farmstand fresh produce, organic produce, more from all over the United States.
● CSA posts
● Find a CSA
● Porter Farms CSA (we belonged for years)
● Root Down Farm CSA (our 2013-2015 CSA)
● NYS Fruit and Vegetable Harvest Calendar
● US Agricultural Data
---