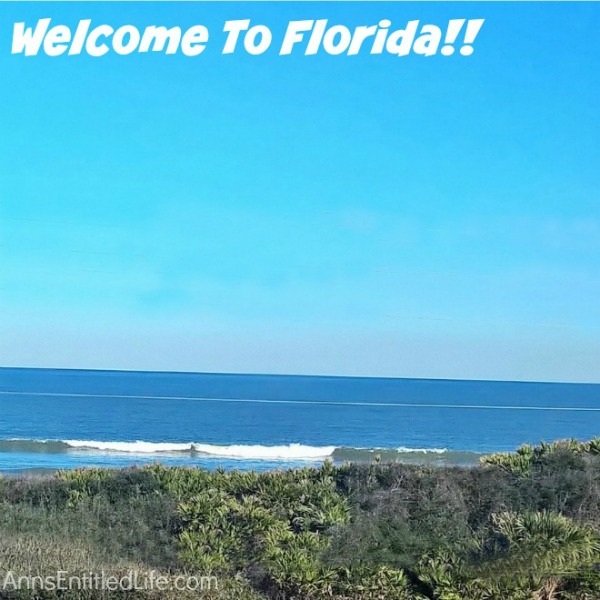 It is snowbird season for us. Time to get back into the vehicle and make the 1000+ mile drive down to our Florida condo and hide out during the winter months.
We carefully plan and time our drive to avoid terrible weather (such as rain storms, snow storms and any other inclement happenings), and we space out the drive over the course of two days. It is a 16 hours drive (I have often longed for a straight road from Buffalo to St Augustine as it is basically a straight drop) plus Mr. Max, Hubby and I stopping every two hours to stretch our legs and switch drivers. Neither of us (hubby and I … Max doesn't do much driving these days) are thrilled with driving… but at least I don't set an alarm for exactly two hours like Hubby does. I swear if he could get away with it, we'd be changing drivers on the side of the road.
Welllllllllllll this year was a little bit different.
Hubby had been toying with shipping his vehicle down to Florida instead of renting a second car this year. Renting a vehicle this year was going to be super cheap in January, not so cheap in February, and downright expensive in March. Due to constraints with our insurance, he could not take a 90 day car rental with one company. He needed to break up companies (so Alamo one time, Hertz another time, Avis for a third rental) and into rental periods of 30 days or less (so 28 days, 28 days, 28 days would work).
He had a shipper all lined up, and then… the shipper couldn't deliver. I will be writing a detailed post on shipping a vehicle in a few weeks. Oy.
So on Monday, January 4th at a bit after noon Hubby looks at me and says, "How soon can you be ready to leave?"
We got the vehicle we were driving down to Florida loaded taking the stuff out of his Honda that needed to come down (we had planned on sending down some stuff inside that vehicle), got packed (I used the small carry-on suitcase packing method this time) and we were off and driving by 2pm.
We made it to Bedford, PA the first night – about 5 hours from home. The hotel we stayed in was kinda beat, but for our purposes wonderful for the dog. It had an exit to the hotel and an exit directly to the outside which was close to the doggie-area and our parking spot.
We knew we wanted to avoid Washington DC, Charlotte and Raleigh, so Hubby and I took the scenic route down to Florence, SC for day 2. We stayed at the best dog hotel ever! The LaQuinta there had a dog staying in every room, or near enough! I have never seen so many dogs at a hotel before. Usually we see one or two, but this one had dozens. Hubby found it on Bring Fido, and we thoroughly enjoyed that recommendation.
On day 3 we made it to St. Augustine. We left Florence late, and still arrived in the Jacksonville area a little after 2. Our first stop was Petco in Ponte Vedra for food for Mr. Max, and then it was on to Target for I don't even remember what, and then to The Fresh Market for groceries. I adore that store, and there are none local to us in New York, so take any opportunity to shop there when we can!
We got to the condo at around 4pm – just in time to stop at the local water utility company and ask them to come back and turn on the water again.
We turn off the water when we leave the condo and drain the tank. When we return for the season, the water must be turned on again, the hot water tank refilled and all the sludge in the pipes run off. The water stinks like rotten eggs when we let it run to get the "brown out". It is one of the things I like least about reopening the condo.
The water utility had been by earlier to turn on the water and noticed the dial running slowly. Since we are on the top floor, a leak was the concern so they shut the water main for us off immediately, and told us to let them know when we arrived. They'd come right back out again.
Turns out it was just one of the faucets that had been left open to drain. They came back out just as we arrived, turned on the water, and all was well! Well, until the shower in the master bath leaked two days later. That required a call to the plumber and $250.
Ah, the joys of home ownership!
The weather was pretty grim when we arrived. Apparently "sunny Florida" had only produced one sunny day in northeast Florida the first nine days of the year. Still, 50s and rain was better than the cold we had left (I am not gonna tell you that by the weekend Buffalo was back in the 40s…grrrrrr)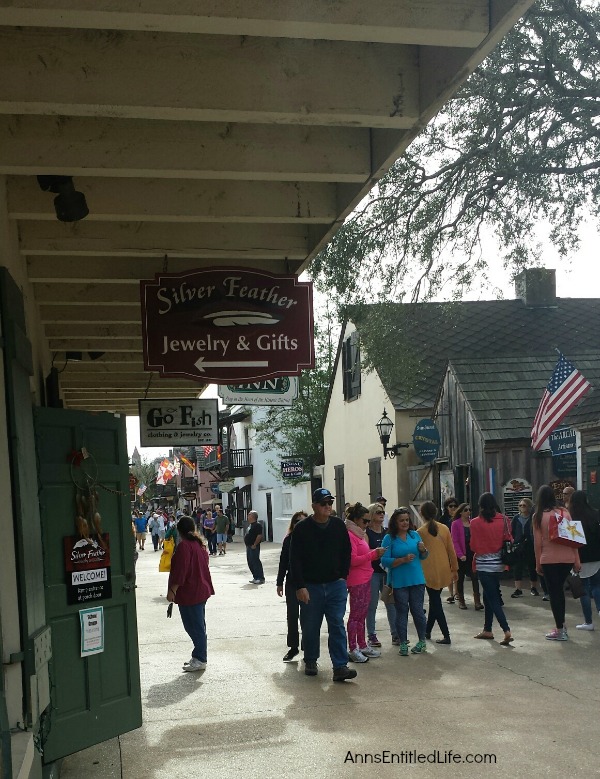 St. George Street in Old Town, St. Augustine, Florida.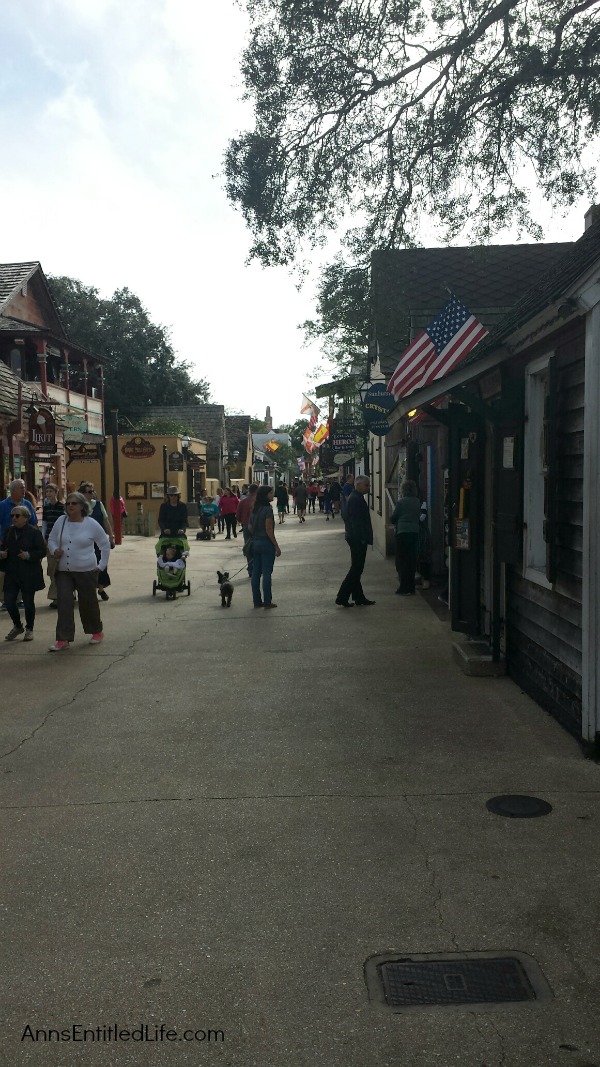 Old Town offers many shops, restaurants and art galleries.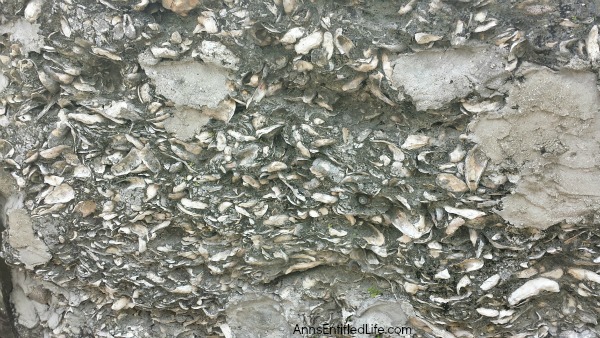 There are many old seashell walls throughout Old Town, including the wall between the Fort and Bridge of Lions.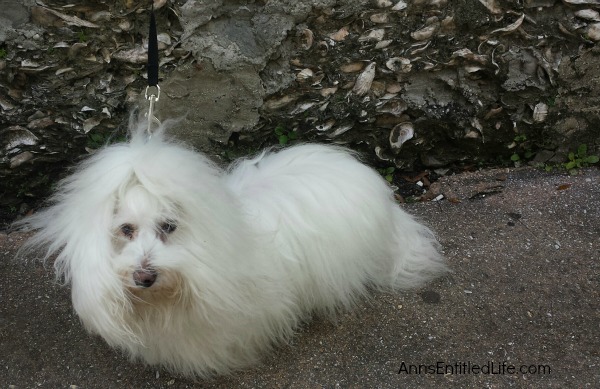 Mr. Max loves strolling through Old Town. He enjoys seeing all the other dogs!
(Enjoys, barks like a loon… to-MAY-toe, to-MAH-toe)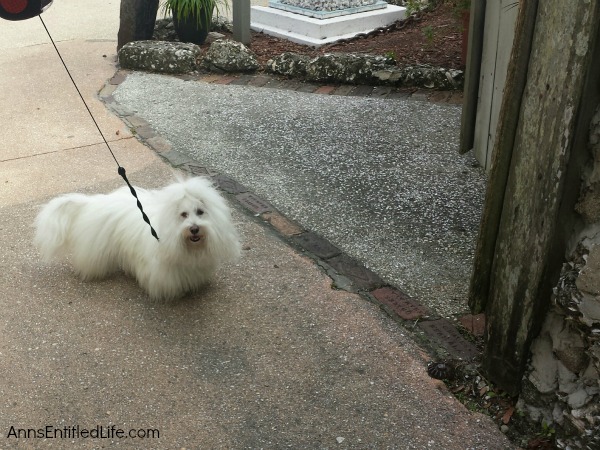 We like it too because we have P.O.P. (passed out puppy) the rest of the day when we arrive home.
We spent our first few days acclimating to the condo and settling in. On Saturday Hubby, Max and I went to Old Town for the 1,572,312th time (ok slight exaggeration there). The sun was trying VERY hard to peek through the clouds, and we had a very enjoyable time reacquainting ourselves with the old shops, and seeing what new shops had replaced a few old favorites.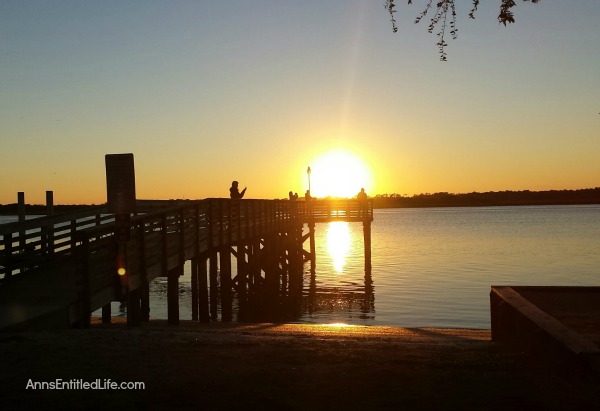 I dragged Hubby to a nearby restaurant last Monday, and saw a spectacular sunset. The sun moved in for a three day stay! While temps were a bit chilly, it was still in the 60s and very nice in the sun.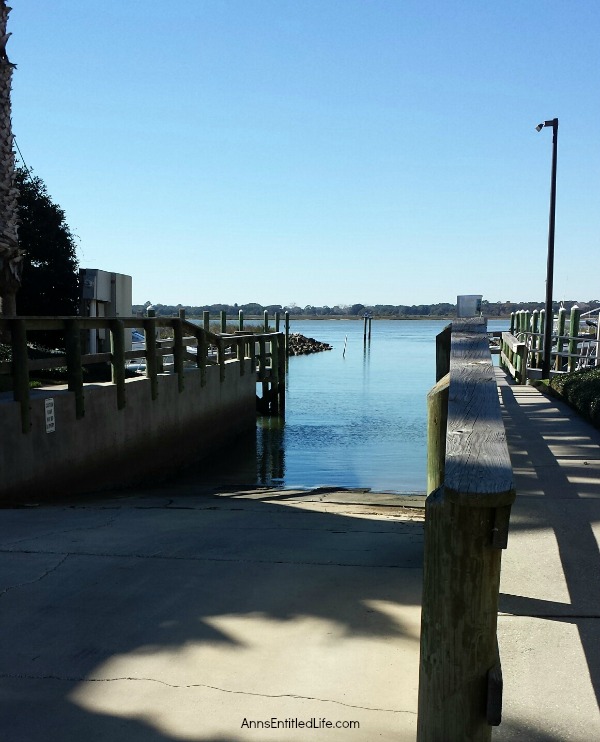 The spot to launch a boat in our community.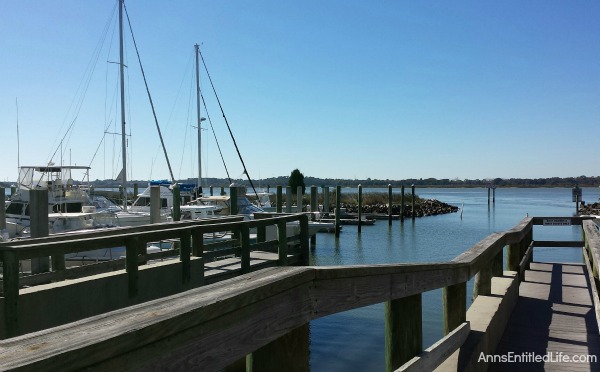 The boat docks in our community for those that want to pay to own a slip. This is on the intracoastal side.
We have yet to drag Mr. Max down to the beach. We need to. Max has decided that when he is bored, we "need" to take him out for a walk. He wanders over to one of us, gives us a snort of disdain, and then heads to the door. Since we are never certain is he has to go pee or not, suckers that we are we take him every time "just to be sure".
Two of the three of us are trained, and let me assure you that one of those two is not the dog.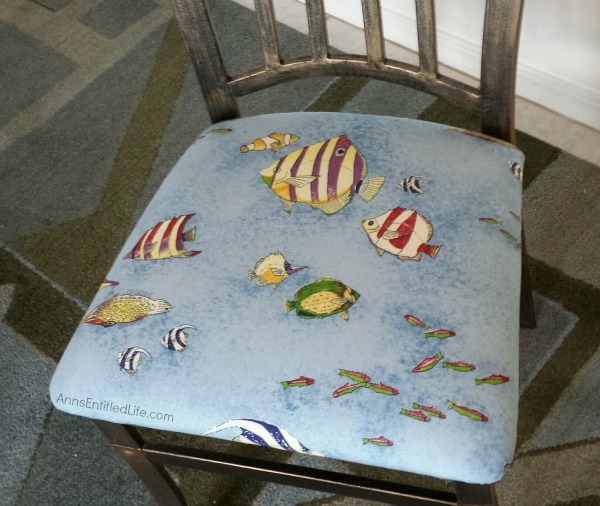 We did get our kitchen chairs reupholstered.
The cheapo dining set we bought has cushions that were hard and very light colored. They discolored badly. I had purchased some fishy fabric last year and was going to make it a blog project – that is until I pulled the upholstery off one seat and found two layers of tacking. At that point I said forgetaboutit, and Hubby and I decided we'd find an upholsterer in St Augustine when we got back down in January.
Soooooo, Hubby called the upholsterer (American Craftsman Upholstery they don't have a website to link to) last Monday and they told us if we dropped off the seats on Tuesday morning, they could have all four seats ready for us by the end of the day!!
We dropped off at 9:30 am, and the call came to pick them up at 1pm. I am THRILLED with the results!! Aren't these cute?
And as I write this, it is now pouring again. I guess I'll get to work on those seashell craft projects I had planned for this season.
In spite of all the rain, it has been so far so good to date down in Florida this year!
So how is your week going!?
---
● If you enjoyed this post, be sure to sign up for the Ann's Entitled Life weekly newsletter, and never miss another article!
● For more Florida posts on Ann's Entitled Life, click here.
---