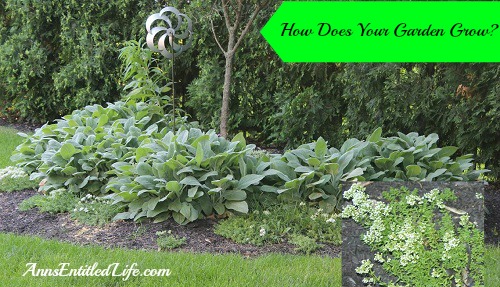 Hot and wet – those words describe our weather perfectly the last few weeks. We actually had a stretch of a few days without rain where the humidity was sky-high and the temperatures rose to 90°. And for us, 90° is very unusual. The plants seem to love it though as they are overgrowing the yard, and it is still only June! By September I expect to be living in a jungle.
In the picture above you can see where the plants are taking over the dirt-island, and the insert picture shows that our ground-cover is actually growing!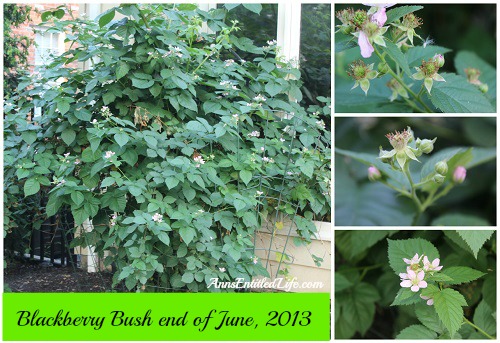 The blackberry bush is growing wild, spreading over to the spot where the thorned blackberry bush used to be, and starting to grow higher than the roof! I may need to trim that back a bit before it takes over that entire section of the yard.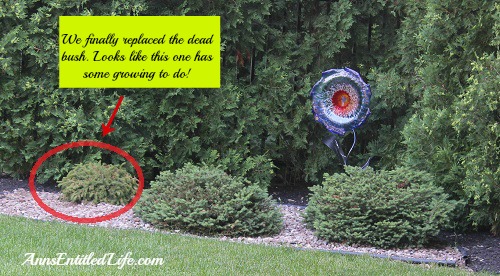 We finally replaced the dead bush in the back. I just have to remember to either water it, or turn the sprinkle system on. I think the sprinklers might be a better choice. The new bush looks funny compared to the older two that are seven years old and fully mature. Guess the little guy has some growing to do!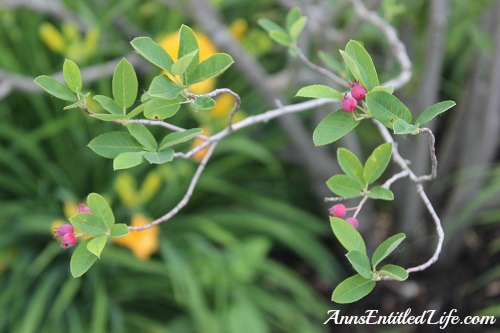 In the front yard a lot of things have stopped blooming, and now it is mostly various shades of green up front – with a few exceptions.
We don't have overhead power wires. Everything is underground, and then there are these big, ugly junction boxes every to every other house. These boxes house cable and electric. They are green metal, and not rusty, but nevertheless less than pleasing to look upon. When we had the house landscaped seven years ago, they put a few bushes and some lilies around that junction box. The service workers can still get to the box without chopping anything down/apart, but the flora hides a lot. Nearly everyone with a junction box on their front-side lawn does the same thing.
One of the bushes is this woody thing that flowers in late spring. This year, it produced some sort of berry. The berries I have never seen before, and this plant is seven years old. I have no idea if they are decorative or edible for animals or humans – and I don't intend to find out either!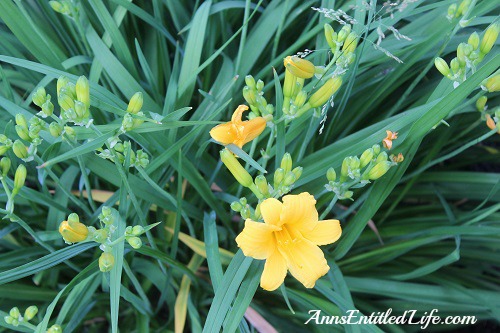 The lilies that were budding two weeks ago are now in full bloom. On our way back from Ohio we stopped in Pennsylvania where these were growing everywhere, so I had hoped that an hour north they had bloomed too, and was pleased to see that they did.
I think Hubby and I will be trying a ride for produce the beginning of July. We'll be able to assess just how much the rains have damaged the NYS summer crops. I know it is bad in much of the country, and I look for rising produce prices in the fall.
So, how does your garden grow? Are you planting one this year? Sticking with a CSA? A flower or herb garden perhaps? What's happening in your green-world?