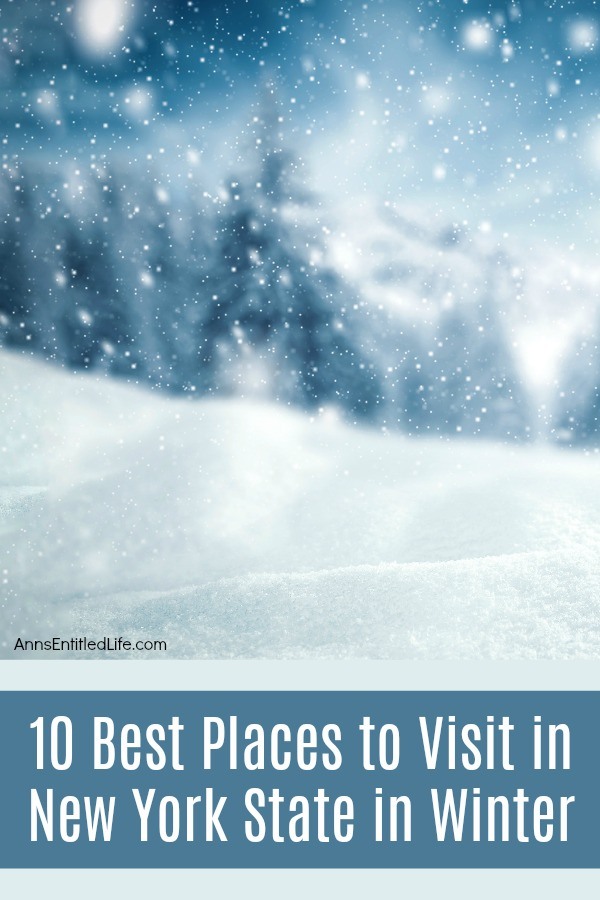 Winter does not need to stop your travels. Just consider new adventures that take advantage of playing in the snow, such as skiing, sledding, skating or even cross country skiing. How about building a snowman on the same grounds where the United States won a gold medal in men's hockey? Or, touring New York's wine region, but in addition to checking out the local wines, maybe go ice fishing, too. You can also visit your favorite wineries while in the Finger Lakes region. Whatever you decide to do, do not let the snow prevent you from having fun, embrace and enjoy all that winter has to offer in beautiful New York State! Here are a few spots around the state that make for great winter getaways.
10 Best Places to Visit in New York State in Winter
Live in New York State and looking for a winter day trip, or weekend trip to enjoy with your family or significant other? Or perhaps you live south of the Mason-Dixon and would like to experience a great northern ski and snow season?
If you are ready to have a fantastic winter vacation, here are the top Winter Vacation Spots in New York State to visit this year: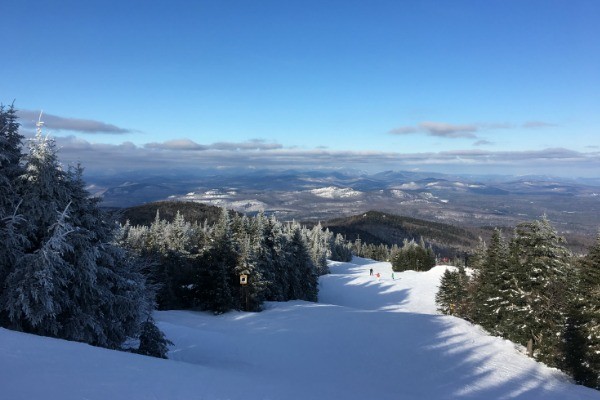 1. Adirondacks
From winter skiing to summertime hiking, the Adirondack Mountains and their communities offer outstanding experiences year-round. During the winter, explore the mountains with a hike via snowshoes or cross-country skis. With about 200 miles of trails, snowmobile enthusiasts will find plenty of space to enjoy speeding along snow-covered lanes, including Lake George and Lake Champlain.
With festivals taking place throughout winter, winter is party time with Adirondacks towns and villages. Lake George celebrates its winter carnival throughout February. Ice sculptures, great food, and a polar plunge highlight the events. Other communities celebrating winter include Brant Lake, Indian Lake and Inlet.
Don't forget to check out shopping opportunities at Adirondacks outlets and boutiques, such as Lake George Outlets with its variety of shopping opportunities. Small town shops feature unique foods and products, including maple syrup, cheese, meats, and crafts.
Check out the area's bed and breakfast inns for your winter getaway.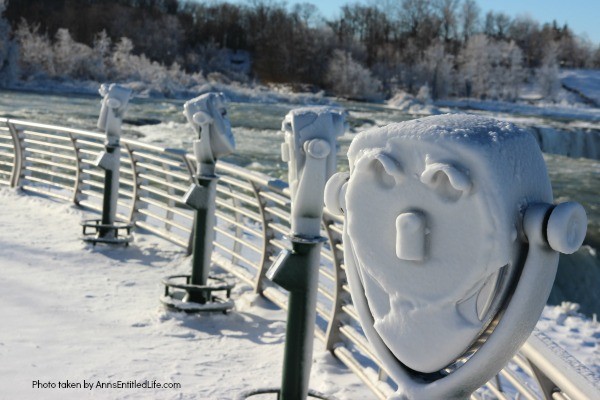 2. The Catskills
The Catskills can look like a pristine white quilt as snow covers its rolling hills, mountains and forests. Yet, that beauty invites you to be part of the winter fun. With outstanding ski resorts, as well as lodges and bed and breakfast inns, the area is ripe for a winter getaway. From fantastic skiing and snowboarding spots to trails for fun cross-country skiing and snowshoeing, the Catskills is a winter enthusiast's paradise. Rev up the snowmobile and enjoy racing along mountain trails.
But, if you are not in the mood for winter sports, how about farm life? The Catskills are home to farm stays, where people can spend a weekend staying on a working farm and help with chores, such as milking cows and feeding animals. It provides an opportunity to learn firsthand what goes into farm living.
3. Chautauqua County
Hugging Lake Erie along in western New York, Chautauqua County sees lake effect snow often during the winter (when you hear "Buffalo got snow" on the national weather station, it is usually here in ski country), creating a white canvas waiting to be explored via snowmobile, cross-country skis or snowshoes. With more than 25 ski slopes and trails available, as well as five challenging terrains, Peek 'n' Peak Resort offers great winter activities such as skiing and snowboarding. With hiking trails giving way to snow-covered paths, cross-country skiing fans and snowshoe enthusiasts will find the trails inviting for their winter adventures.
At the end of the day, you will want to relax and enjoy the evening. Find your way out of a locked room experience with Escape Rooms Jamestown. A locked room experience challenges you to solve puzzles and answer clues that lead your team to a safe exit from your room within the allotted time limit. You can also unwind with a glass of beer or sip a wine at Jamestown's wineries or breweries.
4. Cooperstown
Winter may be the best time to visit the National Baseball Hall of Fame as you can reserve a custom tour that focuses on your favorite team. The tour features memorabilia and exhibits specific to your team. New York Yankee fans may have to plan a whole day to tour their team's accomplishments. Don't forget a visit to the Fenimore Art Museum and its beautiful courtyard looking out to Lake Otsego.
Otsego Lake is beautiful no matter the time of year. During the winter, grab some skates and go ice skating on the lake (weather permitting, of course). Cooperstown may be best known for baseball, but the area is home to outstanding areas for snowshoeing, cross-country skiing and snow tubing.
Cooperstown is home to some excellent lodging options, such as the Inn at Cooperstown, Tunnifliff Inn, Rose and Thistle B&B and the Holiday Inn Express and Suites.
5. Finger Lakes
With lakes in the region's name, you know that ice fishing has to rank as one of the fun things to do in Finger Lakes during winter. Drilling a hole in one of the frozen lakes and taking part in a favorite winter activity is perfect for the Finger Lakes. Rainbow trout, bigmouth bass and perch are the fish most commonly caught during winter. Do not forget your New York State fishing license. You can print it out online (I have done this before) if you decide on a last-minute trip and do not want to wait for it in the mail.
Ganondagan State Historical Park features about 500 acres that are perfect for snowshoeing. As you walk across the snow, be on the lookout for wildlife such as fox or deer. You may also want to explore the park's history, including the Seneca Bark Longhouse, a 17th- century tribal home.
Since the Finger Lake area is known for its wine, create your own winter wine trail, with stops at any of the dozens of wineries open year-round. Pair your favorite drink with cheese or chocolates, and you have an impressive winter outing.
While you are in the Finger Lakes, if you would like to do some winery exploration, I've been to more than a few:
* Estate Wineries on Seneca Lake
* Wine Tasting On Canandaigua Lake
* Wine Tasting On the West Side Of Seneca Lake
* Wine Tasting On the east Side of Seneca Lake
* Wine Tasting On Cayuga Lake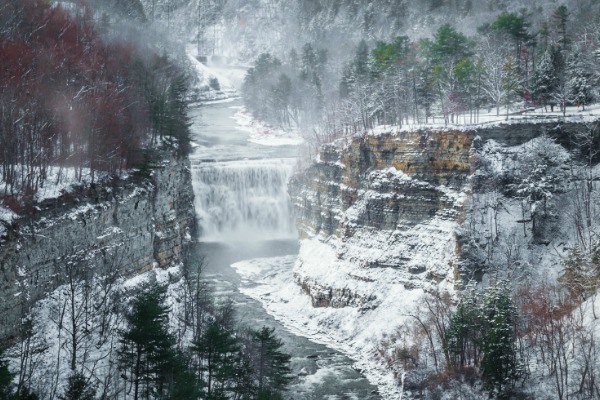 6. Letchworth State Park
Known as the "Grand Canyon of the East," Letchworth State Park offers a bounty of outdoor activities to warm you up during winter. Situated about an hour south of Rochester, the park has more than 60 miles of trails that can be used for snowmobiling and cross-country skiing. Or even snowshoeing. The park also features excellent terrain for snow tubing. Considered one of the nation's best state parks, Letchworth State Park's trails are perfect for exploring nature year-round.
Stay in the park at the Glen Iris Inn or consider one of the area's hotels, only a few miles from the park's main entrance.
7. Lake Placid
Of course, the spot of the USA's 1980 Olympic gold-medal winning hockey team must be visited. Located in the Adirondacks, does any other place really say winter in New York better than Lake Placid?
Home to the Lake Placid Olympic Museum, you can learn about the history of the winter sports. Possibly even more fun would be taking a luge or bobsled ride down the same runs as Olympians. If Olympic sports may be too fast or challenging, grab a pair of skis and head out for some cross-country skiing or try snowshoeing area trails. The Lake Placid area is perfect for the activities. Sledding is fun anytime, but there is something special about sledding at Lake Placid. Avid skiers and snowboarders can enjoy a challenging course down Whiteface Mountain.
If you just want a relaxing weekend at Lake Placid, check out area spas, museums, and art galleries.
The snow may cover the mountains, but it doesn't stop Lake Placid from offering a great winter getaway. Click here for lodging options.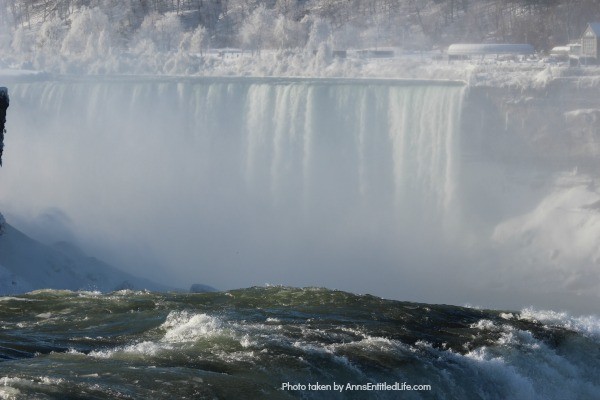 8. Niagara Falls
Niagara Falls is beautiful in the winter. Here are some of the photos I have taken of its frozen, beautiful wintertime majesty.
Niagara Falls State Park is simply breathtaking in the wintertime. Enjoy the lightshow, the view from the Observation Tower, and walk the trails on Goat Island and Three Sisters Island. After a half-day spent walking the park, you can enjoy some of the Niagara County regional wines, including New York State Ice Wines! Yum!
10 Free Things to Do in Niagara Falls
Here is a great place to find a Niagara Falls hotel: Niagara Falls hotels.
10. Syracuse
When you're considered the snowiest city in the United States with more than 100 inches annually, you can either hide away for three months or embrace all-things snow. Syracuse grabs winter by the horns and owns it. The home of Syracuse University basketball is also home to Winterfest. For 10 days and nights Feb. 13-23, the city welcomes locals and visitors to celebrate the area's food, cocktails, and attractions such as ice sculptures, skating, and a treasure hunt! With local attractions open for visits, including the Erie Canal Museum and the Onondaga Historical Association museum, where you can learn about the area's history as well as enjoy special exhibits.
Of course, with all that snow, Syracuse has to be a great spot for winter sports, right? Try ice skating at Clinton Square or Meacham Park. Located about a 30-minute drive south of the city, Song Mountain Resort offers excellent skiing options. Strap on your skis and enjoy cross-country skiing or snowshoeing along trails in Syracuse parks, including Beaver Lake Nature Center, Highland Forest, and Onondaga Lake Park. Snowmobiling fans will enjoy zipping along Highland Forest Park, as well as nearby Oneida Shores Park and Erie Canal towpath.
During your visit, Syracuse hotels offer several options for comfortable stays.
With some of the snowiest cities in the United States in Syracuse, Rochester, and Buffalo, not to mention the fabulous ski slopes of Chautauqua County and the beautiful Adirondacks, New Yorkers truly enjoy winter and revel in playing in the white stuff. From snowmobiling to snowshoeing, as well as festivals and wine trails, there is plenty to do and places to explore in New York State during the winter.
So come and embrace the winter and enjoy a fun and adventurous winter getaway in New York.
Looking for more New York State seasonal delights? Here are some great New York State getaways for you and your family to enjoy:
● 10 Best Christmas Towns in New York State – While we may take it for granted sometimes, those of us who live in New York State know that it is a magical place to live during the holidays. Whether you are a New York resident, or you are visiting for the holidays, you can find some pretty amazing places to visit here in the Empire State.
● 10 Fabulous New York State Springtime Getaways – While we may take it for granted sometimes, those of us who live in New York State know that it is a wonderful place to live and play during the springtime. Whether you are a New York State resident, or you are just vacationing in this beautiful region, you can find some pretty amazing places to visit here in the Empire State.
● Best Summer Family Getaways in New York State Summer means vacation time! New York State is home to many inviting spots to spend a long weekend or a full week (or two) with the family. From retracing the steps of great Olympians to camping and fishing outdoors to checking out some of the scary and fun attractions at amusement parks, New York State invites you to enjoy some great quality time with your loved ones on a terrific family getaway.
---
● For more New York State Travel posts on Ann's Entitled Life, click here.
● If you enjoyed this post, be sure to sign up for the Ann's Entitled Life weekly newsletter, and never miss another article!
---