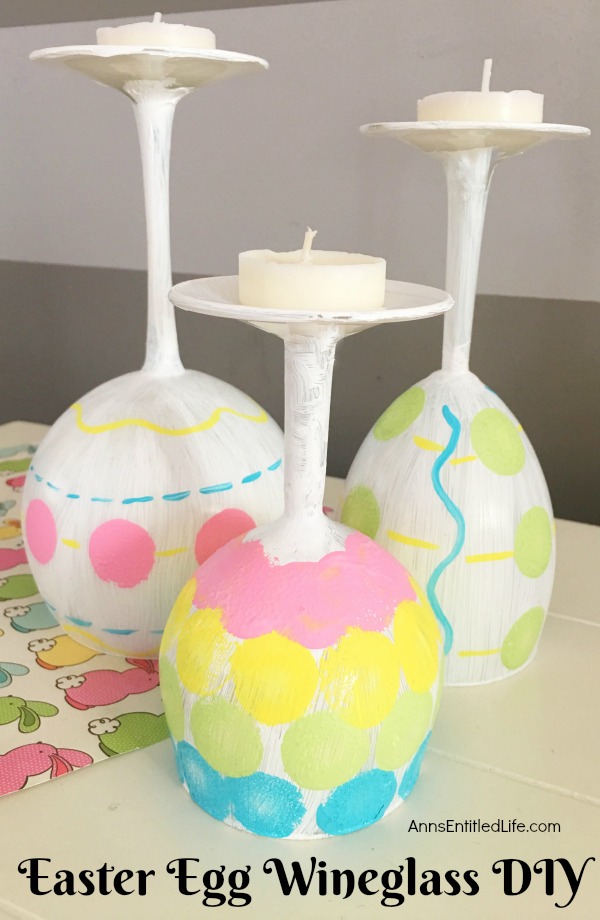 Easter Egg Wineglass DIY
Make your own adorable Easter egg wineglasses! This easy step by step tutorial will show you how to easily make sweet Easter egg wineglass decor which are perfect for a centerpiece, mantel decor or table decorations this Easter! This is an easy to make, delightful Easter season craft project.
You can make this any color and may want to vary it a bit (even with just different color yellows or blues or pinks for depth) if you are making three or more as part of a centerpiece or a bigger holiday table decoration. These also work for spring decorating, so keep that in mind too!
I really like painted wine glass decor, as you can see by the Yellow Chick Wineglass DIY (so, so cute! for Easter or spring), Love Bug Wineglass DIY (Valentine's Day or Summer decor), Love Monster Wineglass DIY (Valentine's Day or Halloween) Turkey Wine Glass DIY (Thanksgiving or Fall), DIY Wine Glass Snowman (Christmas or Winter), DIY Wine Glass Witch (Halloween) and the DIY Pineapple Candle Holder (anytime!) crafts I have shared in the past. But the truth is, these painted wine glass crafts are simple to make, fun, and are finished in no time flat. Truly just about any adult can make them.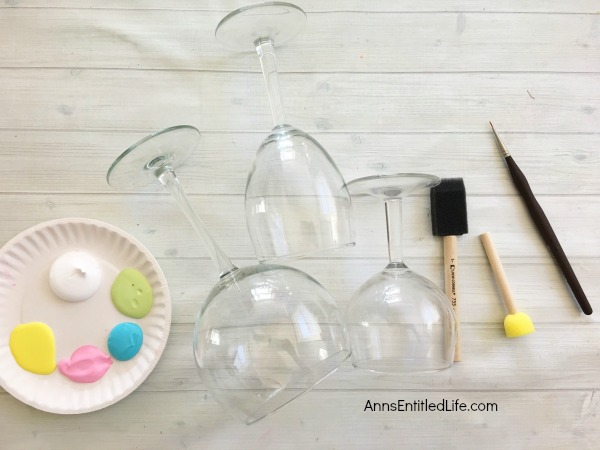 Easter Egg Wineglass DIY Materials:
● Any Wine Glass(es)
Enamel Paint
: white, pastel yellow, blue, green, and pink were used in this craft
● Foam Paint Brush
● Small Easel
or Paper Plate
● Small Detail Paint Brush
● Round Sponge Painting Tool

● Tea Lights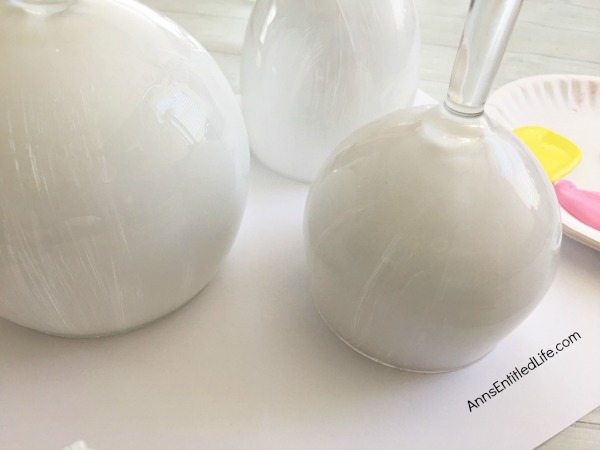 Easter Egg Wineglass DIY Directions:
● Lay down a covering to protect your work surface.
● Paint the inside of your wineglasses white with your foam paint brush.
● Allow to dry.
● Paint the outside of your wineglasses white with your foam paint brush.
● Allow to dry.
● Note: on any of these painted wineglass decorations if you feel one coat of paint is not enough coverage (even with painting the inside and outside), just allow the first coat of paint to dry completely, then add a second, thin coat for more complete coverage. Allow to dry completely.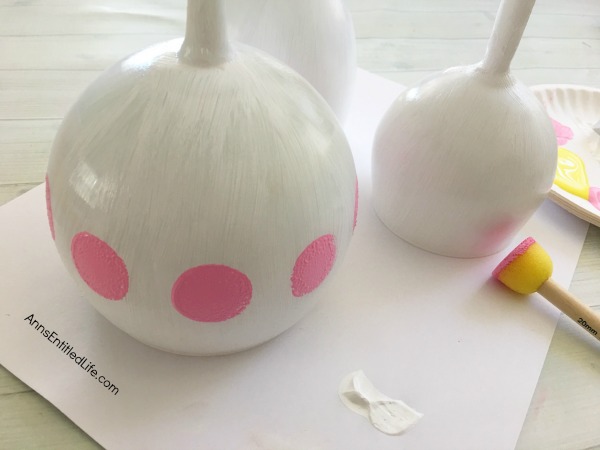 ● Turn your glasses upside down and use your circle foam to dab into your paint and carefully press onto your painted wine glasses.
● Go all the way around your glass. You could do a straight line, a wave, close dabs of paint, spread out dabs.
● This tutorial used pink, blue, green and yellow for the round dabs, but you could also use lilac, purple – any color that springy or Easter-ish.
● Allow to dry.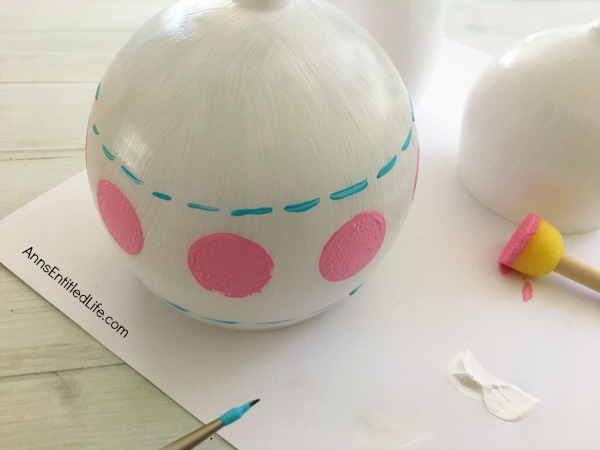 ● Use a small detail paint brush to make more detailed lines, dashes, and swirls. Make them your own.
● Allow to dry.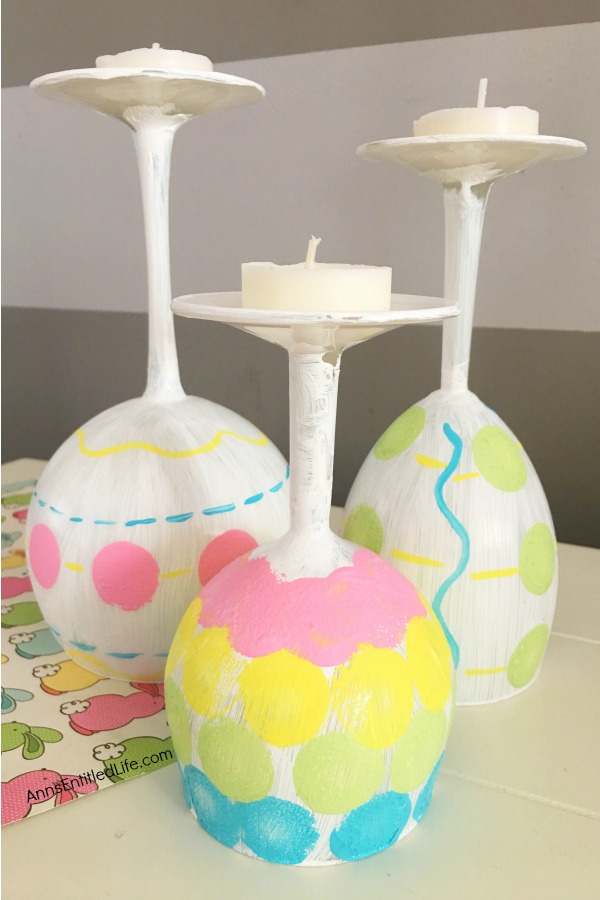 ● Top off with a tea light candle. If you want to use a flameless tea light, that would like lovely too.
● Set these cute little wineglasses in the middle of your table, on your fireplace mantel or an end table for a great Easter decoration! Make the group of three in the same or in staggered height for a sweet little centerpiece.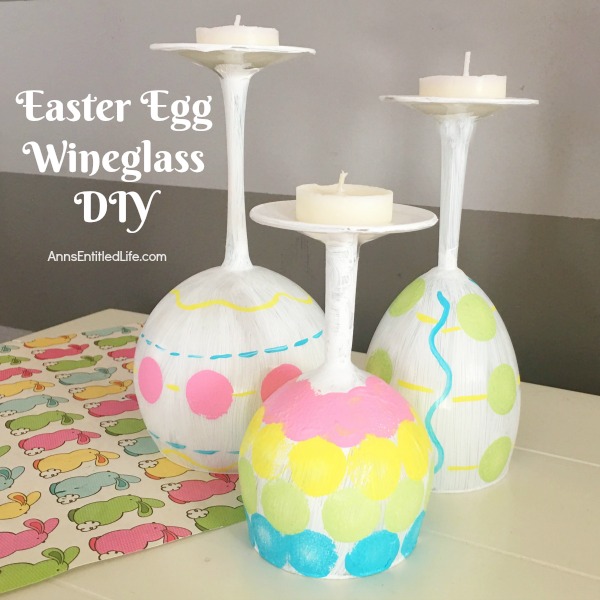 ● To print the Easter Egg Wineglass DIY Instructions, click here.
---
● Disclosure: the links in this post may be affiliate links.
● For more Holiday posts on Ann's Entitled Life, click here.
● For more Craft posts on Ann's Entitled Life, click here.
● If you enjoyed this post, be sure to sign up for the Ann's Entitled Life weekly newsletter, and never miss another article!
---