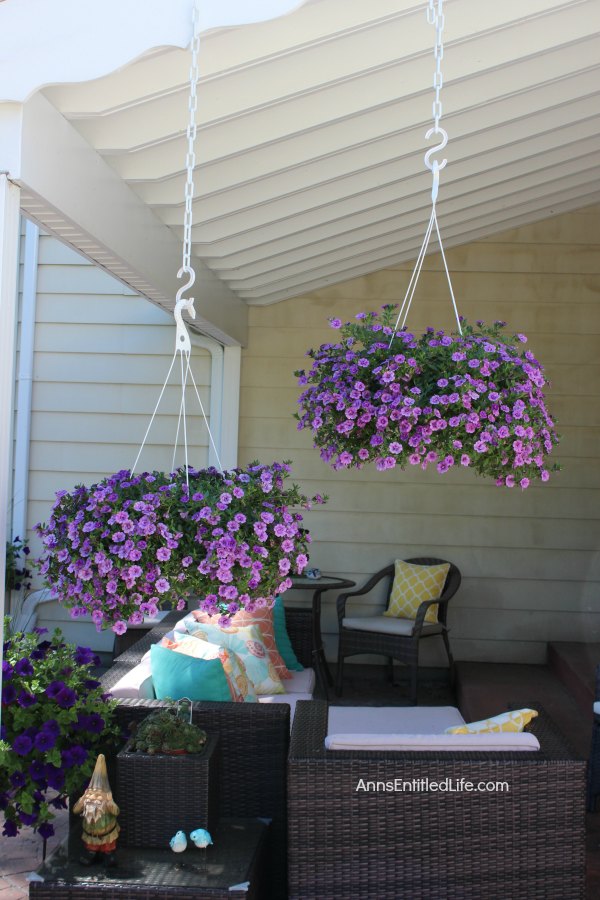 The gardening season got off to a slow start this year. After a very warm and dry April, May was cooler and wet. This caused a slight delay in getting my plants into the ground for the season. I did plant my earth boxes just a few days later than normal – the week after Mother's Day as opposed to Mother's Day weekend. So far we have had a nearly three-month spring (VERY long for this area), but I think summer may have broken through this week.
Things have moved along rapidly, however, and all signs point to a productive tomato, bean and cucumber season. The jury is out on the peppers as you will see below.
I once again used my hanging basket hack on the patio. It makes life soooo easy!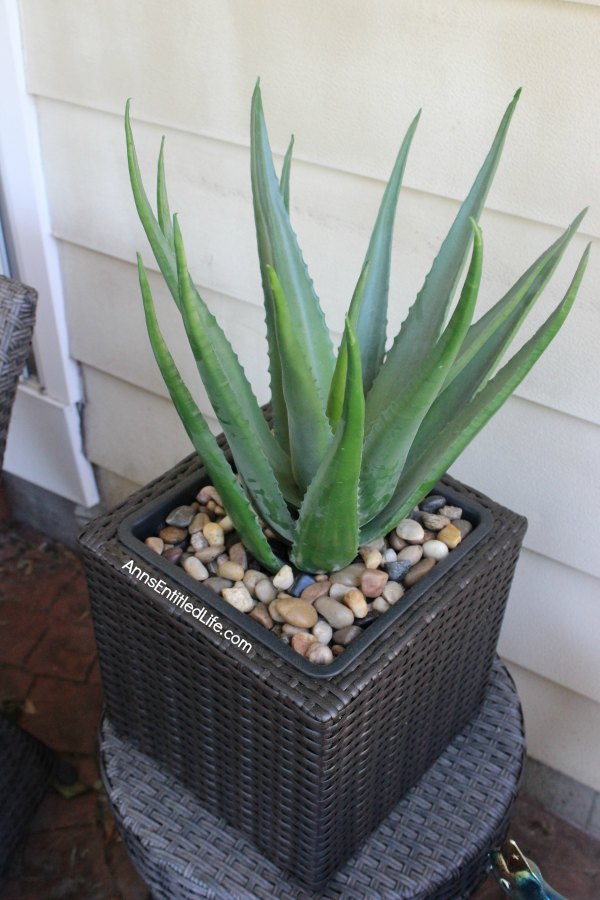 The patio has a lot of flowers in baskets, some hens, and chicks (I will transplant them to the ground at the end of the season), and even a fake plant that looks so very real (see above). It is amazing how far they have come with faux plants. There was no way to give a real plant sunshine under the awning, so faux it is!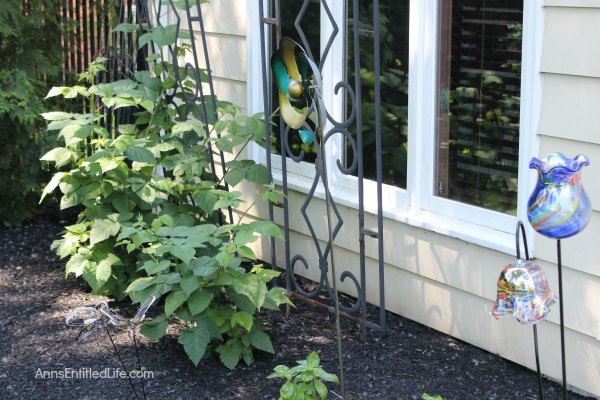 I was reading a local garden newsletter last week, and blackberries are supposed to be back this year. Last year's blackberry crop was nonexistent, and what did produce was extremely bitter. I will say my blackberry bushes do look fabulous right now, so I am hopeful! I miss the large blackberry production in my own backyard.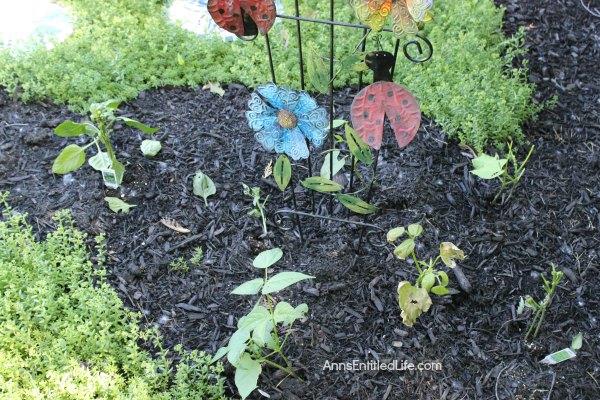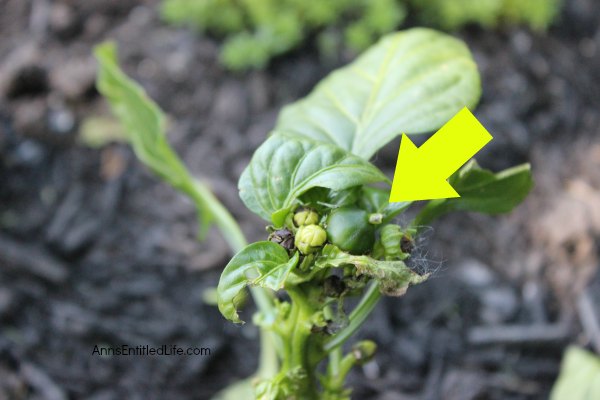 Oh my poor, poor peppers. This year I planted 12 pepper plants, various types. Six went into an earth-box knock off from Home Depot (they were cheap so Hubby bought me two to try), and six went into the ground. In spite of seeing that small bud, I have zero hopes for these plants.
The peppers inside the city pickers seem burned. The green peppers in the ground were a rabbit smorgasbord. We have had a ton of rabbits this year (multiplying like bunnies I guess) and Max just seems to want to coexist with them instead of chasing them out of the yard. However, the rabbits have been scarce this past week and I noticed a few large birds in the area (although no owls), so the rabbits may be laying low… or have become a hasenpfeffer dinner for those large birds (that look suspiciously like some type of hawk).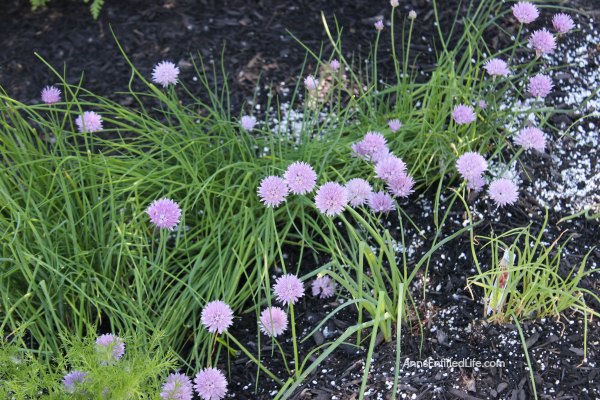 I planted some scallions next to the chives per Hubby's request. This is my first time planting an onion in this backyard, so we shall see how it goes.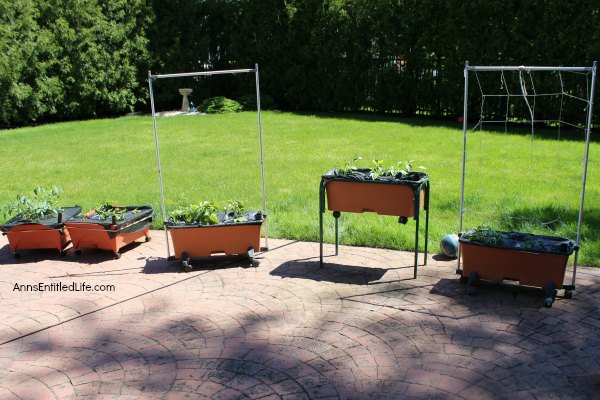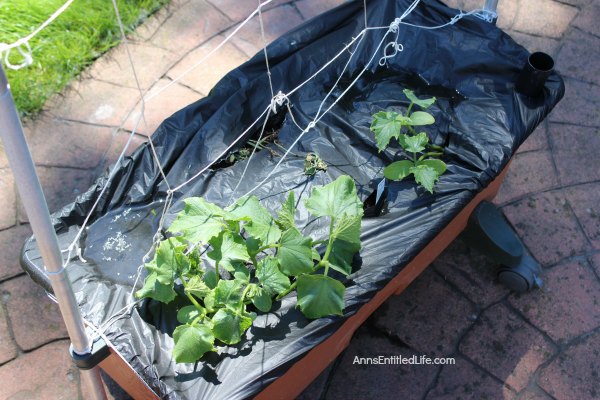 The earth boxes have cucumbers (although only a few after last year's cucumber invasion) and green and yellow breans. Hubby and I love beans and eat them raw, make oven roasted parmesan green beans, blanch and freeze them, and if we have enough, can green beans.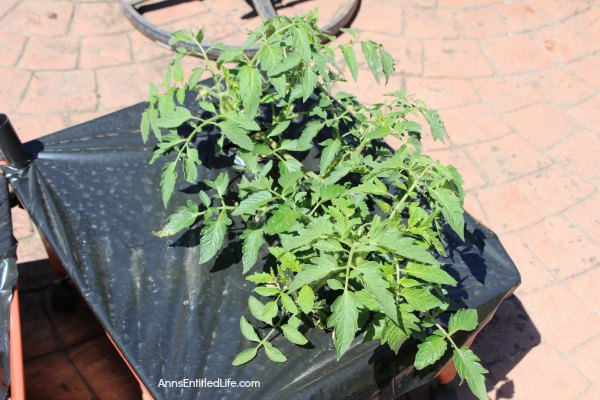 The second city pickers box has roma tomatoes. I planted two in the ground, and two in the city pickers box to see what would happen. So far the ground tomatoes look terrible, and the city pickers box roma tomatoes are thriving. We shall see how the season progresses and if tomato blight is finally done with New York State.
In addition to the roma tomatoes (planted specifically for freezing tomatoes later), we have a patio tomato plant. We make cucumber caprese salad all summer long, so these, and a reasonable amount of cucumbers, will be used as they ripen.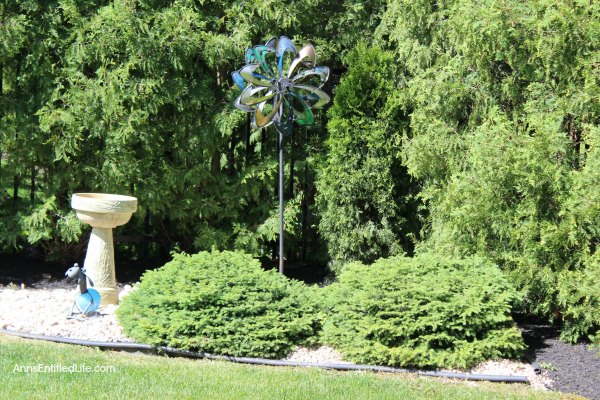 The corners of the yard have been rock-based for years. We had three evergreen shrubs on the left side corner, and the evergreen bush on the far left side (of that left side) has been replaced three times. It died (again) so I decided to give up and just live with two shrubs. But that meant we had a "hole".
Hubby and I laid more river rock to fill in the (real) hole left behind by removing the shrub. Hubby then moved the birdbath over from the right side rock area. That left nothing in the right corner though! (We had never had plants on the right side as it is much shadier there.) Hubby mentioned he has an old, seasoned wheelbarrow at one of his properties, so we picked it up, placed some cement blocks inside that old wheelbarrow for height, and then bought two hanging baskets and placed them inside!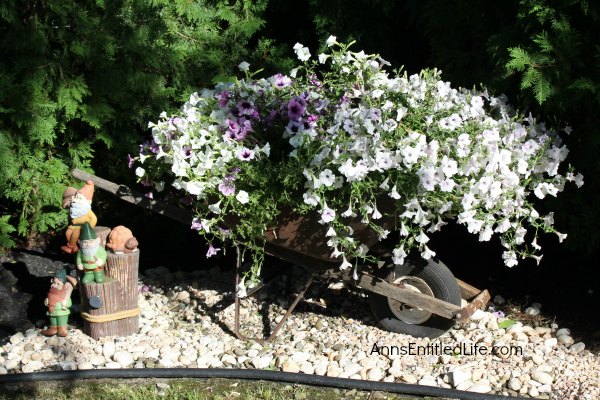 I love how it turned out.
Hubby suggested we go with light colored flowers in the corner as it is very dark there surrounded by the arborvitae. I could not disagree, so bought white petunias with a touch of light purple flowers to match all the other purple plants on the patio.
I still have a little more to do before we have the backyard "party ready." I purchased a few solar lights including a few of these butterfly hanging light (wow have those come a long way!) and would like a few more plus some solar light strings for around the patio awning.
How is your garden growing this spring!
---
● Disclosure: the links in this post may be affiliate links.
● For more Gardening posts on Ann's Entitled Life, click here.
● If you enjoyed this post, be sure to sign up for the Ann's Entitled Life weekly newsletter, and never miss another article!
---