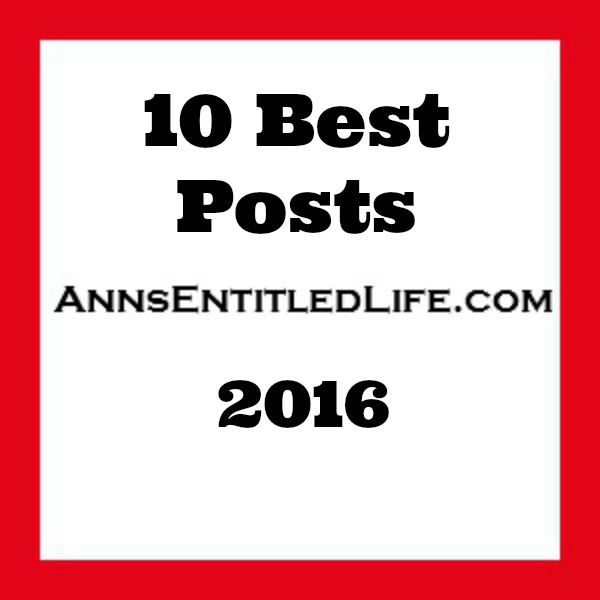 Every year since I began writing Ann's Entitled Life in 2013 I have rounded-up the 10 "best" posts of the prior year in early January. I've chosen my personal favorites in the past, as well as highly trafficked blog posts. This year, I will continue to highlight the highly trafficked blog posts.
2016 was much different for Ann's Entitled Life than previous years in that Facebook completely collapsed traffic for bloggers and businesses who were not paying Facebook to get into your Facebook newsfeed. While many people still share my blog posts on Facebook (thank you! thank you so very much!) Facebook is pretty stingy on the reach those shared posts get. I did have one Facebook success story in 2016 (the Christmas Cookie Jello Shots), but for the most part, the social media that is driving traffic to my blog these days is Pinterest, StumbleUpon, and Twitter.
These were the top 10 most trafficked posts in 2016 on Ann's Entitled Life:
● 20 Useful Household Hacks – This actually shocked me. While people like hacks and this post spent most of the year on Pinterest as one of my top pins, I still did not expect this post to be my most trafficked post on Ann's Entitled Life. It was #2 in 2015, so I guess… why not?
● Christmas Cookie Jello Shots – This was my #1 post written in 2016. This traffic came from all over but was driven mainly by a semi-viral Facebook share. It is a very versatile recipe so I am sure that helped too!
● Twice a Year Cleaning Secret For Sparkling Shower Doors – First published in 2014, this household tip is pretty popular and very useful in that it actually works!
● Orange Creamsicle Cocktail Recipe – This cocktail recipe was my #1 post in 2015. People have really enjoyed this cocktail – I've watched several youtube videos of people making it, and trying it live! With millions of views, this is one popular recipe.
● Banana Split Icebox Cake Recipe – Originally published in 2013, this delicious dessert recipe has been on my "best of" list every year since I have published it. It is really like no other banana split icebox cake you have ever tried!
● Italian Macaroni and Cheese Recipe – This yummly mac & cheese recipe continues to delight taste buds. Totally delicious!
● Chicken Salad Recipe – This is the best recipe Hubby has ever made (and that is really saying something as he is an excellent cook!). This made the "best of" list in 2014, disappeared in 2015, and reappeared in 2016. We make this all. the. time. Try it! You'll like it!
● Creamy Cucumber Salad – OMG this is recipe is outstanding. It is what my Grandmother used to make. I adore this recipe, and it seems others have enjoyed it too.
● Slow Cooker Cinnamon Roll Breakfast Recipe – Originally published in 2014, this recipe is actually number three all time on Ann's Entitled Life with well over two million people stopping, reading, and hopefully making this fantastic breakfast recipe!
● Why You Need Lemon Balm In Your Garden – This post on the many uses of lemon balm has been very well received since published in 2014.
For the most part, my older posts have been the blog traffic driver. When I look at my Top 25, the only posts that were written in 2016 to make the list are Jello Shots (there are three in the top 20), a few DIY Beauty, and the Sock Bunnies (these are so cute! Make them for Easter!)
I always find these "best of" roundups fascinating! (I am easily fascinated. )
To look back past past best ofs:
● 10 Best Posts of 2015
● 10 Best Posts of 2014
● 10 Best Posts of 2013
---
● For more Recipes on Ann's Entitled Life, click here.
● For more liquor and wine cocktail recipes, tips and reviews, click here.
● If you enjoyed this post, be sure to sign up for the Ann's Entitled Life weekly newsletter, and never miss another article!
---