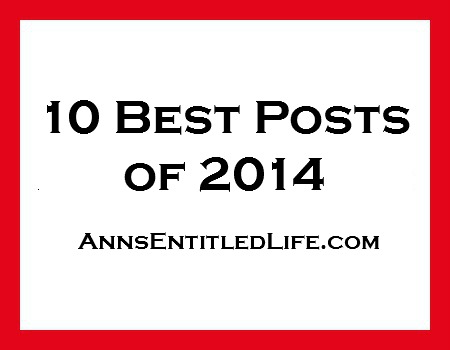 I have thoroughly enjoyed writing Ann's Entitled Life this year, and plan on keeping it up next year! While a change of pace from Coupons, Deals and More; especially the part where I write so honestly about our lives, I have really come to love "lifestyle" or "content" blogging.
Below are the 10 Best Posts of 2014 from Ann's Entitled Life. This is purely subjective on my part. While some of these are highly trafficked, most are very personal and an integral part of who I am, and what Ann's Entitled Life is all about.
10 Best Posts of 2014
(These are in order by date posted)
• St. Augustine Beach, February 2014
• Friendship Fountain, Jacksonville, Florida
• Happy Anniversary To My Wonderful Hubby!
• Too. Much. Stuff. (And our home renovations are complete!)
These are my 10 Best Posts of 2014 by Blog Traffic:
(These are in order of the number of people who read them)
• Banana Split Icebox Cake Recipe (This was actually written in 2013 and caught fire on facebook this year, bringing in oodles of new readers!)
• Slow Cooker Cinnamon Roll Breakfast Casserole (This is actually my most popular post written in 2014)
• Twice a Year Cleaning Secret For Sparkling Shower Doors
• Why You Need Lemon Balm In Your Garden
• Filling In An In-ground Pool (Ha! This was written years ago, and was my #5 post last year too!)
• Chicken Salad Recipe (Far and away, Hubby's best recipe… and that is really saying something!)
• Creamy Cucumber Salad Recipe
• 25 Amazing Coffee Drink Recipes
• Oven Roasted Parmesan Green Beans
• We Bought Half A Cow – Tips for buying a cow, pig, goat, etc direct from the farm.
What is interesting to me, is how many 2013 posts were still popular in 2014… the power of pinterest I think!
I would like to thank you all for reading, following, and commenting on Ann's Entitled Life. Without your support, I would have no reason to blog.
---
If you would like to follow Ann's Entitled Life via newsletter or social media, this is where we can connect:
• Follow Ann's Entitled Life on Twitter
• Follow Ann's Entitled Life on Google+
• Follow Ann's Entitled Life on Pinterest
• Follow Ann's Entitled Life on Facebook via a GROUP
• Follow Ann's Entitled Life on Facebook via a PAGE
• Subscribe to the Ann's Entitled Life Newsletter
And I can always be reached through the contact me page or by emailing me directly!
---