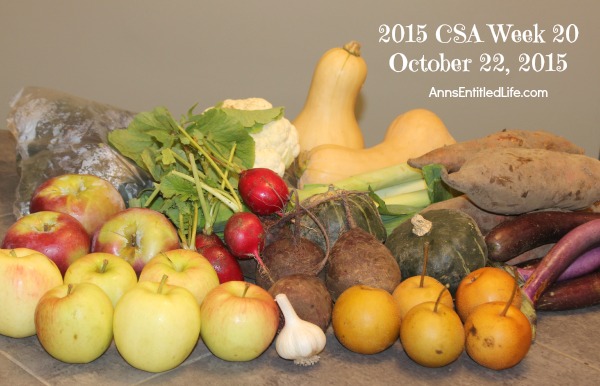 This is the diary of our 2015 CSA share. The cost of our full share is $545 for 22 weeks, from June through October, and works out to $24.75 per week. Western New York weather is such that June is lightest CSA month. September and October will be more than abundant! The first few weeks are light, and very, very leafy. As we move to the fall, the CSA becomes more abundant, and the variety increases greatly.
We also purchased a Fruit Share this year for $180, lasting 18 weeks which works out to $10 per week. The local fruit included in the fruit share starts with cherries, apricots, plums, peaches, nectarines, blueberries, and moves into pears, raspberries and of course apples! This portion of the share begins in July.
---
Hubby came with me this week to get the vegetables he will use. We have so many potatoes it isn't funny. Good thing they will keep!
Next week is the last week for the fruit share. I have apples and pears coming out of my ears! I made Apple Brown Betty this week, plan on making Pear Crisp next week. I also want to experiment with freezing those recipes (or something close). I know my countdown to Florida, and need to have all this used up welllllll before that time so I am not tossing anything.
2015 CSA Share Week 20
● Apples 20 Fresh Apple recipes
● Beets
● Butternut Squash
● Buttercup Squash
● Carrots (did not take)
● Cauliflower 25 Fantastic Cauliflower Recipes
● Delicata Squash (did not take)
● Eggplant (Japanese eggplant)
● Fennel (did not take)
● Garlic
● Kale
● Leeks
● Onions (did not take)
● Pears (took Asian pears) 20 Fresh Pear Recipes
● Peppers (did not take) 20 Farm Fresh Pepper Recipes
● Potatoes (did not take) 25 Scrumptious Real Potato Recipes
● Radishes
● Salad Greens (did not take)
● Salad Turnips (did not take)
● Spinach (did not take)
● Sweet Potatoes 20 Sweet Potato Recipes
Do you belong to a CSA? If so, what type? How much? Do you find it as worthwhile as I do?
---
● For more CSA posts on Ann's Entitled Life, click here.
● Mind Your Peas and Cukes pinterest board: All things CSA, Produce, Farmstead Fresh – community supported agriculture, farmstand fresh produce, organic produce, more from all over the United States.
● CSA posts
● Find a CSA
● Porter Farms CSA (we belonged for years)
● Root Down Farm CSA (our 2013-2015 CSA)
● NYS Fruit and Vegetable Harvest Calendar
● US Agricultural Data
---