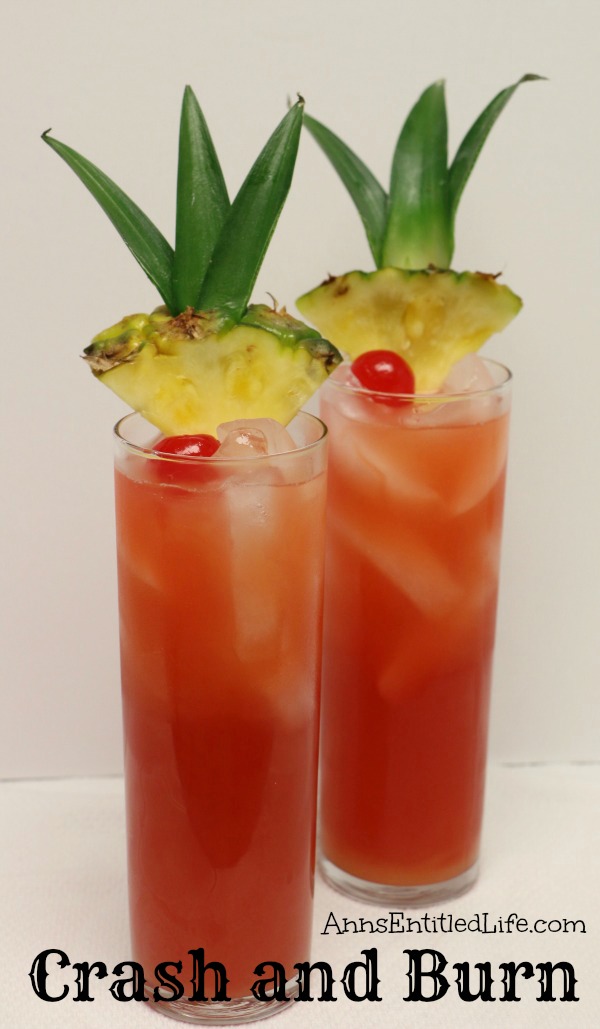 Crash and Burn Cocktail Recipe
By Ann
Five liquors combine with three juices to make this fantastic, smooth and very drinkable Crash and Burn drink recipe!
Prep Time: 5 minutes
Ingredients:
● 3 oz Pineapple Juice, divided
● 3 oz Orange Juice, divided
● ½ oz 151 Rum
● ½ oz Triple Sec
● 1 oz Amaretto
● 1 oz Light Rum
● 1 oz Blackberry Brandy
● ½ oz Maraschino Cherry Juice
● Ice
● Maraschino Cherries for Garnish
● Pineapple for Garnish
Directions:

● Fill a tall cocktail glass halfway with ice.
● In a cocktail shaker combine, 151 Rum, Triple Sec, Amaretto, Light Rum, Blackberry Brandy, Maraschino Cherry Juice, 2 ounces of Pineapple Juice, 2 ounces of Orange Juice; shake 10 times.
● Pour cocktail over ice in tall glass.
● Pour remaining Pineapple and Orange juices over the drink; do not stir.
● Garnish with Maraschino Cherries and a Pineapple wedge.
● Serve immediately
Makes 1 Crash and Burn Cocktail Recipe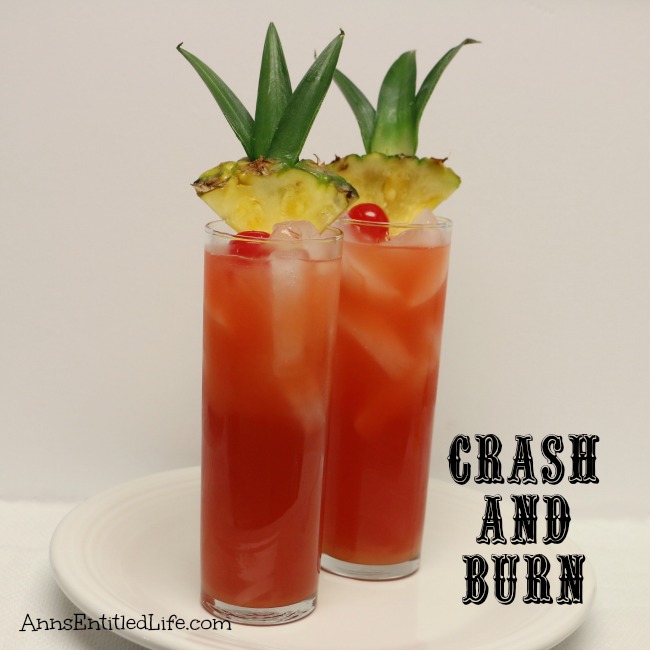 ● To print the Crash and Burn Cocktail Recipe Recipe, click here.
Crash and Burn Cocktail Recipe Mise en Place:
● Tall Cocktail Glass
● Jigger
● Cocktail Shaker
● Cutting Board (if you are garnishing with pineapple)
● Knife (if you are garnishing with pineapple)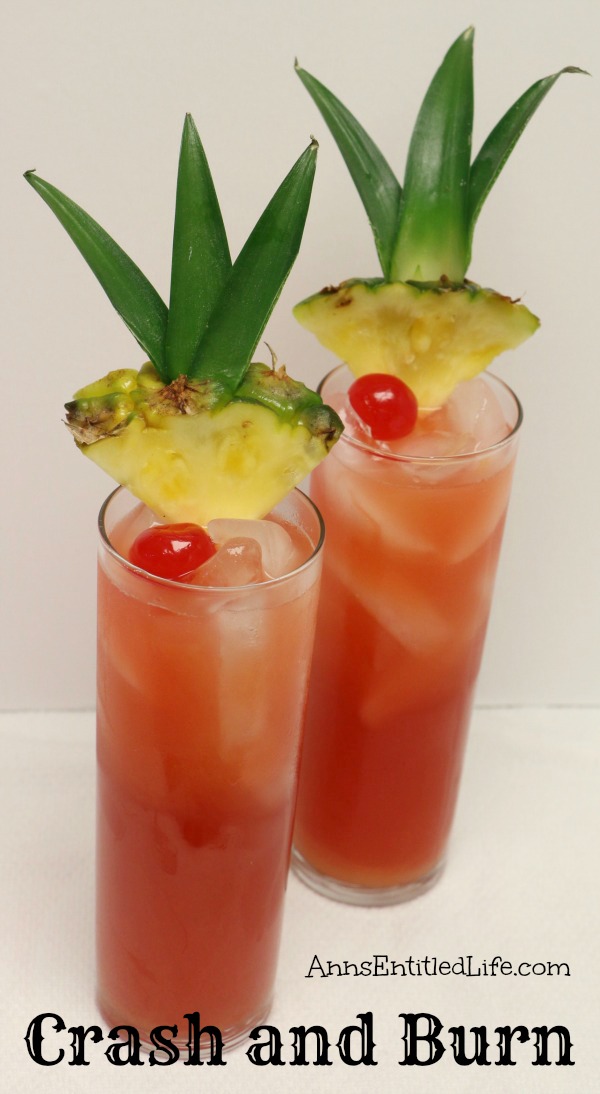 Hubby and I were having lunch at a restaurant a few weeks ago. One of their specialty drinks is called the Crash and Burn. I thought it sounded intriguing, so copied down the ingredients, went home and made the cocktail. It wasn't very good. So, I tried again, substituting ingredients, adding new juices, removing other listed ingredients until I came up with my version which I listed above.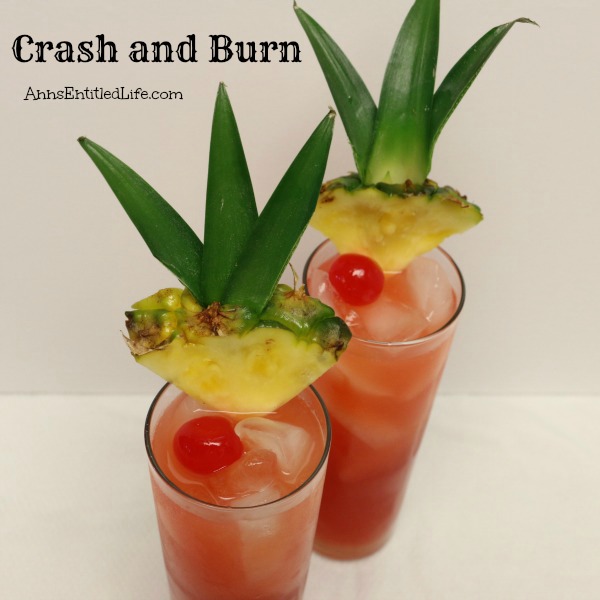 Now I stuck with the name because this went down smooooooooooth. Hubby said it tasted like an adult Hawaiian Punch. Yeah, that smooth. He wanted to crash and take a nap when he finished his Crash and Burn cocktail, I just wanted another one.
I think one of us has built up a bit of a tolerance.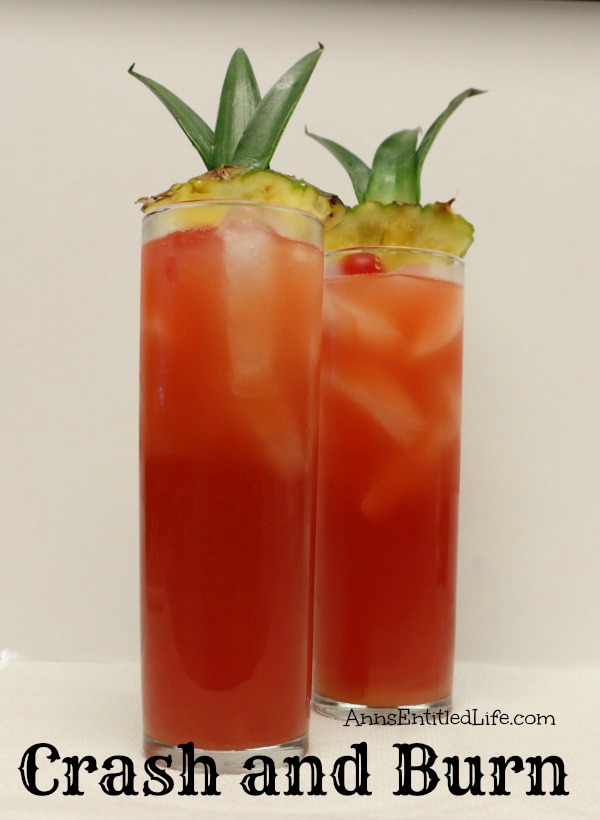 This is one delicious cocktail. Truly. I just would make sure you are in for the day (or night) when making this as it does go down so smoothly, you will want a second. And then it will be nighty-night!
---
● Disclosure: the links in this post may be affiliate links.
● If you enjoyed this post, be sure to sign up for the Ann's Entitled Life weekly newsletter, and never miss another article!
● For more liquor and wine cocktail recipes, tips and reviews, click here.
● Ultimate Guide to Non-Alcoholic Bar Basics
---