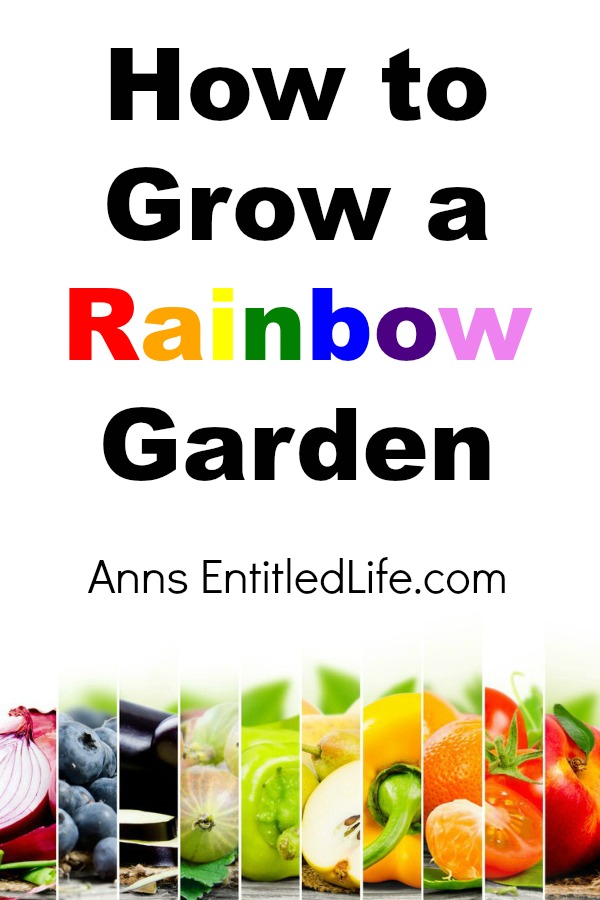 How to Grow a Rainbow Garden
Instructions detailing what plants to plant, and how to grow a beautiful, and nutritious, garden in the colors of a rainbow.
One of the best ways to eat healthy all year long is to eat produce in every color of the rainbow. When produce is in season, fresh fruits and vegetables are on your table. And freezing the abundance allows you to continue to eat your garden bounty all year long!
Your body needs a wide variety of vitamins and nutrients to keep fit and healthy. Growing a rainbow variety of fruits and vegetables in not very difficult, you just need to decide which fruits and vegetables you would like to grow. Here is a roundup of some of the most colorful produce around, sorted by color so you can choose items in every color of the rainbow. Now, with these steps, growing a rainbow garden can be simple, fun, and of course colorful.
It is important to plant a variety of fruits and vegetables in your garden for nutritional purposes. Take a peek at these colorful lists and try to choose at least one item from each when planting your garden this year. This way, you are growing a produce item in each color and reaping the important health benefits that come with each one. Even with the smallest of spaces or container garden you are working with, you will see you still have so many options suitable for your needs.
Here is what you need to know to get started on your very own rainbow garden:
To give you variety, included here are fruits, vegetables, and even herbs in these selections. You will find that most items are excellent for general areas of planting, while some may be more suitable for warmer, tropical weather. Be sure you research any items of interest prior to planting to be sure it is suitable for the climate you live in. Knowing your planting zone can quickly help you pick plants that will work well for you.
Note: you can purchase seeds or already sprouted fruit, herbs and vegetables at: your local garden center, Home Depot, online seed and plant companies such as Burpee. Heck, even Amazon sells seeds.
Gardening is fun, easy, and can be educational. There is a very satisfying feeling to growing your own food.
How to Plant a Rainbow Garden: Color by Color
Note: the colors of the rainbow are Red, Orange, Yellow, Green, Blue, Indigo, and Violet.
● Red: Red produce items contain lycopene which may be effective at preventing cancer. It can also help the body get rid of damaging free radicals and can help improve heart health.
● Apples (red)
● Beets
● Bell Peppers (red)
● Blood Oranges
● Cherries
● Chili Peppers (red)
● Cranberries
● Grapes (red)
● Guava
● Papaya
● Pomegranate
● Potatoes (red)
● Radicchio
● Radishes
● Raspberries
● Rhubarb
● Strawberries
● Tomatoes
● Watermelon
● Orange: Orange produce items contain beta carotene and in some cases vitamin C. These can help fight against cancer and in the case of beta carotene protect your vision.
● Apricots
● Bell Peppers (orange)
● Butternut Squash
● Cantaloupe
● Carrots
● Mango
● Nectarines
● Oranges
● Peaches
● Pumpkin
● Rutabaga
● Sweet Potatoes
● Tangerines
● Yellow: Many of these yellow produce items contain valuable nutrients and vitamins and/or vitamin C!
● Apples (yellow)
● Banana Peppers (yellow)
● Bell Peppers (yellow)
● Corn
● Grapefruit
● Lemons
● Pineapples
● Potatoes (Yukon Gold! Yum!!)
● Summer Squash
● Watermelon (yellow)
● Winter Squash
● Green: Many green produce items are a high source of fiber. They can also help with cleansing the body while adding valuable vitamins and nutrients. Some of these items may also contain healthy doses of vitamin C.
● Apples (green)
● Artichokes
● Arugula
● Asparagus
● Avocado
● Basil
● Beans (green)
● Broccoli
● Brussels Sprouts
● Cabbage
● Celery
● Cilantro
● Cucumbers
● Grape
● Green Onion
● Leeks
● Lettuce
● Lime
● Mint
● Okra
● Oregano
● Peas
● Rosemary
● Sage
● Snow Peas
● Zucchini
● Blue: Many blue produce items contain important vitamins and minerals as well as anti-oxidants that your body craves.
● Blueberries
● Currant
● Elderberries
● Grapes
● Plums
● Purple: Many purple produce items contain important vitamins and minerals as well as anti-oxidants that your body craves. (this covers Indigo and Violet)
● Asparagus (purple)
● Beans (purple)
● Blackberries
● Carrots (purple)
● Cauliflower (purple)
● Carrots (purple)
● Currants
● Eggplant
● Figs (purple)
● Grapes
● Olives
● Peppers (Italian)
● Potatoes (purple)
And just in case you wanted to grow some white produce too:
● Cauliflower
● Corn (white)
● Dates
● Garlic
● Ginger
● Mushrooms
● Nectarines (white)
● Onions
● Parsnips
● Peaches (white)
● Pears
● Potatoes
● Shallots
● Turnips
As you can see, these lists contain produce items that are perfect for the gardening newbie (peppers, tomatoes, endives, kale, potatoes) as well as some for the more advanced green thumb. Choose plants that you are comfortable with and even add one or two that you want to challenge yourself with. You will no doubt have some fun, and grow some healthy produce while you are at it.
● To print the list of rainbow garden fruits, vegetables and herbs, click here.
---
● Disclosure the links in this post may be affiliate links.
● Click here for more How Does Your Garden Grow Topics on Ann's Entitled Life.
● Enjoy this post? Sign up for the Ann's Entitled Life FREE Weekly Newsletter to stay connected.
---