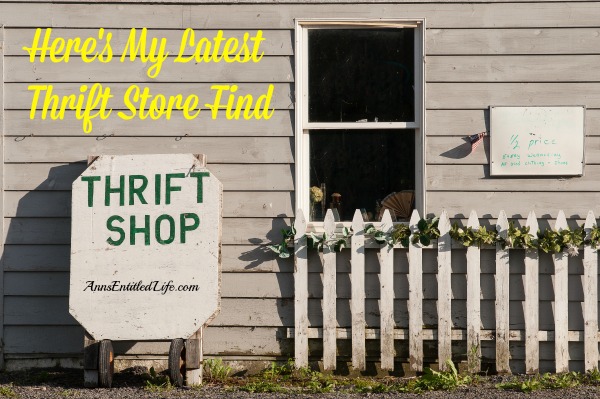 As we conclude our time down in St Augustine, the renovation projects for this year are also coming to an end. Hubby has done a lot of work the last few months on our condo, and the place looks 100% better than when we started (pictures to come).
Because the projects are near completion, we finally have some time to do "fun stuff", as Hubby calls it. This past Tuesday, Max had a groomer's appointment. Since Hubby and I had a few hours to kill, we went to lunch (Hurricane Patty's for the locals. He got some kind of local restaurant deal where he paid $15 for a $30 certificate.) Then, Hubby decided he wanted to poke around some thrift stores (not consignment stores, thrift stores).
Now, I am not a big fan of thrift stores – most of them are stuffed to the gills, and they smell. I will go in on occasion because Hubby insists. His sniffer isn't as good as mine, and he likes nothing better than to rummage through junk. He'd be a full blown hoarder I am sure, if he didn't live with me. Not only do I feel that enough is enough (when it is), I also like wide open spaces in rooms. I like flow, and I hate when there is a lot of clutter. I am not saying we don't have clutter, but I am saying I dislike clutter immensely.
I am not on the hunt for much in a thrift store right now – cheap, clear wine glasses would be nice, annnnnnnd that's about it.
The first thrift store we went into didn't seem too impressive. The regular junk outside that is supposed to "entice" you to come in, when in actuality it usually makes you want to run. But Hubby pulled the ole "do it for me", and so I went in.
It was a pleasant surprise. Everything was need and orderly, and it didn't stink. Believe it or not, that is high praise down here. As I mentioned before, St. Augustine has a lot of consignment stores. They also have a lot of thrift stores. While the majority of consignment stores are overflowing with "stuff", they do not smell. I haven't been able to say the same for any of the thrift stores we have visited. The lack of damp or funky-smells in this thrift store, was a true plus.
I called this "my" thrift store find, but Hubby actually pointed it out. I immediately decided to purchase though.
I have a lot of "sparkly-stuff" aka Swavorski Crystal Figurines. We have a curio with several shelves filled in our living room, but I don't want that curio stuffed with Swavorski, so a lot of my figures are still in boxes. I have searched a long time for the "right" Christmas Ornament hanger for the Swavorski ornaments (still looking for that), and a small shelf to put the rest of the figurines on.
In my office, I have a tiny corner shelf with a few sparkly-things, but, as I said, a great deal of figurines remain in boxes. Now, I will be able to bring at least them into the light of day where they should be!! I hope this thrift-store-find works; it may be a tad high to appreciate the figurines, and then I'll be back to square one, but for the price, I took the chance.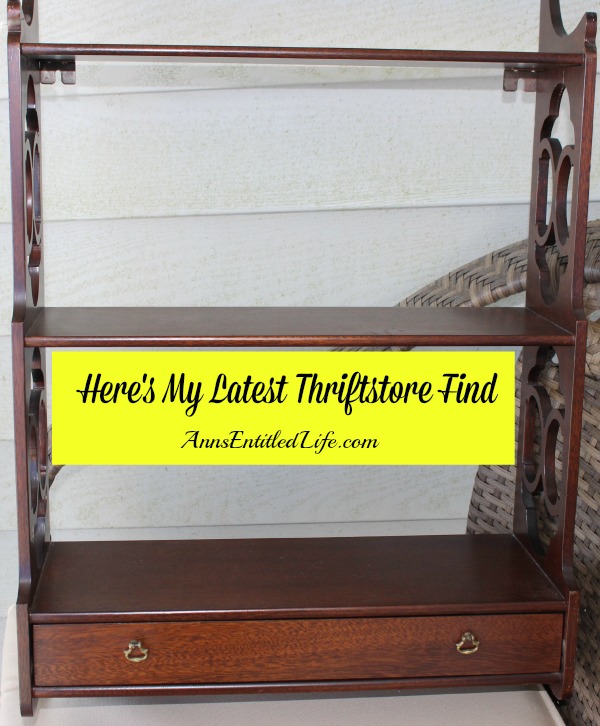 Here's the shelf I purchased.
I took it outside to photograph, and then got more of the wicker-resin chair in the pic than I cared to! Sorry about that.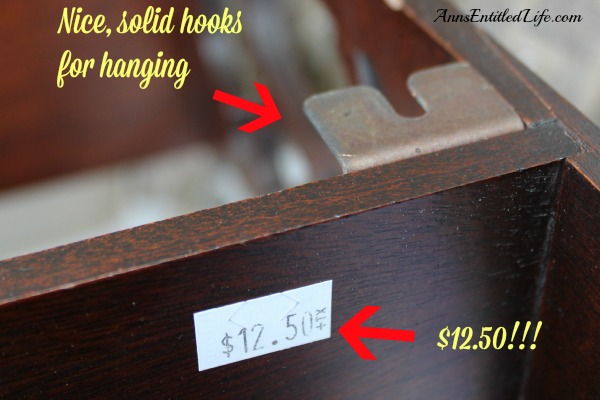 I paid only $12.50 for this shelf!! I swear I paid as much for the shipping for that corner shelf in my office. There's a bit of edge wear, and a nick, but for the price, I can position it toward a corner where that nick is, and no one will ever notice it but me.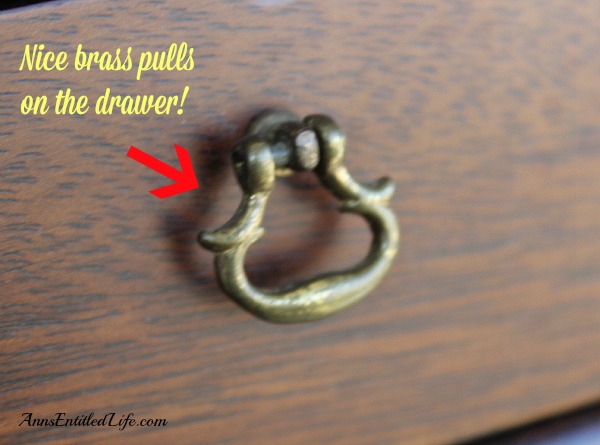 There are some very lovely brass pulls on the drawer. A little bit of Brasso will clean them up nicely.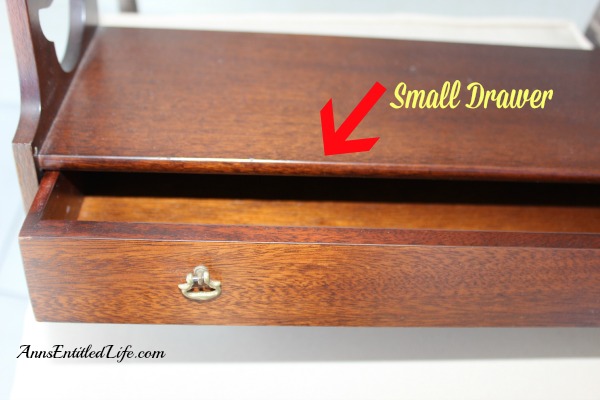 There is a small drawer that definitely needs a round (or three) of paraffin rubbed along the sides. It doesn't glide, so the paraffin should help.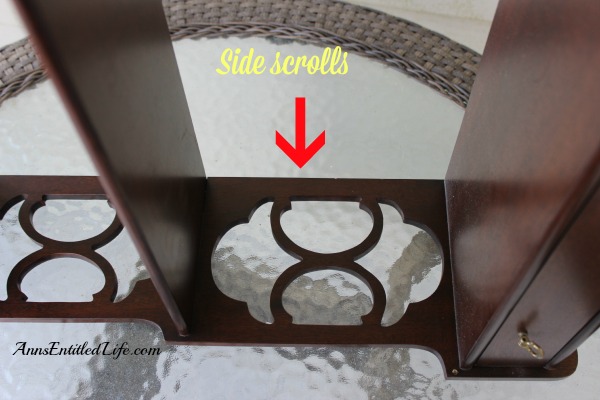 The side scrolls are lovely, and there isn't a mark on them!
While the entire piece needs a good waxing, for $12.50 I will invest a little TLC, some wax, Brasso and a touch up pen, and have a wonder piece to display my figurines.
That was it for the day. We went to two other thrift stores, one of which had "cloths only" written all over it, so Hubby went in alone (and he said I was right). The other store looked like it had a lot of potential when we pulled up. The parking lot had a lot of cars in it, there were ladders, chain saws and tools outside, but the inside was disappointing. Still, one good find is a worthwhile thrift store shopping day!
Do you thrift store shop? Any tips? What was your latest thrift store find?
---
● 10 Moving Tips
● Essentials For Setting Up a Household
● Flea Market Shopping
● How To Care For Wood Furniture
● Tips For Furnishing an Apartment Cheaply
---