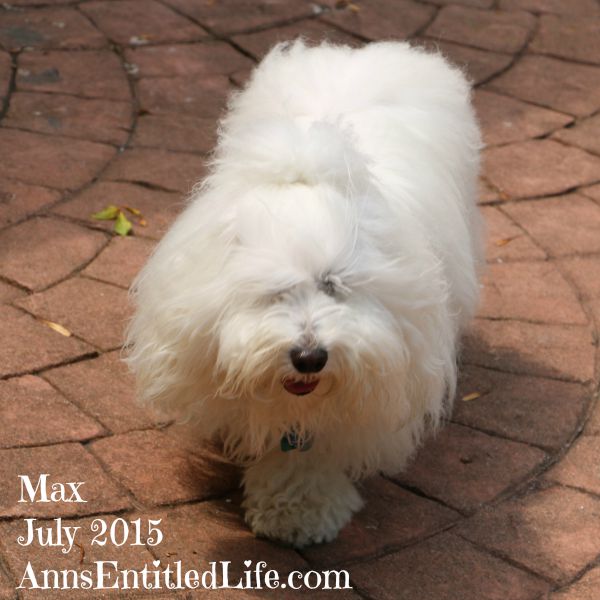 In July of 2014 Max, our six year old Coton de Tulear was diagnosed with GME. I've written about his progress extensively, here and here and here and here and here. This is the original post where I detailed the trail to diagnoses and recovery.
Max went for – what we hope was – his last chemotheraphy treatment on September 1st. He also had his kidneys checked as his BUN numbers had been a touch high and they wanted to be very certain via testing and somogram that all was well.
It was.
Max has also had his prednisone cut back to ¼ of a pill every other day. Eventually we hope to ween him off the prednisone completely. He still needs to lose 1-1.5 pounds, and a decrease in prednisone is probably going to aid that weight loss.
We still have to hear back from his Cornell neurologist on when she would next like to see him. Last we knew, it was going to be a day trip to Ithaca 6 weeks after his last chemo for an exam. Any further treatment (other than keeping him on cyclosporine oral) would be determined at that time. So basically, all is ok, and we are in a holding pattern until his next neurologist appointment.
Hubby and I still are, and I expect we will always be, hyper vigilant about his behavior. The poor dog can't circle to get a comfortable "spot" to sleep without us worrying the GME is flaring up – and yes, even the day after chemo!! Sometimes I think we have been more traumatized by this terrible disease than Max! Right now, he seems perfectly fine and dandy, and we are neurotic messes watching all his behavioral habits. Shesh. Not sure if Hubby and I will ever get past that, but I am hoping for Max's sake that we do.
This is the latest update on Max's GME diagnosis. I will post one more next month after his neurologist appointment, and then as warranted thereafter; ie, something changes. Thank you all so much for your support and words of encouragement the past 15 months. They have been most appreciated.
---
Previous Max posts (read in order from the bottom up):
● Max's GME Update, One Year Later
● Max's GME Update, Month 11
● Max's GME Update
● An Update on Mr Max, March 2015
● Updating Max's GME
● An Update On Mr. Max
● Last 2014 Trip To Cornell For Max
● Back To Cornell
● Max's First Cornell Follow-up Visit
● Max Exercises More Than I Do!
● Updating the Mr. Max Situation
● A Mr. Max Update
● Mr. Max, Mr. Max, Mr. Max
● It's A Mr. Max Post!
---