This is a listing of the first five weeks of our 2023 Community Supported Agriculture, in northwest Florida. This is locally sourced, locally grown farm fruits, vegetables, herbs, and flowers delivered weekly to our front door. What is in the box depends upon what is ready for harvest. Weather conditions have a hand in what we receive weekly.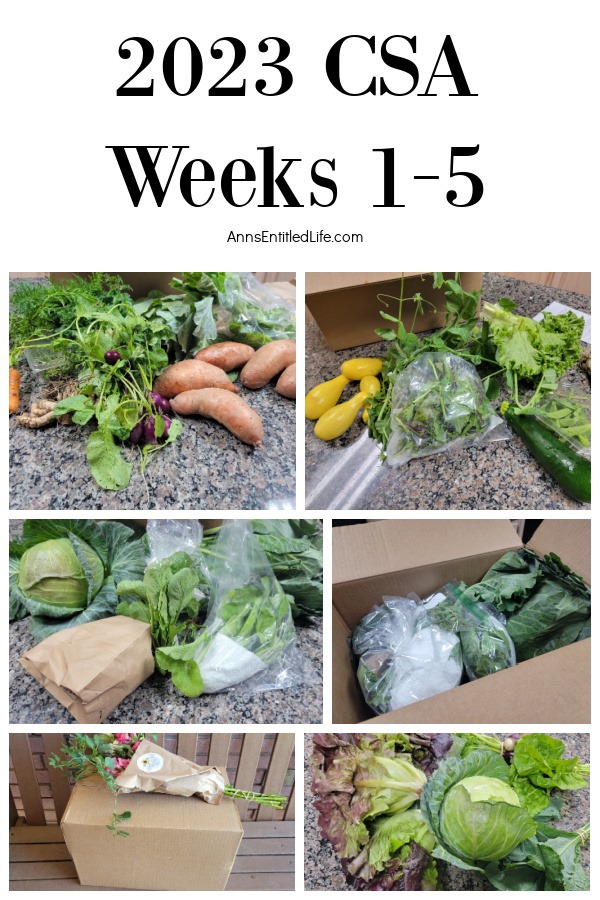 In addition to the produce items, we have the option weekly of adding beef, honey, and eggs to our order (availability dependent).
2023 CSA Weeks 1-5
A little bit about community supported agriculture, otherwise known as a CSA:
What is a CSA?
According to the USDA: Community Supported Agriculture (CSA), one type of direct marketing, consists of a community of individuals who pledge support to a farm operation so that the farmland becomes, either legally or spiritually, the community's farm, with the growers and consumers providing mutual support and sharing the risks and benefits of food production.
Community supported agriculture (CSA) is a unique way of connecting farmers and their local communities. It involves members of the community buying produce directly from the farmer, providing them with financial stability and a direct connection to their customers.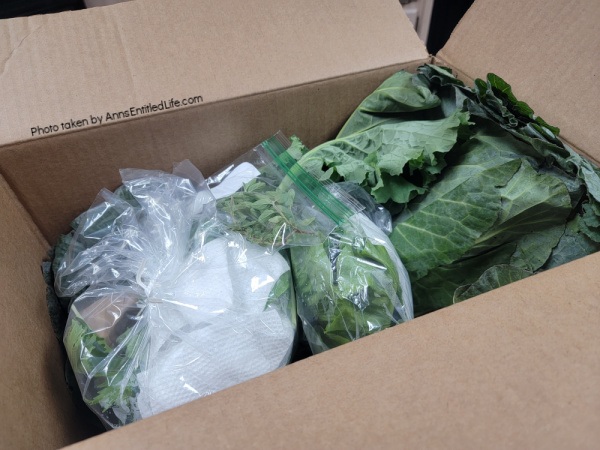 CSA concept has been gaining popularity in recent years as it enables both farmers and consumers to benefit from the relationship. Farmers are able to sell their products directly to consumers, eliminating middlemen costs which helps them remain economically viable. Moreover, it allows them to receive payment upfront for their crops and thus plan better for their future farming activities. On the other hand, consumers get access to fresh produce at (fairly) reasonable prices while supporting local farmers in their communities.
Hubby and I have not belonged to a CSA for quite a few years. I ended up growing my own vegetables and what we did not grow, we bought locally. Where we lived in New York State farm stands were plentiful. I knew what was in season from April – November, and if I wasn't growing it, purchasing it was easy to do.
Now that we have moved to Florida we have gone from a 6b zone (where we lived in WNY was a micro-climate due to the lakes) to an 8b/9a zone. That is a huge difference. We were also having our landscaping redone, so growing – even vegetable container growing – was not going to happen until the landscapers were finished.
I have planted some herbs, and plan on posting about the landscaping project, our fruit trees, etc. Our landscaping is not quite finished though, so that post a few weeks out.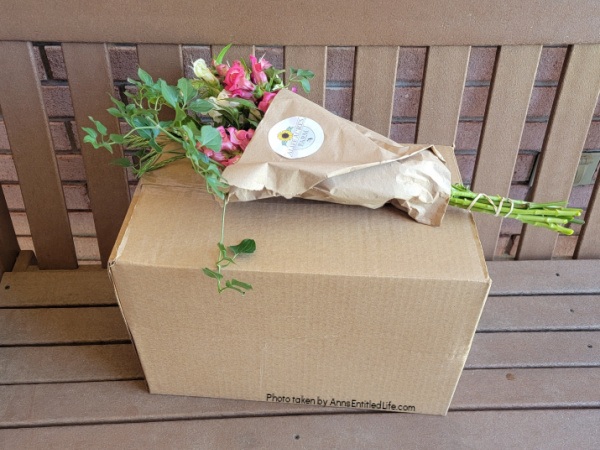 Anyhoooo back to the CSA…
Because we know no one in this area of Florida (you'd think we'd have moved near friends and/or family, but nooooo) I joined some local Facebook groups. In between the massive complaining, there are posts that are very helpful. Someone mentioned they belong to a local CSA, I looked to local harvest, their website, and online for reviews. They are also listed on the Florida Department of Agriculture website. (All links are at the bottom of this post)
The box price is $350 for each 10 week subscription. There is an option to pay an extra $5 per week for home delivery. The home delivery fee is crazy-low, and what sold me! I decided to sign up for the spring and fall boxes. Last year was hot as blazes here in the summer and I am not sure what exactly the summer box can contain week in and week out. Then too, we are on a wait list for a river cruise or expected to go back to New York this summer, so that would be a few weeks we couldn't enjoy the box. It simply did not seem worth it to do all three seasons. We also know, based on our travel schedule in 2024 and 2025 that we cannot do a spring or fall CSA again until maybe 2026.
There was an issue week three. They had a hail storm up where the farm is located (we just had a lot of rain and wind), and it set back their crops. We got delayed a week on a box and the subscription will just end a week later.
This is what have received through the first five weeks. I have also linked to recipes that worked with the produce we received. What is very nice is not only does it come in that sturdy box, but the outside of the box has a label that lists what is inside the box. No guessing!
Oh, one thing I will say about Florida; wow are there a LOT of bugs. Like a lot a lot. This week we had some cleaned lettuce in a bag. It was cleaned and washed, and I still had to kill four bugs crawling around inside the bag.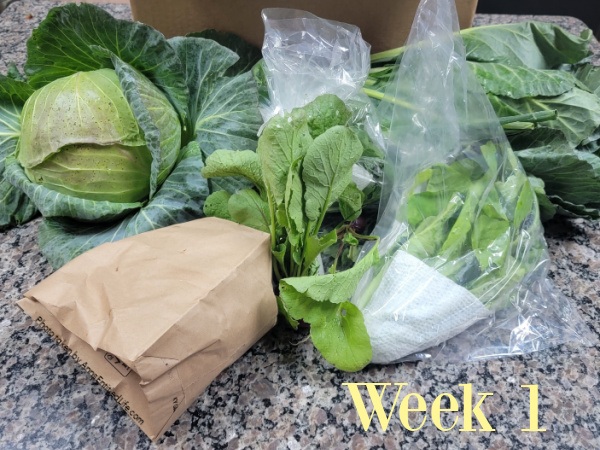 CSA Week 1
The beginning of the season is lettuce, lettuce, and more lettuce. The addition of radishes and cabbage was a nice surprise.
● Arugula Mizuna Mix
● Cabbage – Frizzled Cabbage Recipe
● Cabbage Collards
● Green Onions – Imitation Crab Salad
● Kale – Kale Chips
● Lettuce
● Purple Radishes
● Turmeric Root – Spicy Oven Roasted Okra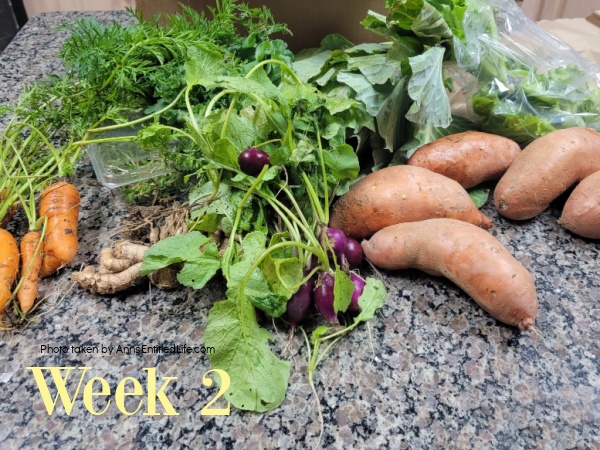 CSA Week 2
The sweet potatoes were perfect for Easter dinner. Oh, and we had more salad.
● Carrots – The Best Carrot Cake Recipe
● Collards
● Kale – Bruschetta made with Heirloom Tomatoes and Kale
● Lettuce
● Radishes (purple and white)
● Sweet Potatoes Sweet Potato Casserole Recipe
● Turmeric Root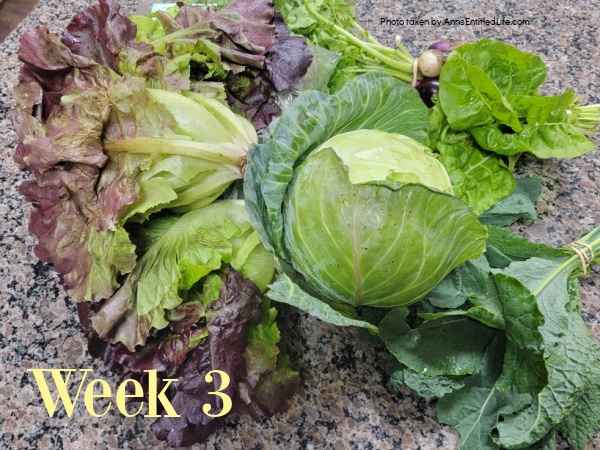 If you guessed we had salad this week, you would be correct! This was a really nice one though between the microgreens and the spice of the arugula.
CSA Week 3
● Arugula/Beetgreen Mix
● Cabbage Homemade Creamy Coleslaw
● Kale – Cheesy Kale and Artichoke Dip
● Lettuce – How to grow vegetables in bags
● Radish Microgreens
● Radishes (purple and white) – 11 Fast Growing Vegetables for Your Garden
● Red Leaf Lettuce
● Swiss Chard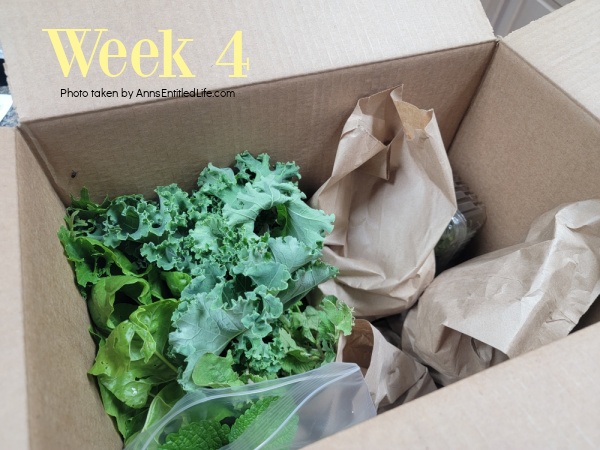 CSA Week 4
This week we received a bit of herbs. I think that was nice for people to try. The peas came packaged in a plastic container and hubby ended up adding them to the oxtail soup he made.
● Lettuce – Dilled Chicken Salad
● Lemon Balm
● Oregano – Stuffed Banana Pepper Soup
● Peaches (and lots of them!) – Canned Drunken Vanilla Bourbon Peaches
● Snap Peas
● Swiss Chard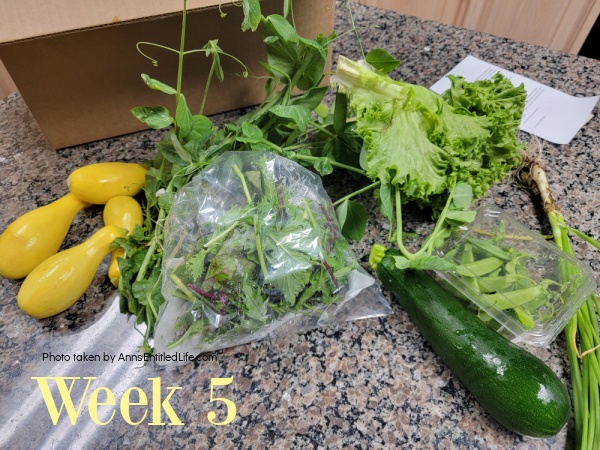 In addition to salad, I made a few zucchini breads. Since it is just me and hubby down here, I cut them in half and froze a few.
CSA Week 5
● Arugula/Beetgreen Mix
● Green Onions – The BEST Chicken Salad you will ever make!
● Lettuce
● Pea Shoot Bouquet
● Snap Peas – Bok Choy and Snow Peas Sauté
● Yellow Squash
● Zucchini Squash – Walnut Zucchini Bars Recipe
Do you belong to a CSA? If so, what type? How much? Do you find it as worthwhile as I do?
---
● For more CSA posts on Ann's Entitled Life, click here.
● 10 Tips for Joining a CSA
● CSA posts
● Find a CSA
● Porter Farms CSA (NYS, we belonged for years)
● Root Down Farm CSA (NYS, 2013-2015 CSA)
● Aliff Acres CSA (Florida, 2023)
● NYS Fruit and Vegetable Harvest Calendar
● Florida Department of Agriculture CSA List
● US Agricultural Data
● US Plant Hardiness Zones
---