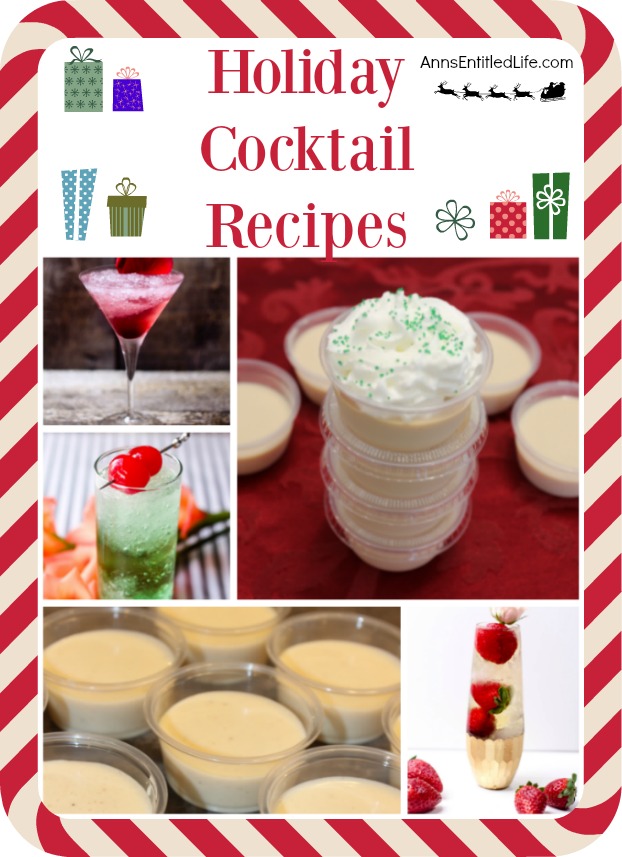 I don't know about you, but I love a good cocktail now and then. And 'tis the season for parties, parties, parties! And with that, adult libations. Are you hosting a party this holiday season? If you are looking for cocktail recipes perfect for the Christmas season, holiday party season or New Year's Eve party beverages, you have come to the right place!
From frou-frou drinks to classic cocktails, from Jello shots to cocktails that really pack a wallop, there is an adult libation on this list for nearly any holiday occasion, big or small!
While mixing a cocktail from scratch may take a few minutes longer than using a mix, you will be shocked and amazed just how much better the cocktail from scratch takes. The whiskey sour I have listed is simply fantastic! No premade mix can duplicate the taste of fresh ingredients. The Homemade Eggnog on this list is simply outstanding – you will not believe the difference between homemade and commercial eggnogs.
So if you are looking for a festive nightcap, something to ring in the New Year, or perhaps a cocktail to sip by a warm fire this holiday season, take a look at this list of adult beverages. And have yourself a Merry little Christmas.
Holiday Cocktail Recipes
● Baileys & Kahlua Iced Coffee Shake
● Chocolate Snowball Cocktail Recipe
● Christmas Cookie Jello Shots Recipe
● Crash and Burn Cocktail Recipe
● Festive Holiday Punch (spiked and non)
● Iced Raspberry Bubbly Recipe
● Jealous Cherry Cocktail Recipe
● Jingle Bells Jello Shots Recipe
● Lemon Twist Tequila Eggnog Recipe
● The Frozen Mint Blue Cocktail Recipe
Can't find quite what you are looking for? Here's a list of over 150 cocktail recipes! From traditional to holiday drinks, from simple to complex, there are a whole lotta cocktail recipes to enjoy!
I post a lot of cocktails throughout the year. You can find the full list of cocktail recipes here. They are listed by major liquor type, season, type.
As always, drink responsibly and please don't drink and drive.
---
● Disclosure the links in this post may be affiliate links.
● For more Recipes on Ann's Entitled Life, click here.
● If you enjoyed this post, be sure to sign up for the Ann's Entitled Life weekly newsletter, and never miss another article!
---