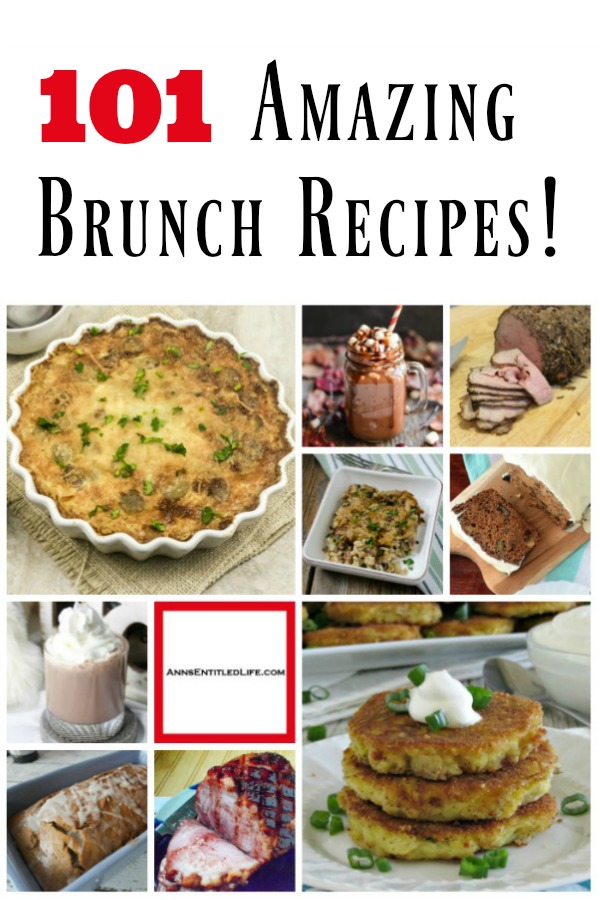 No matter what the season, brunch is the best meal of the day! From casseroles to quiche, frittatas to muffins, mimosas to fancy coffee recipes, there is an easy brunch recipe on this list perfect for your brunch menu. If you need a recipe for Easter brunch, Mother's Day, Christmas morning brunch or perhaps for a baby shower or bridal shower, these fabulous brunch ideas are ideal for the day.
Brunch is a combination of breakfast and lunch. Most brunch meals are eaten late morning to early afternoon. If you go to a restaurant for brunch it is generally served between 11 am – 2 pm. Cocktails may be offered (depending on age and state liquor laws).
While I generally think of brunch as a special occasion thing, the truth is many people have brunch every weekend in their own home – generally Sundays Brunch – it's not just for the holidays anymore!
In addition to traditional Easter brunch, many people have a Mother's Day Brunch at home. If you are hosting a baby shower, a brunch is a nice idea (maybe without the alcohol!?) It is also a unique idea for a bridal shower (maybe with more alcohol!?)
On this list of amazing brunch recipes you will find everything from breads, muffins and sweet rolls, to casseroles, frittatas, egg dishes, make-ahead casseroles, slow cooker brunch recipes, main entrees (such as turkey, ham or beef that you would see in a restaurant brunch buffet line), as well as desserts! Mmmm desserts! I have also included a number of fancy coffees, teas, and brunch cocktail recipes on this list.
If you are setting up your brunch menu for the first time, you may be interested in these 15 Must-Have Brunch Items!!
101 Brunch Recipes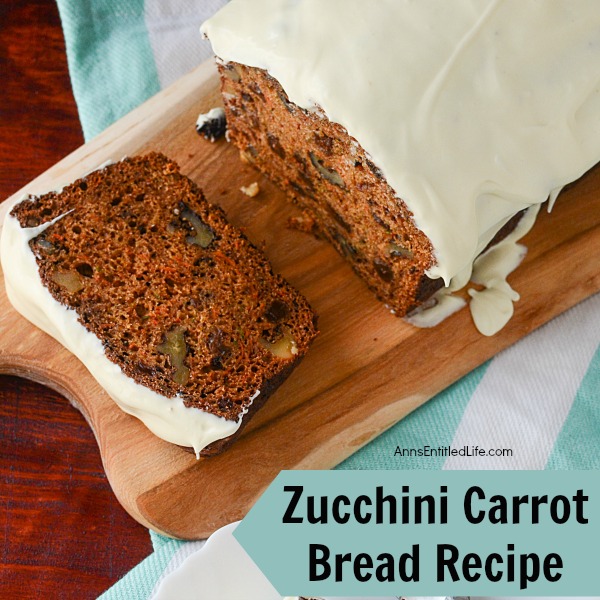 Bread Recipes, Muffin Recipes, Sweet Rolls Recipes
Bread! Bread! Glorious bread! From sweet breads to quick breads to homemade white bread, if you need a bread recipe look below! I've added sweet roll recipes to this list, as well as perfect muffin recipes – great for your brunch-time meal!
● Apple Streusel Muffins Recipe | Fried Dandelions
● Berry Berry Cinnamon Swirl Bread Recipe |Trial and Eater
● Cream Cheese Crescent Ring Recipe | Cincy Shopper
● Easy Butter Pecan Banana Loaf Recipe
● Gluten-Free Vegan Blueberry Muffins Recipe | Rhiana's Recipes
● Healthy Banana Bread Recipe | The Rising Spoon
● Mocha Cinnamon Rolls Recipe | Cooking with Books
● Slow Cooker Cinnamon Roll Breakfast Casserole
● Zucchini Carrot Bread Recipe
● Zucchini Chocolate Chip Bread Recipe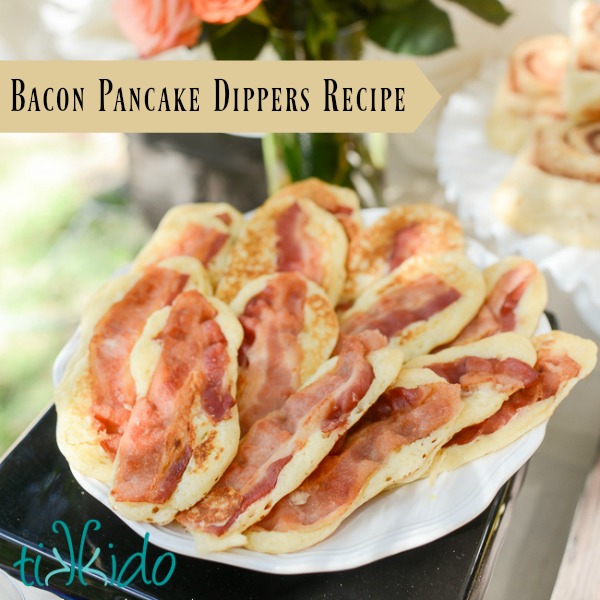 French Toast Recipes, Pancakes Recipes
● Bacon Pancake Dippers Recipe | Tikkido
● Irish Soda Bread French Toast Recipe | Nomageddon
● Pancake Muffins Recipe | Penny Pinching Jenny
● Whole Wheat Almond Nutella Sheet Pancake Recipe | Lathi's Kitchen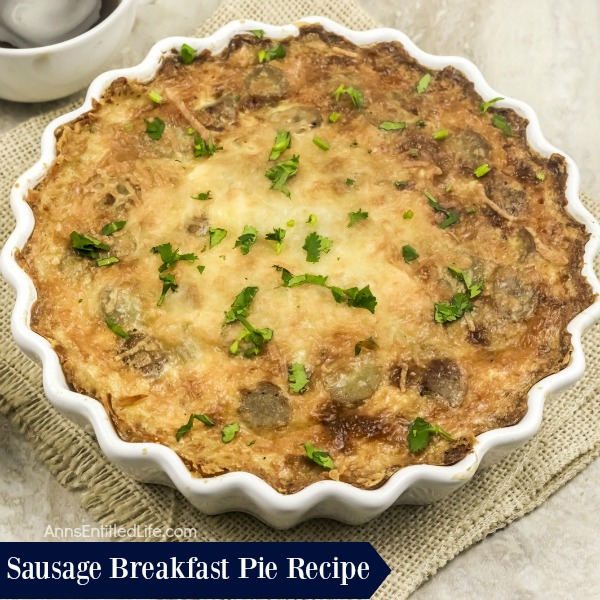 Casseroles, Skillet Recipes Recipes
These brunch casserole dishes are everything from make-ahead casseroles to meat-filled casseroles to soufflés, strata, and breakfast pies. There is something to satisfy (nearly) everyone! You don't have to wait to host a brunch to make one of these wonderful breakfast casserole dishes.
● Low Carb Broccoli Egg Casserole with Bacon and Cheese Recipe | Low carb Yum
● Baked Coconut French Toast Recipe | Family Balance Sheet
● Easy Cheesy Hash Brown and Egg Breakfast Pizza | Faith Filled Foods for Moms
● Easy Mexican Shakshuka Recipe | Fearless Dining
● Fajita Breakfast Casserole Recipe (with sausage, onions and peppers) | Fun Money Mom
● Egg and Potato Breakfast Casseole Recipe | Centsable Momma
● Fluffy Baked Oatmeal Soufflé Recipe | The Weary Chef
● Overnight Breakfast Strata with Lamb Recipe | Savory Tooth
● Overnight French Toast Casserole recipe | Living Sweet Moments
● Pork Sausage Casserole Recipe
● Sausage & Cheese Grits Quiche | Coastal Kelder
● Sausage Breakfast Pie Recipe
● Sausage Fajita Breakfast Casserole Recipe | The Weary Chef
● Spinach Mushroom Breakfast Casserole Recipe (slow cooker recipe) | Tricia Dishes
● Summer Berry Stuffed French Toast Casserole Bake Recipe | Trial and Eater
● Sweet Potato Breakfast Casserole Recipe (Dairy and Wheat Free) | From This Kitchen Table
● Triple Berry Baked Oatmeal | Happy Healthy Mama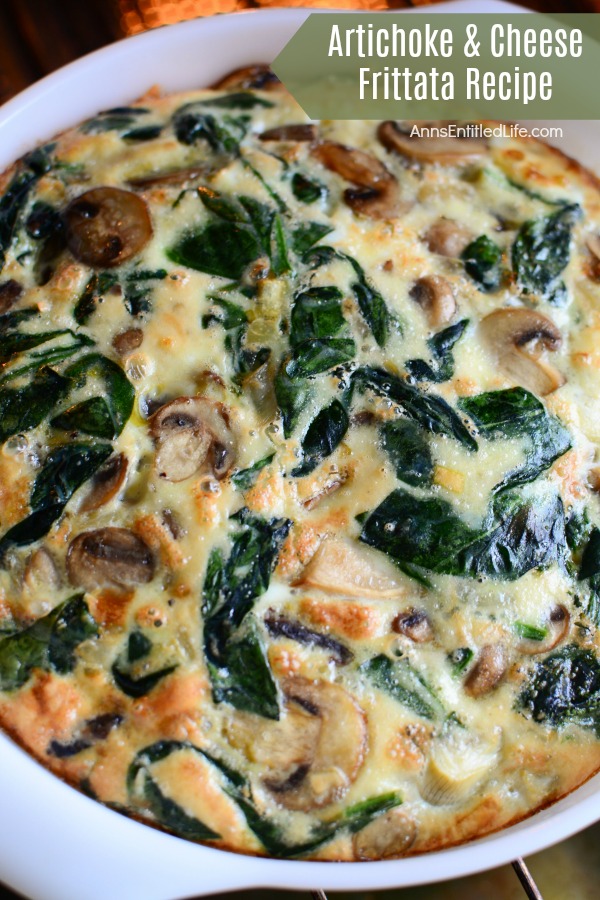 Eggs Recipes, Frittata Recipes, Quiche Recipes
A quiche is an open tart filled with eggs, and cheese, meat, seafood or vegetables. It can be served hot or cold. A frittata is an egg-based dish similar to an omelet or quiche. And you all know what eggs are.
● Artichoke and Cheese Frittata Recipe
● Asparagus and Bacon Quiche Recipe (With Walking Onions) | Confessions of an Overworked Mom
● Asparagus Quiche | To Simply Inspire
● Baked Eggs With Goat Cheese And Tomato Recipe | Living Sweet Moments
● Baked Frittata with Pesto, Tomatoes & Goat Cheese Recipe | Evolving Table
● Egg Muffin Cups Recipe (low card healthy Paleo breakfast) | Wholesome Yum
● Garden Fresh Frittata Recipe | Deliciously Plated
● Mini Crustless Quiche Cups with Sausage and Cheese Recipe | Two Healthy Kitchens
● Paleo Frittata Recipe (Tomato Bacon and Fresh Herbs) | Confessions of an Overworked Mom| Confessions of an Overworked Mom
● Quiche with Leeks & Pancetta Recipe | Foodie Girl Chicago
● Sausage And Egg Breakfast Pinwheels Recipe | Drugstore Divas
● Smoked Salmon Scramble (AKA: Scrambled Eggs with Lox & Cream Cheese) | Mashup Mom
● Spinach and Sausage Quiche Recipe | Midlife Healthy Living
● Spiralizer Super Sized Family Frittata Recipe | Recipe This
● Tomato Asparagus Quiche | Caroline's Cooking
● Zucchini Spinach Frittata with Mini Heirloom Tomatoes | Trial and Eater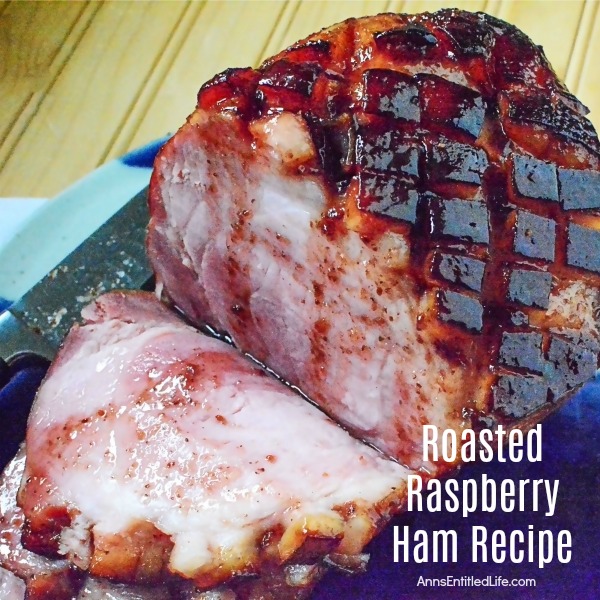 Servings Meat Recipes, Seafood Recipes, General Entrées Recipes
Carving meats, main entrées including turkey, ham, and seafood.
● Bacon Wrapped Kielbasa Bites with Brown Sugar Glaze | What the Fork
● Ham and Cheese Jambon Recipe | Happy Foods Tube
● Maryland Shrimp Salad | The Shirley Journey
● Sausage and Kale Puff Pastry Pockets (with Parmesan and Mozzarella) | Vintage Kitty
● Turkey Recipe (how to cook a turkey!)
● Roasted Raspberry Ham Recipe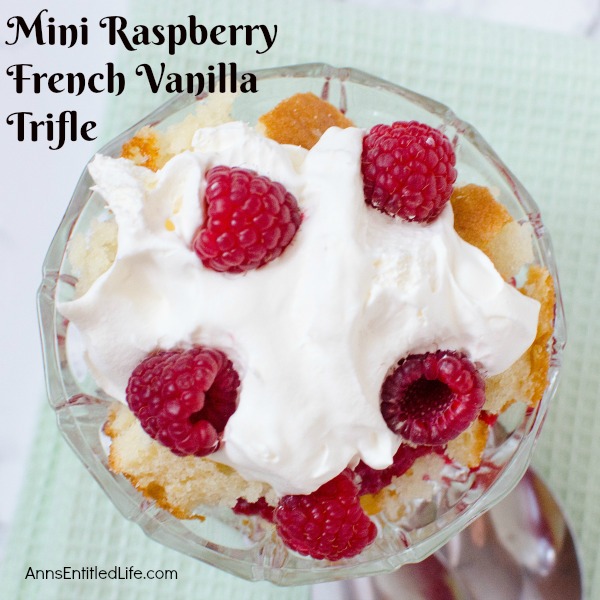 Dessert Recipes
Life is short, eat dessert first!! Whenever we went to a restaurant brunch I would take a stroll by the dessert table before heading over to the main brunch line. I wanted to know how much – or how little – "real" food I should eat based on the dessert offerings. Confess – you do it too!
● Air Fryer Raspberry Crumble Recipe | The Awe Filled Homemaker
● Blueberry Buckle Recipe | Joyfully Thriving
● Brown Sugar Blueberry Coffee Cake Recipe | Baking with Mom
● Caramel Apple Coffee Cake Recipe | Kenarry
● Chocolate Fruit Custard Recipe | Blend With Spices
● Gluten-Free, Dairy-Free, Egg-Free, Oatmeal Crumble Bars Recipe
● Gingerbread Coffee Cake Recipe
● Mini Bundt Cakes Recipe | Tales of a Tired Mom
● Mini Raspberry French Vanilla Trifle Recipe
● Peanut Butter Banana Brownies (vegan) | Recipes From a Pantry
● Peanut Butter Chocolate Eclair Cake Recipe | Dancing Through the Rain
● Prosecco Pineapple Sorbet Floats Recipe | Vintage Kitty
● Walnut Zucchini Bars Recipe"
● Wholesome Blueberry Banana Oat Bars Recipe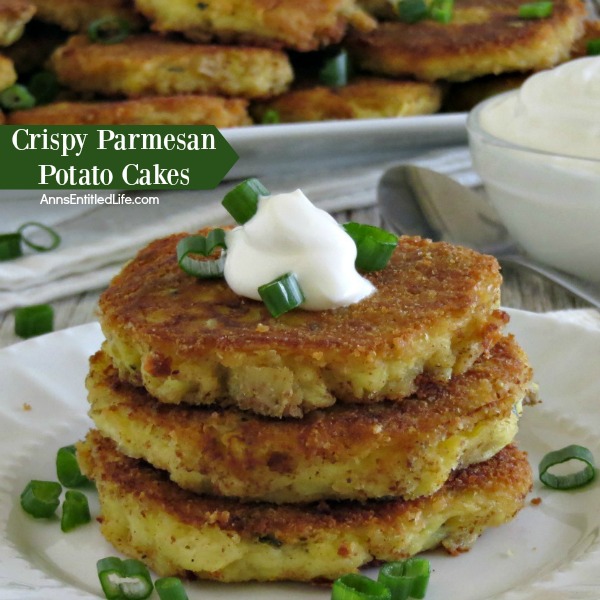 Side Dish Recipes
A special, easy to make side dish can really complement your main brunch menu items. From specialty potatoes to fruit salads to vegetable salads and more! There is an easy side dish below that is perfect for your brunch.
● Breakfast Mac and Cheese Recipe | Kelly Stilwell
● Cucumber Caprese Salad Recipe
● Crispy Parmesan Potato Cakes Recipe
● Slow Cooker Cheesy Potatoes | Rock-a-Bye Parents
● Strawberry Fluff Cottage Cheese Recipe | Tricia D?ishes
● Mango Avocado Salsa | The Rising Spoon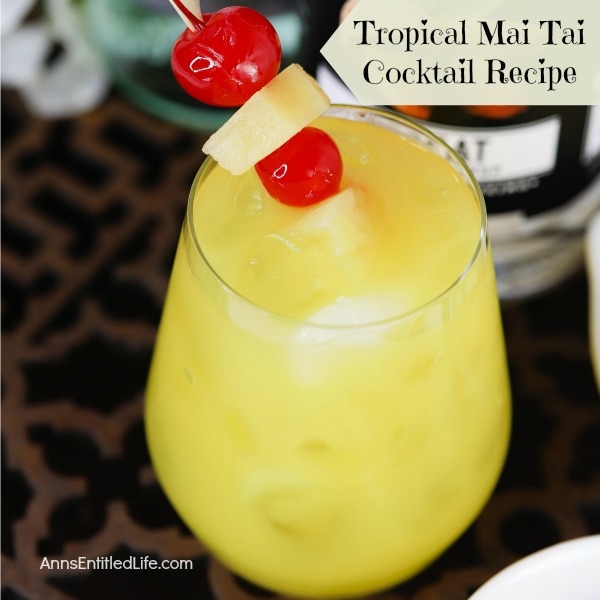 Beverage Recipes
A special beverage is a must at a brunch! While mimosas are the traditional brunch cocktail, a special tea, coffee or latte also hits the spot.
Brunch Cocktail Recipes
● Apple Brunch Punch | Cooking with Carlee
● Blood Orange Mimosa | My Kitchen Love
● Caesar Drink – A Canadian Brunch Cocktail | Slow the Cook Down
● Clemintine Mimosa Recipe | Supper in the Suburbs
● Pink Moscato Limoncello Spritzer Recipe | The Whole Serving
● Strawberry Mimosa Recipe | Baking Beauty
● Tomato Water Bloody MaryThe Gastronom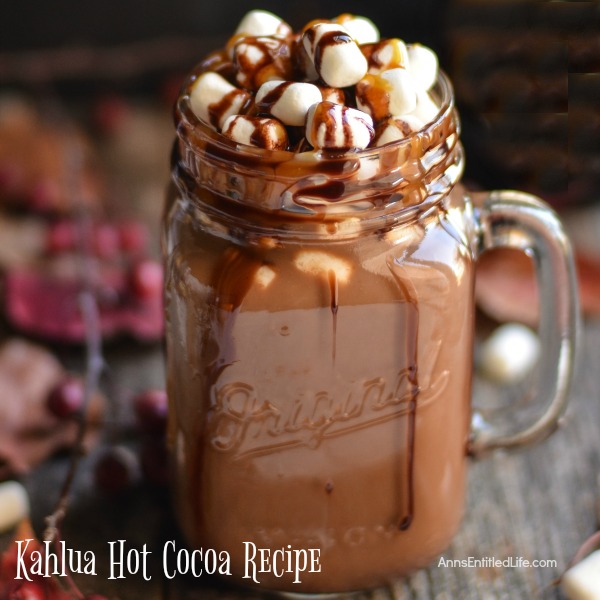 Coffee, Latte, Tea, Hot Cocoa Recipes
● Bourbon Hot Cocoa Recipe (over 21)
● Cafe hafuch – Israeli 'upside down' coffee | Family Friends Food
● Fruit-Infused Hibiscus Iced Tea Recipe | Melaine Cookies
● Homemade Hazelnut Vanilla Hot Cocoa Recipe | Earth Food and Fire
● Honey Ginger Cinnamon Latter Recipe | YAY! For Food
● Hot Cocoa with Rum Recipe (over 21)
● Kahlua Hot Cocoa Recipe (over 21)
● Lavender Latte | Blondie-ish at kitchen
● Raspberry White Hot Chocolate Recipe
● Rumchata Iced Coffee Cocktails (over 21) | My Suburban Kitchen
● Saffron – Rose Chai Tea Recipe | Easy Cooking with Molly
Note:
If you are looking for a specific holiday brunch menu item, you may be interested in these:
● Bunny Pancakes Recipe (Easter)
● Christmas Tree Waffle Recipe (Christmas)
● Easy Jack-O'-Lantern Waffles Recipe (Halloween)
● Flag Waffle Recipe (4th of July (Independence Day), Patriotic Holidays)
● Turkey Waffle Recipe (Thanksgiving)
---
● Disclosure: the links in this post may be affiliate links.
● For more Recipes on Ann's Entitled Life, click here.
● For more Gardening posts on Ann's Entitled Life, click here.
● If you enjoyed this post, be sure to sign up for the Ann's Entitled Life weekly newsletter, and never miss another article!
---