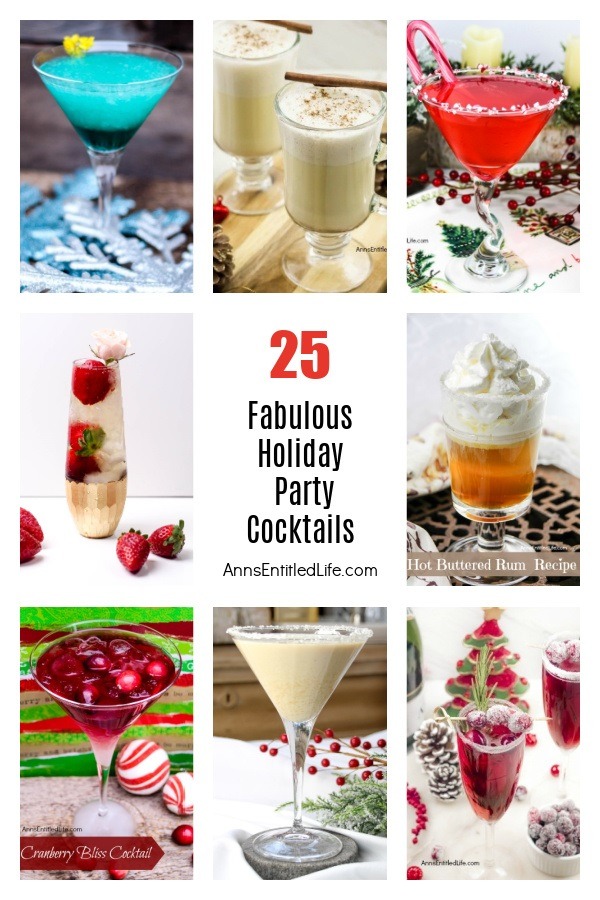 'Tis the season for a bit of holiday cheer! From new cocktail drinks to classic cocktails, from Jello shots to beverages that really pack an intoxicating wallop, there is an adult libation on this list for nearly any holiday occasion, big or small!
25 Fabulous Holiday Party Cocktails
I don't know about you, but I love a good cocktail now and then. And since it is the season for parties, parties, parties, well, why not make some holiday cocktails!? If you are looking for cocktail recipes perfect for the Christmas season, holiday party season, or New Year's Eve party beverages, you have come to the right place!
If you are having a holiday party or get-together with friends and would like to try a new batch of holiday-centric libations, have I got a holiday cocktail list for you!! For each one of these cocktails listed below simply click on the blue link (the cocktail's name) to arrive at the full drink recipe with complete step-by-step instructions. Most of the cocktails on this list take only a few minutes to make, but there are the occasional cocktail recipes (such as the jello shots and pudding shots) that require advanced planning. Be sure to click over to the cocktail recipe for all the details!
While mixing a cocktail from scratch may take a few minutes longer than using a cocktail mix, you will be shocked and amazed just how much better the cocktail from scratch tastes. Truly a party on your tongue! The whiskey sour I have listed is simply fantastic! No premade mix can duplicate the taste of fresh ingredients. The Homemade Eggnog on this list is simply outstanding – you will not believe the difference between homemade and commercial eggnogs.
So if you are looking for a festive nightcap, something to ring in the New Year, or perhaps a cocktail to sip by a warm fire this holiday season, take a look at this list of adult beverages. And have yourself a merry little Christmas.
Note: In parenthesis after the drink description I have noted the spikes + non-liquor recipes which can be served either with or without alcohol. There are also a few non-alcoholic on this list (but they are listed as extras and not part of my 25-holiday party cocktails).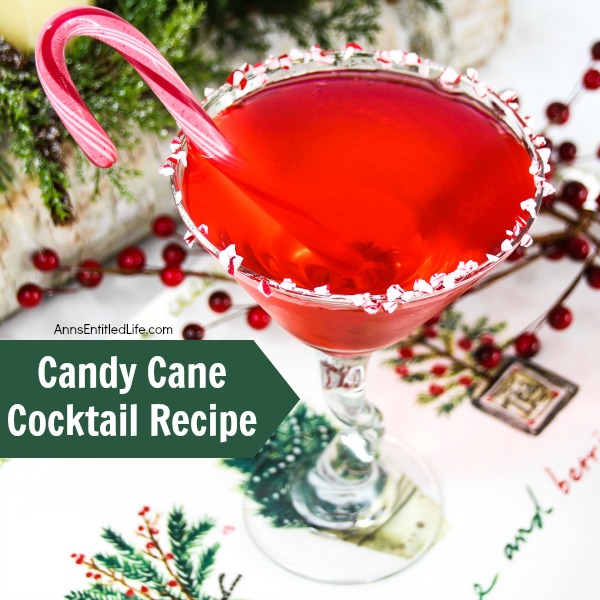 Holiday Cocktail Recipes
● Boozy Candy Cane Shake Recipe – This super easy to make candy cane milkshake is a fresh, crisp, refreshing adult cocktail perfect for the holiday season. If you like the cool taste of peppermint, you will adore this festive holiday beverage.
● The Candy Cane Cocktail is refreshing adult beverage made with Whipped Cream Vodka, Peppermint Schnapps, and Crème de Cacao. A cool, refreshing and festive holiday cocktail drink recipe.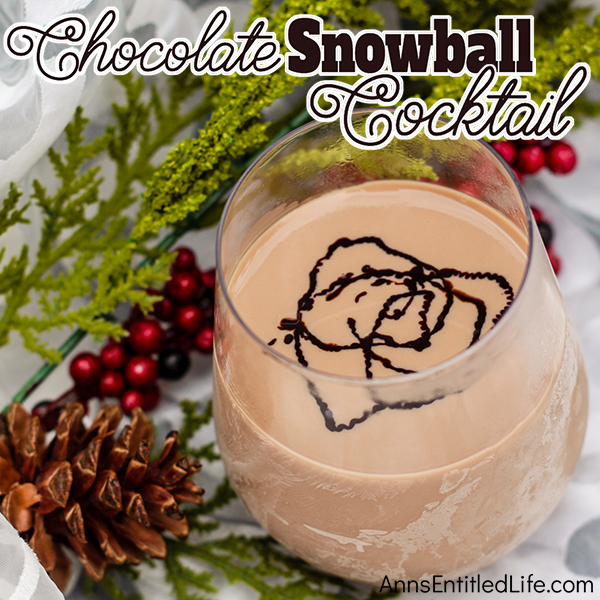 ● Chocolate Snowball Cocktail Recipe – This chocolate snowball cocktail is a smooth, delicious, decadent holiday cocktail sure to put the happy in your holidays!
● Cranberry Bliss Cocktail – Enjoy the sweet-tart taste of cranberry this holiday season with this delicious holiday beverage.
● Cranberry Mimosa Drink Recipe – This cranberry mimosa drink is a festive holiday beverage. This is a perfect holiday drink for your holiday brunch, it can also be served at cocktail parties, to ring in the New Year, or for any other holiday celebration you may have.
● Crash and Burn Cocktail Recipe Five liquors combine with three juices to make this fantastic, smooth and very drinkable Crash and Burn drink recipe!
● This Festive Pineapple Punch is a sweet and delicious party punch recipe that is simple to make. In just a few minutes you can have a great punch recipe that your family and guests will truly enjoy. (spiked and non-liquor)
● Gingerbread Martini – nothing says "holiday season" quite like the taste of gingerbread!
● Holiday Cranberry Sangria Recipe Need a fantastic sangria recipe for a holiday get-together or party? This holiday cranberry sangria recipe is light and refreshing yet packed with flavor and oh so easy to make! It is the best sangria recipe for holiday celebrations; a real crowd-pleaser.
● Homemade Eggnog Recipe – Eggnog is a delicious, traditional holiday drink, and this homemade eggnog recipe makes a fabulously rich, tasty, fresh eggnog you can whip up in minutes. This is truly the best eggnog you will ever have.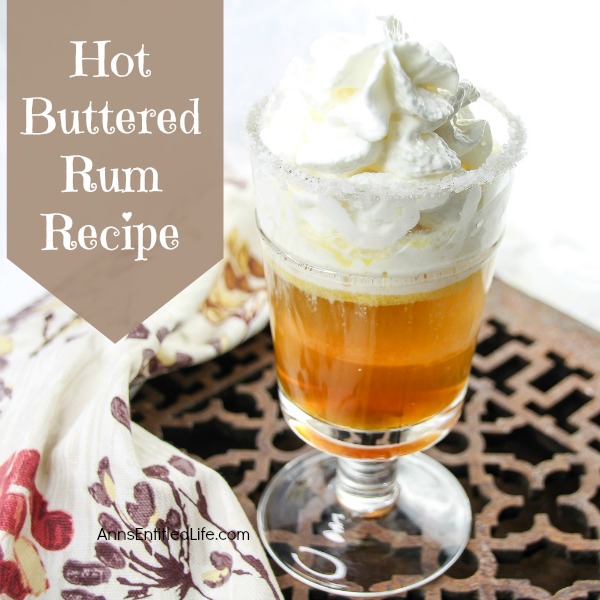 ● Hot Buttered Rum Recipe – This recipe for Hot Buttered Rum is simple, yet delicious. An old-fashioned drink, hot buttered rum is the perfect adult beverage on a cold winter night.
● Iced Raspberry Bubbly Recipe – A beautiful update on a classic drink, this Iced Raspberry Bubbly Recipe combines the subtle taste of hibiscus with the bold taste of raspberry and mint for a truly delicious cocktail.
● Jealous Cherry Cocktail Recipe – A delicious, cool and fun drink, the Jealous Cherry Cocktail is a wonderful libation to serve at parties, get-togethers, or to enjoy in front of a fire.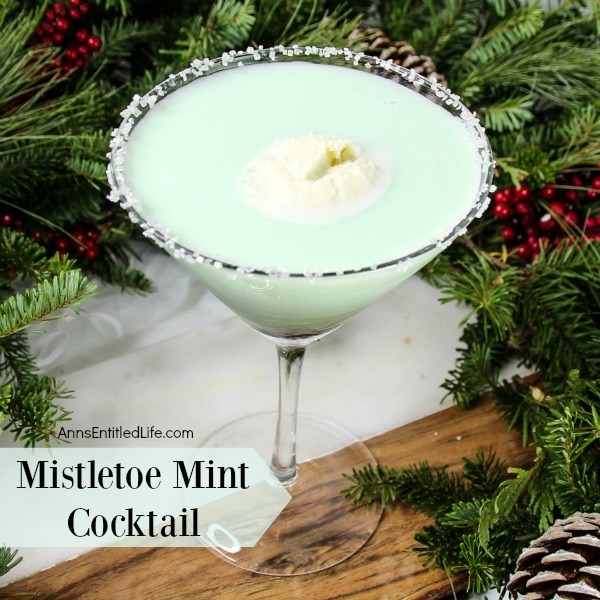 ● Lemon Twist Tequila Eggnog Recipe – Tequila and eggnog are a fabulous combination. The added zest of lemon makes this an irresistible cocktail. Update your eggnog this holiday season and enjoy this great-tasting Lemon Twist Tequila Eggnog libation.
● Mistletoe Mint Cocktail – Light and refreshing, this will become one of your favorite holiday drinks! Give your taste buds a minty treat with sip after sip of this delicious holiday cocktail.
● Painkiller – A delicious rum-based alcoholic beverage recipe, this copycat cocktail recipe is based on the infamous Cheddar restaurant beverage. This delicious Painkiller cocktail packs a wallop!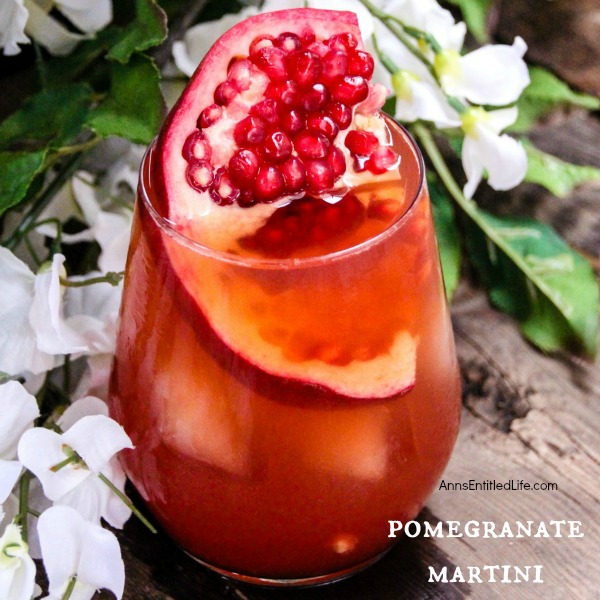 ● Pomegranate Martini Recipe – The perfect drink this holiday season the Pomegranate Martini takes full advantage of in-season pomegranates! The new twist on an old favorite makes for a slightly sweet, totally delicious martini experience.
● Sidecar Cocktail Recipe – a classic cocktail that can be made as a one, two or a pitcher. This one packs a whallop.
● The Frozen Mint Blue Cocktail Recipe – This beautiful beverage combines the cool, refreshing taste of peppermint and the sweet taste of agave for a marvelous holiday cocktail.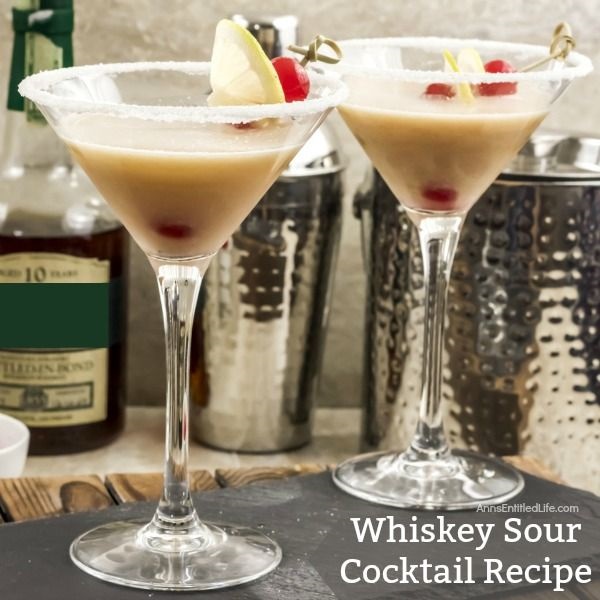 ● Whiskey Champagne Cocktail – A delightful adult libation, perfect for celebrations, romantic dinners, or when simply when you would like to share a cocktail with a special someone.
● This classic Whiskey Sour Cocktail recipe is simply the best whiskey sour recipe you will find. Making your own whiskey sour from scratch is easy to do with these step-by-step instructions. The next time you want to impress family and friends with a classic cocktail, mix up one (or a batch) of this fabulous adult libation!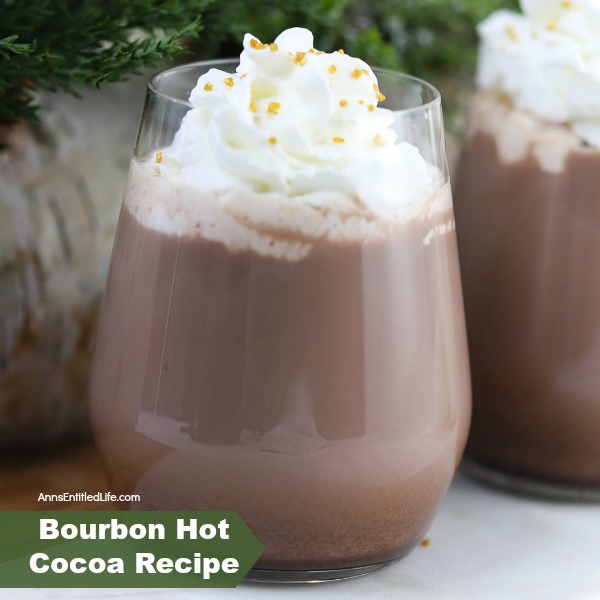 Holiday Hot Chocolate Recipes
● Bourbon Hot Cocoa Recipe – Delicious hot cocoa for adults! This bourbon hot cocoa recipe is simple to make. Infused with a hint of orange, this adult hot cocoa beverage is a wonderful treat on a cold night.
● Raspberry White Hot Chocolate Recipe – Snuggle up this winter with a cup of Raspberry White Hot Chocolate made from scratch. A delicious update to traditional hot chocolate, this yummy mixture will warm you up inside.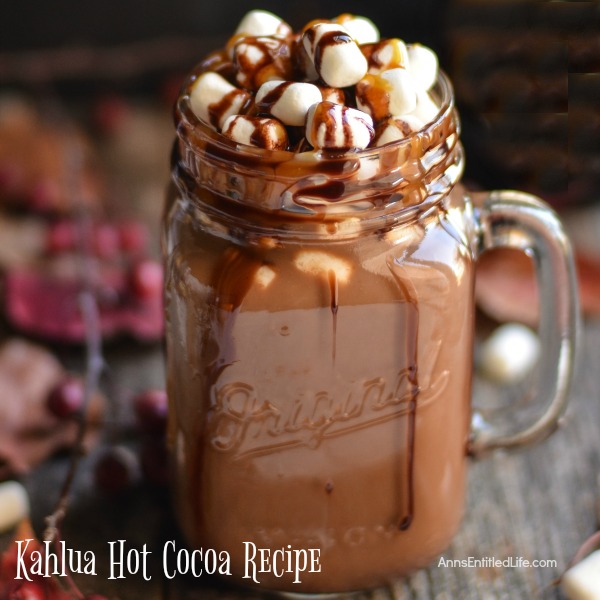 ● Kahlua Hot Cocoa Recipe – A rich, decadent, delicious hot cocoa treat, you'll want to curl up on the sofa with a mug of Kahlua Hot Cocoa tonight!
● Hot Cocoa with Rum Recipe – A delicious hot cocoa recipe by itself, this Hot Cocoa with Rum Recipe is especially good when you add your favorite rum. (spiked and non-liquor)
● Gingersnap Hot Cocoa Recipe – This cozy and warm hot cocoa smells and tastes delicious! Your whole house will smell like gingerbread as it warms on the stovetop. (no liquor)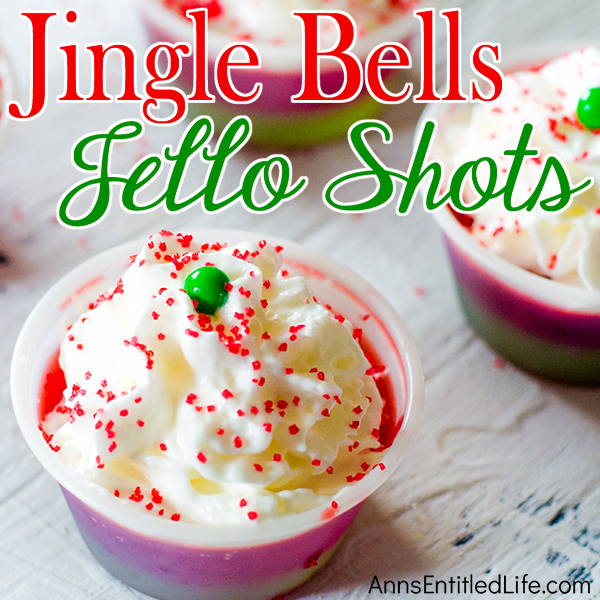 Holiday Jello Shots Recipes
● Champagne Jello Shots Recipe – Fancy Jello shots don't have to be difficult to make! These step-by-step tutorial instructions for making a delicious and fun Champagne Jello Shots recipe are so easy to follow; the results are amazing!! The next time you are having an adult celebration or party, make some champagne Jello shots and up the fun in your festivities!
● Christmas Cookie Jello Shots Recipe – If you like Christmas cookies you will love these creative Christmas Cookie Jello Shots. Creamy, slightly sweet, and delicious, these fun Jello shots are perfect for holiday parties and get-togethers!
● Eggnog Jello Shots – If you like eggnog you will love these fabulous Eggnog Jello Shots. These jello shots taste just like your favorite eggnog recipe!
● Jingle Bells Jello Shots Recipe – If you have a holiday get-together and/or party between now and the holidays, make these gelatin shots for the over 21 crowd!! They really are good. And they will remind everyone of when they were 21 (or 18) again!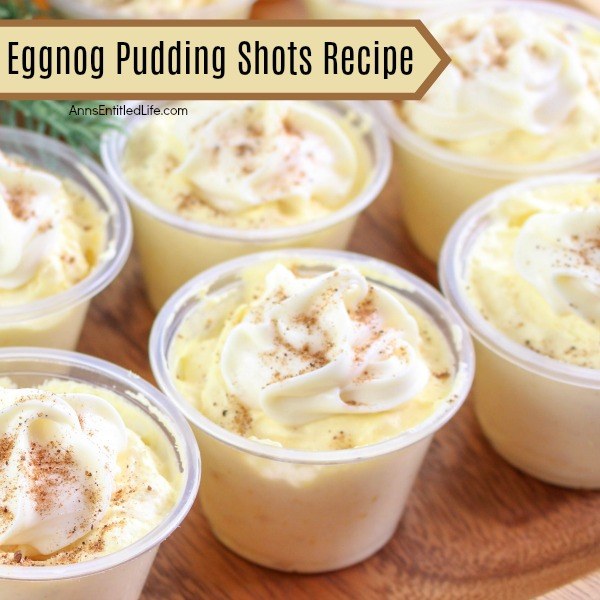 Holiday Pudding Shots Recipes
● Eggnog Pudding Shots Recipe – Ho-Ho-Ho Merry Christmas and Happy New Year! Get into the holiday spirit with these fabulous eggnog pudding shots. These fun eggnog pudding shots are perfect for holiday parties and get-togethers. Simply follow these easy step-by-step pudding shot instructions to make these phenomenal Eggnog Pudding Shots for your holiday party!
● White Russian Pudding Shots Recipe – The melt-in-your-mouth creamy, rich, coffee-cocoa goodness of this white Russian pudding shots recipe will make it an immediate favorite at parties, get-togethers, and tailgating events.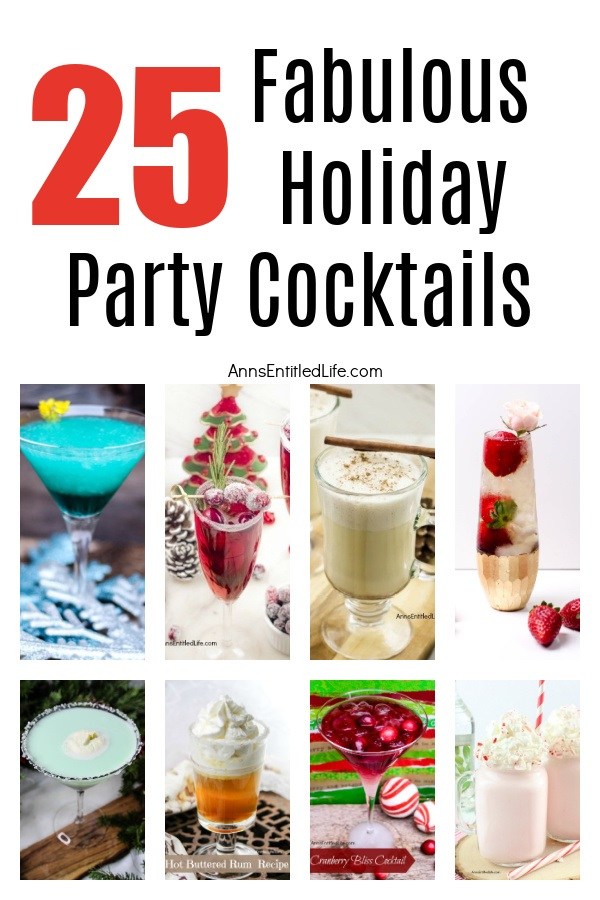 I post a lot of cocktails throughout the year. You can find the full list of cocktail recipes here. They are listed by major liquor type, season, type.
As always, drink responsibly, and please don't drink and drive.
---
● Holiday Decor
● Recipes
---
First Published: December 14, 2018 Last Updated: October 25, 2021
● For more Cocktail Recipes on Ann's Entitled Life, click here.
● If you enjoyed this post, be sure to sign up for the Ann's Entitled Life weekly newsletter, and never miss another article!
---