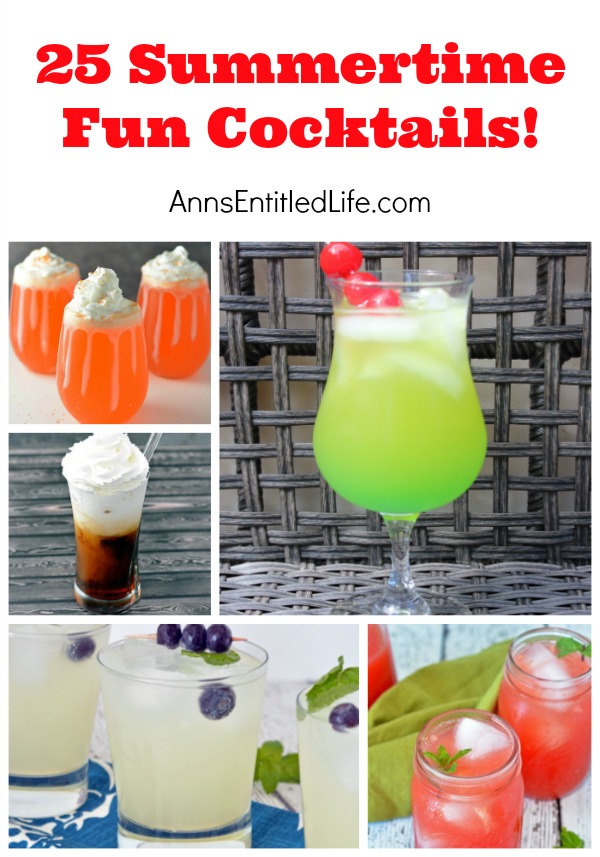 25 Summertime Fun Cocktails
Cookouts, Picnics, Parties and more, summer is prime time for fun get-togethers with friends and family. Mojitos, Margaritas, Spiked Lemonades and Teas: if you are looking for a tasty, delicious, summertime cocktail recipe, try on of the 25 outstanding summer libations listed here!
Summertime is a great time to enjoy a tall, cool, adult libation! Whether sitting on the deck, lounging in the pool, partying with friends, or simply enjoying a fun, refreshing cocktail after a hard day at work, summertime cocktails can really hit the spot. Unique in that they are generally cooler, generally fruitier, a summer cocktail sure can hit the spot on a hot day.
● Adult Root Beer Float Recipe
● Caribbean Nights Cocktail Recipe
● Crash and Burn Cocktail Recipe
● Orange Creamsicle Cocktail Recipe
● Painkiller Alcoholic Beverage Recipe
● Ruby Relaxer Cocktail Recipe
● Sparkling Cantaloupe Punch Cocktail
● Spiked Frozen Peanut Butter Smoothie Recipe
● Spiked Strawberry Iced Tea Recipe
● Spiked Watermelon and Mint Lemonade
Have I got a lot of cocktail recipes for you! If what is listed is not "quite" what you are seeking, take a look at my Cocktails, Wine and Liquor page for even more delightful adult beverages to enjoy!
As always, drink responsibly and please don't drink and drive.
---
● Disclosure: the links in this post may be affiliate links.
● If you enjoyed this post, be sure to sign up for the Ann's Entitled Life weekly newsletter, and never miss another article!
● For more liquor and wine cocktail recipes, tips and reviews, click here.
● Ultimate Guide to Non-Alcoholic Bar Basics
---