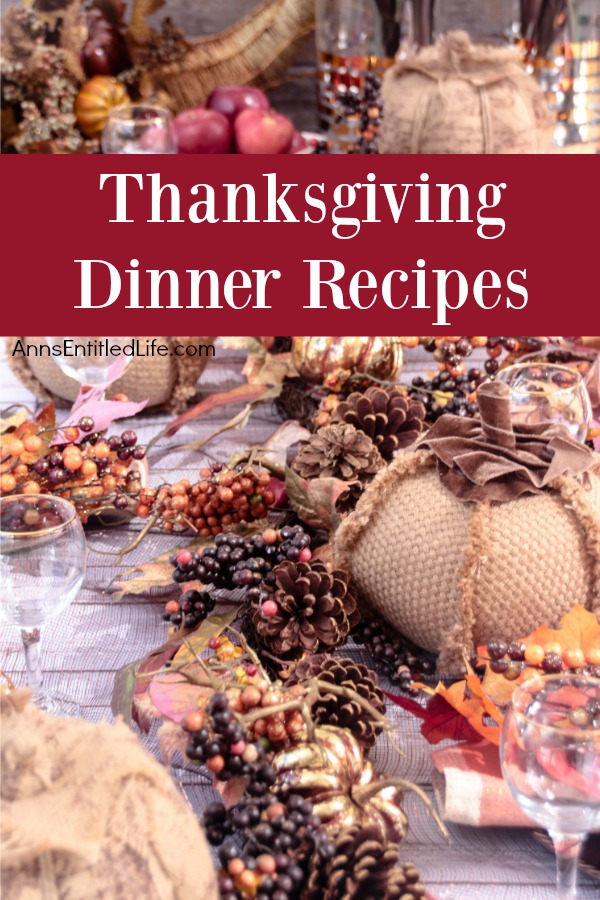 Thanksgiving Day is a special time to gather with friends and family. We give thanks for all the good things in our lives, and spend time reflecting on what makes the United States just so very special.
Many people go out to dinner on Thanksgiving, but even more stay home and make a feast! Whether you are hosting Thanksgiving dinner (or lunch) in your home, or making one special recipe to take to your friend's or relative's house, this list of Thanksgiving Dinner Recipes can help you plan your meal.
I have listed many, many recipes that I have made over the years on the list below. The larger lists are compilations of recipes from myself and other bloggers. There are a lotta recipes to choose from! I am certain you will find that perfect new addition to your family's meal.
If you are looking for recipes that may not be listed below, click here.
If you are looking for cocktail recipes, jello shots recipes, punch recipes, and more adult beverages for your Thanksgiving Day Dinner, click here.
Thanksgiving Dinner Recipes
Soups
● Cauliflower Cheese Soup Recipe
● Panera's Cream Cheese Potato Soup
Dinner
● Creamed Corn Cornbread Recipe
● Chunky Parmesan Smashed Potatoes Recipe
● Oven Roasted Parmesan Green Beans
● Spinach Salad with Pomegranate Vinaigrette Dressing Recipe
● Sweet Potato Casserole Recipe
● 20 Delicious Homemade Gravy Recipes
● 20 Thanksgiving Stuffing and Dressing Recipes
● 25 Amazing Cranberry Recipes
● 25 Scrumptious Real Potato Recipes
Desserts
● Banana Split Icebox Cake Recipe
● Pumpkin Basket Sugar Cookie Cups Recipe
● Pumpkin Cheesecake Thumbprint Cookies Recipe
● Sour Cream Cheesecake Recipe
● Zucchini Chocolate Chip Bread Recipe
● 20 Delicious Gluten-Free Dessert Recipes
● 25 Fabulous Chocolate Dessert Recipes
● 25 Mouthwatering Pumpkin Dessert Recipes
What can I say? I like dessert!
---
● Disclosure the links in this post may be affiliate links.
● For more Recipes on Ann's Entitled Life, click here.
● If you enjoyed this post, be sure to sign up for the Ann's Entitled Life weekly newsletter, and never miss another article!
---